Kuroko's Basketball
Currently, one of the best and most popular anime in the world when it comes to basketball. With amazing artwork and deep character growth, Kuroko's basketball has pushed basketball anime back to glory.
Kuroko is actually called a prodigy and is considered to be the invisible 6th member of his previous basketball team Generation of Miracles. Now playing as one of the main members for his team at Seirin High. A great anime if you love cheering for the underdogs. Kuroko maybe short and physically weak, but his talent in misdirection and passing are more than enough to run circles around the best players.
The anime is not exactly completely realistic but the skills are toned down which makes it almost believable. Most of these moves are still grounded in real basketball skills just that they have been overpowered a bit.
back to menu ↑
Slam Dunk
The basketball anime list is incomplete without the king of Basketball anime Slam Dunk. It rightfully deserves its spot of being the best basketball anime in spite of being two decades old.
With over 100 episodes Slam Dunk is the best basketball anime series that kick-started the basketball culture in Asia.
Hanamichi the guy who was been rejected by 50 girls has almost lost all hope when it comes to romance. Just as all hope was lost, Haruko Akagi impressed by Hanamichi's physique asks him to do a slam dunk. In order to impress Haruko, he joins the basketball team and starts his journey as one of the best basketball players.
Slam Dunk is the perfect mix of thrill, comedy, and hard work that you don't see in anime's today. If you love basketball then you just have to see this anime.
It does not have the most amazing and artwork quality since it was made in 1996 but it's pretty decent nonetheless.
I am still waiting for a remake or a sequel of slam dunk. I miss it that badly.
back to menu ↑
Ahiru no Sora
Ahiru no Sora is the latest basketball anime to have been featured around the world. The underdog story is always a must in the shonen genre and this anime has done it wonderfully.
Ahiru no Sora has managed to deliver it in a unique way. Our protagonist, Sora Kurumatani, is relatable for most basketball players and fans alike. Everyone knows that height is a must for basketball. Unfortunately, Our MC really doesn't have it. Still, being short doesn't stop him from trying to be the best to be an amazing basketball player.
Ahiru no Sora is an excellent basketball anime for both basketball action and plot drama. If you love basektball or are short like me you must watch this anime.
back to menu ↑
Dear Boys / Hoop Days
If you wanted an Overpowered MC in a basketball anime you got it. He is seriously good and is underestimated because of his short height. But who could have guessed that he is a powerhouse of a player!!
The story follows Aikawa Kazuhiko, considered to be one of the best high school basketball players in Japan of the time, who surprises the sports world by deciding to transfer to Mizuho High School who doesn't even have a proper basketball team.
Watch as the underdog builds an amazing basketball team and surprises everyone with his skills and talent. Plenty of romance is also there in Dear boys.
Must Read: Top 10 Tennis Anime of all Time
back to menu ↑
Buzzer Beater
Buzzer beater is the perfect basketball anime for you if you love mecha and aliens. What's more exciting than basketball against other high school teams, its basketball against aliens.
Buzzer Beater introduces hardcore basketball action on intergalactic courts. It's quite similar to Inazuma 11 to be honest just in basketball.
If you love aliens and basketball then this is the anime for you.
back to menu ↑
Ro-Kyu-Bu
Ro-Kyu-Bu! combines the best out of loli and basketball in a single anime. Its a fun and hilarious anime with lots of ecchi action.
The story follows an ex-basketball player Hasegawa Subaru, who stopped playing because of a bizarre scandal in her basketball career. (No spoilers)
Ro-Kyu-Bu! is the best anime that shows you can still pursue your basketball dreams, even if you're not allowed to play. Even if its as coach of the girl's basketball team.
back to menu ↑
Barangay 143
Now, this is a truly underrated anime that was based on a Filipino background. Barangay 143 shows you a new perspective on basketball with street basketball is seen through a Filipino's eyes.
The anime plot revolves around Bren Park, a Korean basketball player. He was originally from the Philippines, who now joins a local streetball team.
Its a great anime about pursing passions and the Filipino culture.
back to menu ↑
Onagawa Chuu Baske Bu: 5-nin no Natsu
This anime was released as a tribute to the Tohoku earthquake that led to a staggering 15,899 casualty count.
Onagawa Chuu Baske Bu: 5-nin no Natsu is an anime that shows the real never give up attitude of Japanese people as well as the Japanese anime industry.
Onagawa Junior High's girl's basketball team continues to play. Even when they're down to just five regulars in the team. It's an amazing anime that shows us the value of cherishing life and never giving up in spite of the losses of friends and family.
A truly awe inspiring anime that is a must watch.
back to menu ↑
Basquash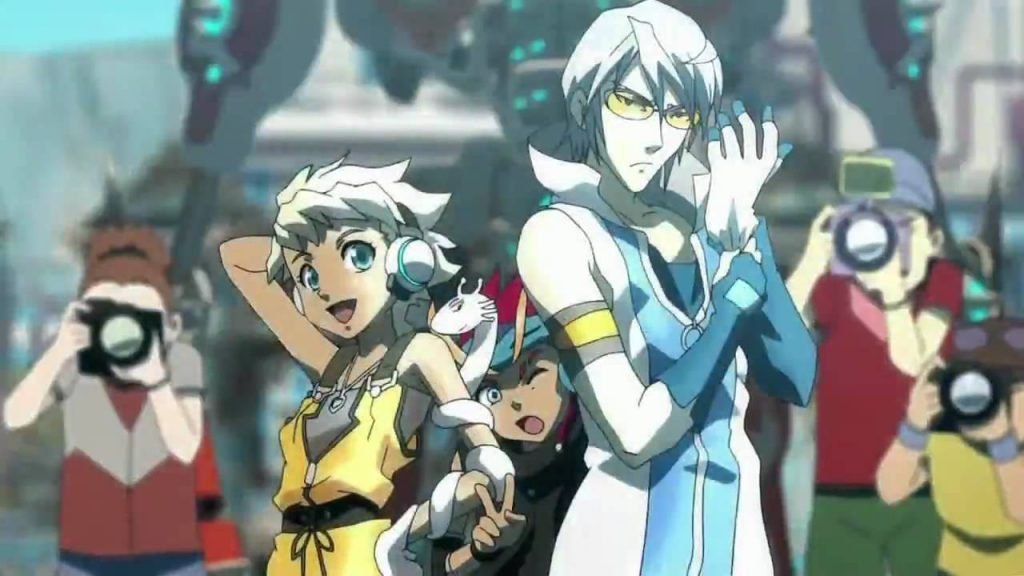 The only Mecha basketball anime ever made in the history of anime. Basquash is played in gigantic arenas with Mecha robots and is called Big Foot Basketball (BFB) in the series.
Dan, the protagonist, unintentionally made Big Foot Streetball famous when he invaded a BFB game and made waves with his skills. An awesome anime if you love mecha and basketball. You probably won't see such an anime combination for quite some years.
back to menu ↑
Breakers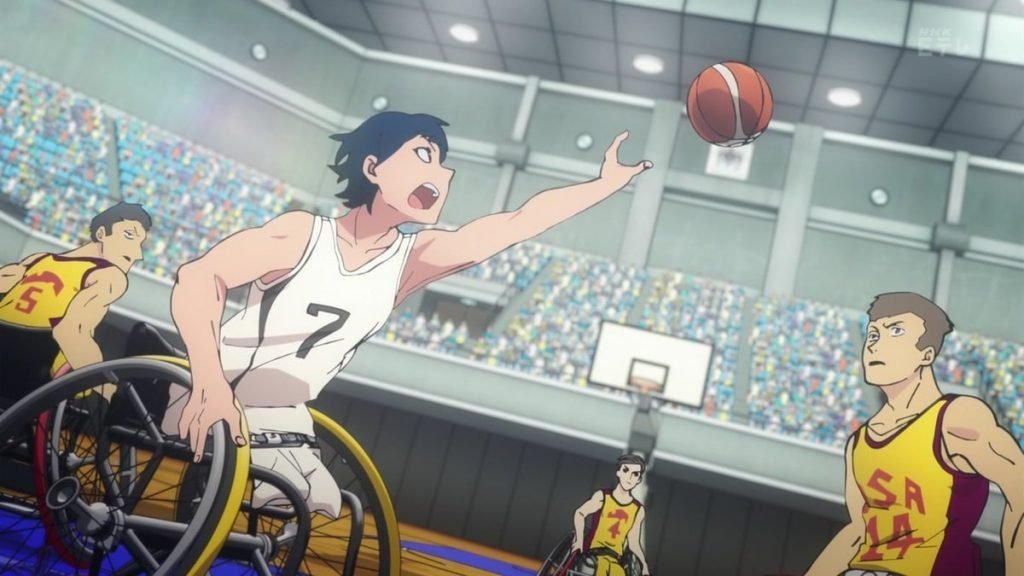 Breakers is one of the best sports anime that focuses on one aspect of the sport not often ignored in media and even in the anime world: the Paralympics.
This anime actually shows four sports: goalball, paralympic swimming, track, and wheelchair basketball. That is the reason I did not rank it higher on the basketball anime list. It's actually quite the great anime when it comes to Paralympics.
It's a unique perspective to basketball with wheelchair basketball. A definite must-watch.
back to menu ↑
Extra Ova's
Mitsu x Mitsu Drops (Honey x Honey Drops)
A unique romance anime with a mix of master slave systems combined with basketball. It only has two episodes and is quite short to be called a real anime series. Nonetheless its a great short watch for those who love romance and basketball.
I'll/CKBC
This short anime shows how important teamwork is in basketball. Its only two episodes that's why I did not include it in the anime list but as a separate bonus.
Its an amazing anime which I would actually love to see if it was remade as a series. If love action and teamwork based basketball this is the anime for you.
That's all folks. These were the best Basketball Anime of all time. If I missed any anime then let me know in the comment section below. Happy Binge Watching.