These animes are a perfect substitute for music or real-world role models for those who struggle to find the motivation to exercise. Being inspired by others is occasionally the best approach to feeling encouraged to get up and make good lifestyle choices. While some people look up to real-life athletes like Lionel Messi and Cristiano Ronaldo, some of the finest sports anime also have some highly inspirational characters.
Megalobox
The plot revolves around a man who fights in Restricted Area fight clubs in fixed matches. He nearly collides with Yukiko Shirato, the CEO of Shirato Group, one evening while riding his motorcycle in the Administrative Area. Junk Dog chooses a fight with her bodyguard Yri, who also happens to be the Megaloboxing Champion. Yukiko stops the fight, but Yri tracks down Junk Dog and meets him in a fight club, where he easily defeats the less-experienced fighter and invites him to compete in the Megaloboxing tournament Megalonia, for which Junk Dog would need to be at the top of the official Megalobox rankings, as well as a proper citizenship ID to enter the rankings in the first place. It is one of the Top Anime that inspires you to workouwork outt.
How Heavy Are the Dumbbells You Lift?
Hibiki Sakura is a second-year high school student with a voracious appetite, which causes her to gain weight. She reluctantly considers joining the Silverman Gym after this is brought to her attention. Hibiki discovers at the gym that Akemi Soryuin, a classmate, is also considering joining. She falls head over heels in love with one of the trainers, Naruzo Machio, and joins the gym. Hibiki, inspired, resolves to lose weight. It is one of the Top Anime that inspires you to work out.
Sk8: The Infinity
Reki, a skater in high school, is addicted to "S," a highly secret and dangerous downhill skateboarding race held in an abandoned mine. The skaters are especially enthralled by the "beef," or heated battles that break out during the races. Langa, a transfer student returning to Japan after studying abroad, is taken to the mine where the races are held by Reki. Langa, who has no skateboarding experience, is drawn into the world of "S." It is one of the Top Anime that inspires you to work out.
Farewell, My Dear Cramer
Sumire Su and Midori Soshizaki are the standouts on their middle school girl's soccer teams. As they enter high school, they join an eclectic cast of other new girls at Warabi Seinan High School, where they hope to lead the school's normally underperforming team to victory. They must find a way to defeat powerful new enemies ranging from other nationally-ranked school soccer teams to their own school's administration with the help of former Nadeshiko Japan player Naoko Nmi as their new coach. It is one of the Top Anime that inspires you to work out.
Free!
Free is set in the Japanese town of Iwatobi, which is based in Iwami, Tottori. The plot revolves around Haruka Nanase, a gifted swimmer in high school. He and his friends revitalize Iwatobi High School's swim team after meeting his childhood rival, Rin Matsuoka from Samezuka Academy. Rei Ryugazaki joins the team along with his childhood friends Makoto Tachibana and Nagisa Hazuki. While the team prepares for tournaments, Haruka and Rin's rivalry worsens due to Rin's setbacks in improvement, even as his desire to swim competitively grows. During the prefectural tournament, however, Iwatobi's swim team reminds Rin of their friendship with a medley relay. Despite their disqualification, the boys' relationships improve. It is one of the Top Anime that inspires you to work out.
Haikyuu!!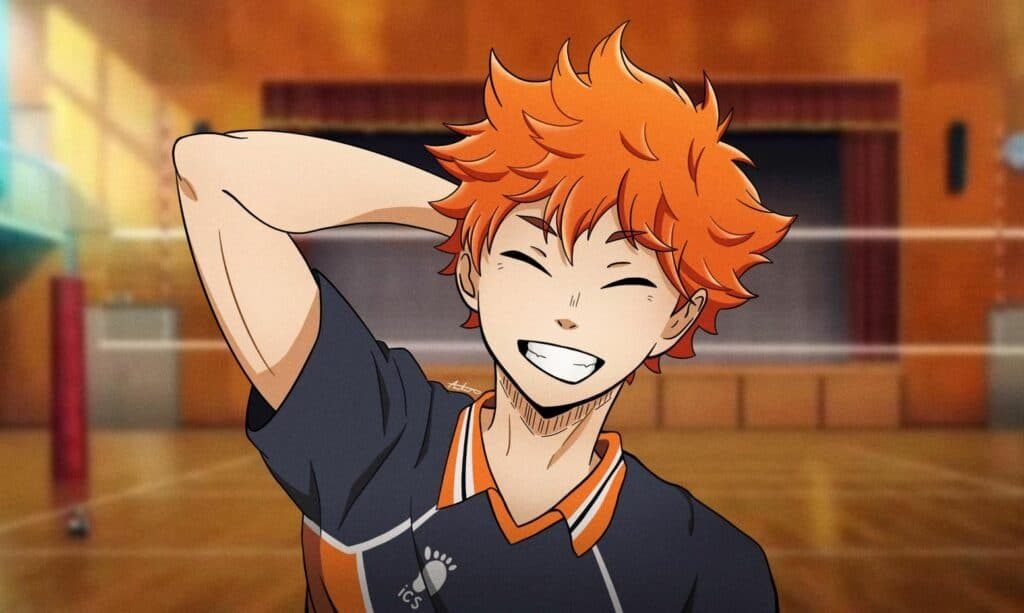 Shy Hinata, a junior high school student, becomes obsessed with volleyball after seeing Karasuno High School compete in Nationals on TV. After the game, Hinata vows to beat Kageyama in high school, sparking a brief rivalry between the two. It is one of the Top Anime that inspires you to work out.
Prince Of Tennis
Echizen Ryoma is a young tennis prodigy who has won four consecutive championships but is constantly overshadowed by his father, a former professional tennis player. He enrolls in Seishun Gakuen junior high school, one of the best tennis schools in Japan, and there, along with his teammates, he learns to find his style of tennis in an attempt to overcome his greatest obstacle of all: both his father and himself.
Hajime No Ippo
The plot is heavily focused on character development—even during the matches, we learn something about both fighters. Ippo has a habit of bumping into his opponents before matches, which allows him to learn more about them and even sympathize with them. Ippo is a very shy and modest person who never believes he is strong enough. Instead, he gains courage from witnessing his opponent's strength and realizing that he is capable of dealing with it. The main draw in the early part of the series is Ippo and his friendly rivalry with Miyata. That eventually changes Ippo's path to the Japanese Featherweight Championship and, the world championship.
Hungry Heart: Wild Striker
Kyosuke has bright orange hair that matches his fiery personality, ready to erupt in rage at the slightest mishap. One such incident occurs when he is playing his guitar on the street and some thugs attempt to stop him, only for him to scare them away. As the thugs flee, Kyousuke shoots a football ball at them that a small child, Kenta, had dropped when the thugs fled. The powerful shot breaks a traffic light, causing the thugs to stop and causing chaos. This causes Kyosuke to flee, dropping his school ID card, which is collected by Miki Tsujiwaki, captain of the Joyo Akanegaoka High School's female football club.
Gymnastics Samurai
The Japanese men's gymnastics team is struggling in 2002. Jotaro Aragaki is a former Olympian and professional gymnast. Despite his previous success, he was never able to win a gold medal. His coach, Noriyuki Amakusa, suggests he retire because he has a shoulder injury and is an older athlete at 29 years old. Jotaro takes his daughter Rei to Edo Wonderland while contemplating retirement. They meet a foreigner dressed as a ninja who, after following them home, introduces himself as Leo. Later, during a press conference to announce his retirement, Jotaro changes his mind halfway through and decides to continue his gymnastics career.
That's all folks! These were the Top 10 Anime that inspire you to work out. If you know any more anime that will inspire you to work out do mention them in the comment section below. We would love to hear from you!
Also, check out-> Top 10 Law-based anime