Although most people wouldn't consider sports anime to be the most thrilling genre in the medium, several fantastic shows completely engross the audience with well-written drama and action-packed games. Sports anime incorporates the high-stakes action of shonen into every sport possible, as opposed to employing fancy power systems or magical weapons. The greatest aspects of combat shonen and slice-of-life are combined in sports anime to create a subgenre with limitless potential. Any sport that exists will eventually get its anime. There is an anime for every sport under the sun, whether it is obscure like kabaddi or well-known like baseball. For the largest fans of the genre, we have included 20 sports anime programmes on this list.
Hajime no Ippo
The plot is heavily focused on character development—even during the matches, we learn something about both fighters. Ippo has a habit of bumping into his opponents before matches. Which allows him to learn more about them and even sympathize with them. Ippo is a very shy and modest person who never believes he is strong enough. Instead, he gains courage from witnessing his opponent's strength and realizing that he is capable of dealing with it. The main draw in the early part of the series is Ippo and his friendly rivalry with Miyata. That eventually changes Ippo's path to the Japanese Featherweight Championship and, the world championship. It is one of the Top Sports Anime Games.
Eyeshield 21
After the Deimon Devil Bats win the Christmas Bowl and become the best team in the country. Japan begins to assemble the best football players to form a team to represent the country at the American Football Youth World Championship. There the Most Valuable Player (MVP) will be awarded an NFL contract and $3 million. Team Japan advances to the finals, where the game ends in a tie and both teams are declared winners. Both teams are dissatisfied with this and return to the field for their own impromptu "overtime," causing confusion among officials. Although it is unclear which team wins the unofficial extra period, Panther of Team America holds the MVP trophy aloft, having won the professional contract. It is one of the Top Sports Anime Games.
Major
Gorou Honda, a baseball-crazed youngster, has always looked up to his father, Shigeharu. Gorou hopes to follow in his father's footsteps and become a professional baseball player. Shigeharu is encouraged to persevere by his son's starry-eyed admiration. Shigeharu is forced to leave the team due to an elbow injury, and he is devastated. However, after hearing an offhand joke from a childhood friend, Shigeharu reconsiders his options. He decides to continue playing, abandoning his prime position as a pitcher and taking up the bat. Gorou is more determined than ever to make his mark in the Japanese Little League. It is one of the Top Sports Anime Games.
Hai Supīdo!
Sosuke Yamazaki challenges Haruka to a match race during a joint practice with Sano Middle School. However, Iwatobi fails to win the team medley, leaving him disappointed as he hands Rin's letter to him. As Iwatobi's swim team reflects on their defeat, Haruka confronts Makoto about his unusual behavior. The following day, Ikuya threatens to leave the team and tells Haruka, Makoto, and Asahi that he feels lonely and abandoned by Natsuya. Ikuya makes amends with him after reaffirming their friendship. When the four go to see Nao, who is having surgery for a detached retina, he gives them some advice. It is one of the Top Sports Anime Games.
Aim for the Ace!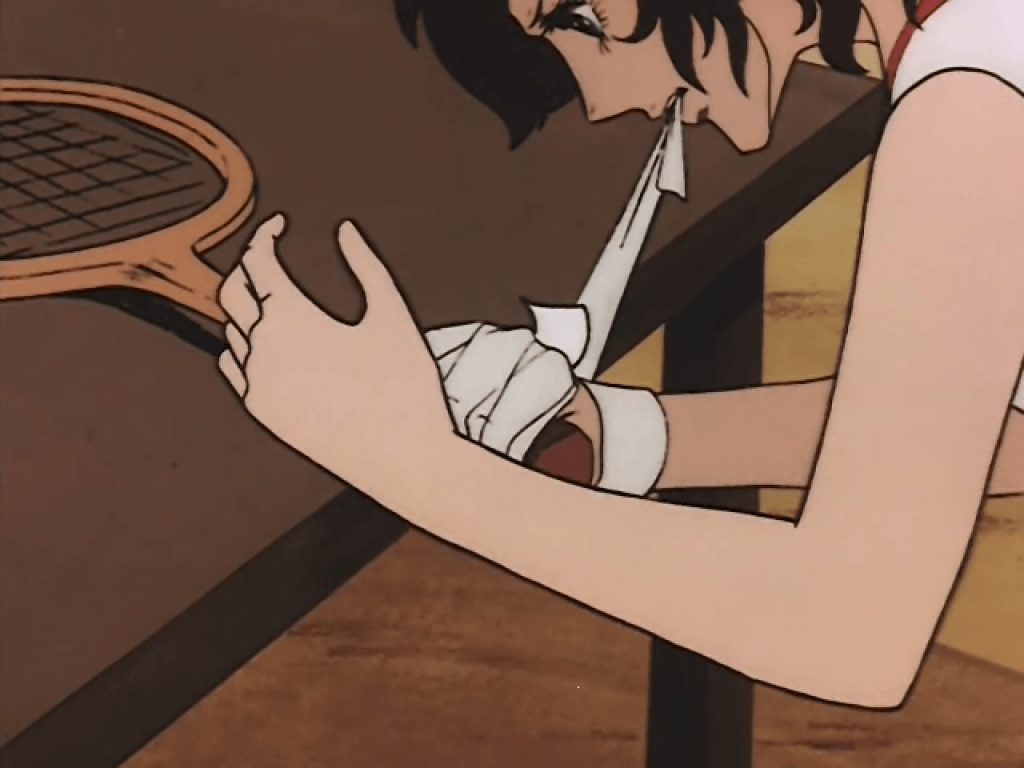 Hiromi is working hard to overcome her mental weakness. Later, she falls in love with another tennis player, Takayuki Td, but coach Munakata advises her not to get too involved and to focus on her tennis skills instead. Hiromi frequently doubts her ability to play, but with the help of her coach and friends, she overcomes her anxiety. Hiromi develops mentally stronger as she trains to become a better player. Her enthusiasm, love of tennis, and the support of those around her contribute to her becoming one of the best players in the world. It is one of the Top Sports Anime Games.
Yuri!!! On Ice
Katsuki Yuri wants to retire after a humiliating performance in the Grand Prix Final. Nikiforov, the Russian world champion decides to relocate to Japan at this time, and become Yuri's coach. Throughout several competitions, the two build a strong friendship and realize that they only need each other to achieve what they had hoped for. It is one of the Top Sports Anime Games.
Air Gear 
Itsuki "Ikki" Minami is a delinquent student. Ikki, also known as the "Unbeatable Babyface," is the leader of the youth gang "East Side Gunz." After being humiliated by a Storm Rider team known as the Skull Saders, Ikki returns home and discovers a secret hidden from him by his benefactors, the Noyamano sisters. The sisters are members of a Storm Riders team known as Sleeping Forest. In the anime, discovering the sisters' secret enrages him, prompting him to steal a pair of Air Trecks, abbreviated as "AT." Ikki eventually settles his beef with the Skull Saders, but he gains more than just the satisfaction of vengeance. It is one of the Top Sports Anime Games.
Kenichi: The Mightiest Disciple 
Later that day, after karate club practice, one of the other club members gives Kenichi an ultimatum: they will fight next week, and the loser must leave the club permanently. While lamenting his impending defeat in the upcoming fight, Kenichi witnesses Miu easily repel three thugs. Tired of being bullied by those more powerful than him, he approaches Miu for advice on how to become a better fighter. She directs Kenichi to her grandfather's dojo, Ryouzanpaku, where several skilled—if odd—masters of extreme martial arts have gathered to hone their skills. Miu promises that Kenichi will grow significantly stronger if he can "stay alive." It is one of the Top Sports Anime Games.
Run With The Wind 
Kakeru, a former high school elite runner, is being pursued for stealing food. Haiji, a Kansei University student and runner, saves him. Haiji persuades Kakeru to live in the old dormitory "Chikusei-so," where he plans to compete in the Hakone Ekiden relay marathon, one of Japan's most prestigious university races. Kakeru quickly discovers that, except for Haiji and himself, all of the residents are complete novices. It is one of the Top Sports Anime Games.
Slam Dunk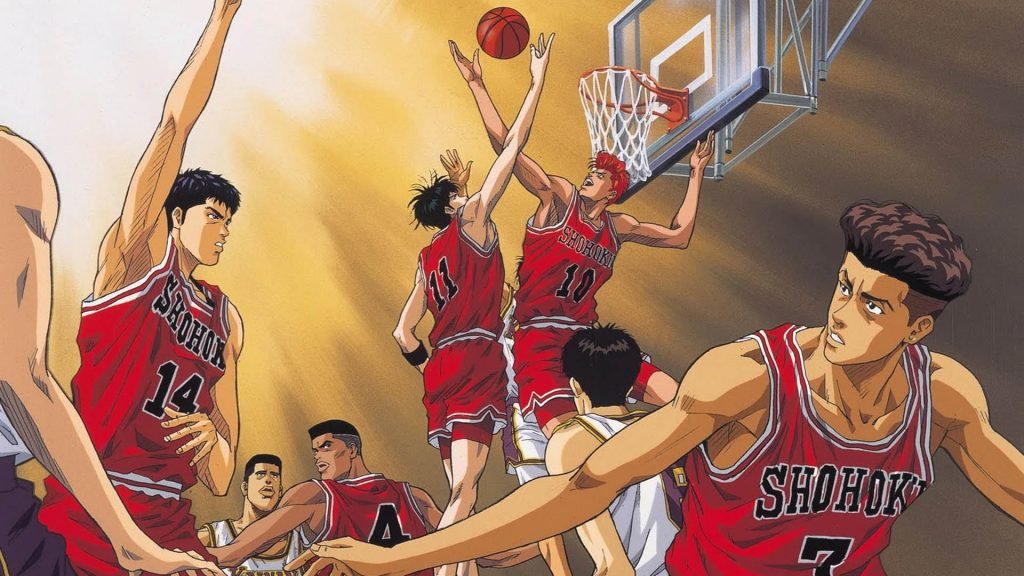 Hanamichi Sakuragi isn't interested in girls at all! It doesn't help that he's notorious for throwing down at the drop of a hat and always winning. He's been rejected by 50 females in a row, a hopeless bruiser! All of that changes when he meets Haruko, the girl of his dreams, and she isn't frightened of him! His life is permanently transformed when she introduces him to the game of basketball. It is one of the Top Sports Anime Games.
Ace of Diamond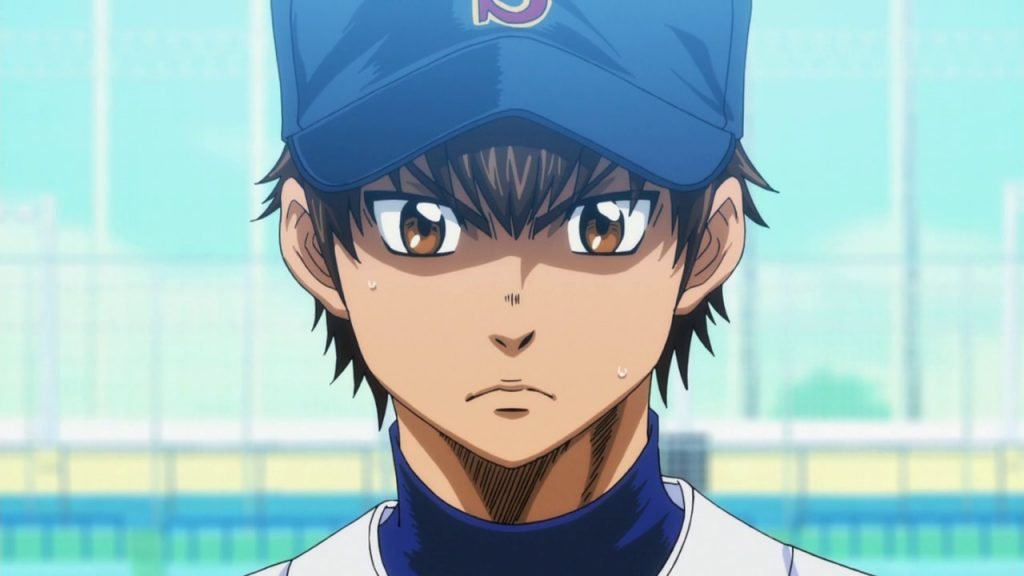 Sawamura's first pitch is a direct hit into the batter's back. Kuramochi lands a kick on Sawamura as the infielders gather on the mound. Sawamura is tense, and everyone is aware of it. Maimon is attempting a bunt now that they have a man on base. The bunt is caught by Sawamura, who throws it to second for the first out before it hits the first baseman's mitt for a double play. Sawamura is ecstatic and roars. It is one of the Top Sports Anime Games.
Captain Tsubasa
Tsubasa meets Taro Misaki, who has traveled throughout Japan as a result of his father's job and soon joins Nankatsu. On and off the field, the two become best friends, forming a partnership that becomes known as Nankatsu's "Golden Duo" or "dynamic duo." Soon after, Tsubasa and his Nankatsu team begin competing against the best elementary school football players, including Kojiro Hyuga, Ken Wakashimazu, Jun Misugi, and Hikaru Matsuyama, and many others. Tsubasa's Nankatsu team wins numerous youth national championships, and he wins the U-17 World Championships for Japan by defeating Italy 2-1 in the group stages, Argentina 5-4 in the semifinals, France 4-4 in the finals, and West Germany 3-2 in the finals before leaving the country to play.
Yowamushi Pedal
Sakamichi Onada is an anime-obsessed high school freshman. He initially wants to join the anime club, but after meeting two classmates who are already famous cyclists, he decides to join the cycling club. He goes through the arduous training required to compete in races and discovers his own hidden talent in cycling.
Ping Pong The Animation
When Peco learns that a former Chinese national team player is visiting Japan, he drags Smile over to rival Tsujido High School to observe them. The following journey pits Peco against Kong Wenge, who easily defeats the former in one game. Peco is stunned by such a comprehensive defeat that he wonders why he plays at all. Katase's coach begins to train Smile to overcome his hesitation as a player, but he is hesitant to play if it is not for enjoyment.
While the two struggle to find meaning in the sport, a slew of stronger players—each with their internal struggles—wait for them at the inter-high tournament, where only the best can survive.
Ginban Kaleidoscope
Tazusa Sakurano, a Japanese Olympic figure skating candidate, and Pete Pumps, a Canadian stunt pilot, are central to the plot. Tazusa collapses in the middle of a Triple Lutz during a qualifying round in Montreal, Quebec, Canada. At the same time, Pete is killed in mid-flight when his stunt plane crashes due to mechanical failure. Unfortunately for Tazusa, Pete ends up inhabiting her body involuntarily for 100 days. Tazusa develops romantic feelings for Pete and falls in love with him during this time.
Hikaru no Go
Hikaru is intrigued by Akira and Sai's dedication to the game and decides to begin playing on his own. He is a complete novice at first, but he has some unique abilities to his advantage, such as the ability to reconstruct a game play-by-play from memory once he has a basic understanding of Go. Hikaru becomes an Insei and later a pro through training at Go clubs, study groups, and practice games with Sai, meeting various dedicated Go players of various ages and styles along the way. He also has a natural talent for the game and is determined to show Akira, Sai, and himself his abilities.
Haikyu!!
Shy Hinata, a junior high school student, becomes obsessed with volleyball after seeing Karasuno High School compete in Nationals on TV. After the game, Hinata vows to beat Kageyama in high school, sparking a brief rivalry between the two.
The Prince of Tennis 
Echizen Ryoma is a young tennis prodigy who has won four consecutive championships but is constantly overshadowed by his father, a former professional tennis player. He enrolls in Seishun Gakuen junior high school, one of the best tennis schools in Japan, and there, along with his teammates, he learns to find his style of tennis in an attempt to overcome his greatest obstacle of all: both his father and himself.
Initial D
Set in Japan's Gunma Prefecture in the late 1990s, the series follows Takumi Fujiwara, an eighteen-year-old who helps his father run a tofu store by making daily deliveries to a hotel on Akina in his father's Toyota Sprinter Trueno GT-APEX (AE86). Takumi is revealed to have been driving on Mt. Akina every morning for five years before he even had his license to deliver Tofu to the summit. As a result, his skills in mountain racing have improved, and he is now capable of driving in adverse weather conditions.
Teik Middle School's basketball team rose to prominence by annihilating all opponents. The team's regulars became known as the "Generation of Miracles." These five stars went to different high schools with top basketball teams after graduating from middle school. Few people realize that there was another player in the "Generation of Miracles": a phantom sixth man. This enigmatic player is now a freshman at Seirin High, a new school with a strong, if little-known, basketball team. Kuroko Tetsuya, the sixth member of the "Generation of Miracles," and Kagami Taiga, a naturally talented player who spent the majority of middle school in the United States, are now attempting to bring Seirin to the top of Japan, taking on Kuroko's former teammates.
That's all folks! These were the Top 20 Sports Anime Games. If you know any more awesome sports anime do mention them in the comment section below. We would love to hear from you!
Also, check out-> Top 20 Military Anime