With the growing popularity of sports anime, it's no surprise that its manga counterparts have received increasing attention as well. Some titles have long been favorites among sports manga readers, while others are still gaining popularity. Those who enjoy the genre may be on the lookout for something fresh to read. If you're in this situation, we have got you covered here on anime rankers with the top 30 best sports manga.
Haikyuu
Volleyball is the central theme of the anime, but you don't have to be a fan of the sport to enjoy it. Fans adore the show because of how the characters grow up and how their relationships change as they grow up. Some sports anime focus solely on an individual's abilities, while Haikyuu is all about interacting with others.
Kuroko's Basketball
This is another lengthy sports anime, with 75 episodes that aired between 2012 and 2015. The show's primary focus is basketball, and it's recognized for its clean animation and fast-paced basketball movements. Fans will discover that the episodes fly by and unexpectedly remain up until 3 a.m, viewing over 20 episodes. Others have reported getting an adrenaline rush whenever their favorite character wins. Some fans complain that the show is unrealistic when it comes to sports. But if you ask me, that's part of what makes it entertaining and exciting. Like the others on our list, the program is not a "good people always win" narrative. So there is a lot of struggle and drama, and the triumphs seem all the more accurate and satisfying for the characters.
Free! Iwatobi Swim Club
Free! is a fan-service-driven anime that gained a lot of interest. It was made for individuals who enjoy watching a lot of gorgeous men swim and sparkle in the water. That was expected, but it astonished the anime world by attracting fans who liked the show for reasons other than its fan service. The artwork is stunning and makes you want to go swimming. One of its advantages, similar to Haikyuu, is the character connections. We won't give anything away about the finale, but the characters' relationships evolve rather interestingly.
Slam Dunk
As he enters his freshman year at Shohoku High, Hanamichi Sakuragi is anxious to stop his 50-day rejection streak and finally find love. His reputation for misbehavior and destructiveness precedes him, and most of his classmates avoid him like a plague. He has two strong ideas as his first day of school comes to a close. "I detest basketball" and "I need a girlfriend." Haruko Akagi, unaware of Hanamichi's past disobedience, observes his towering stature and inadvertently approaches him, asking whether he enjoys basketball.
Air Gear
Itsuki Minami needs no introduction, everyone has heard of the Eastside's "Babyface." He's the most challenging student in Higashi Junior High School, charming outside but deadly harsh when the situation demands it. Itsuki also lives with the enigmatic and seductive Noyamano sisters. Life is never boring, but it gets hazardous when Itsuki leads his school to victory over a band of vengeful Westside punks. He now risks losing his school, his friends, and all his values. The Noyamano ladies, however, came to Itsuki's rescue at his darkest hour. They can teach him a valuable talent. That will defend their school from the criminals' siege while also introducing Itsuki to a fascinating and scary new world.
Eyeshield 
Sena Kobayakawa, a shy, tiny student who is regularly bullied, has recently arrived at Deimon Private High School. When he enrages a gang of delinquents by refusing to serve as their errand boy. He makes a lightning-quick departure, a skill honed through years of escaping his tormentors. Sena's "golden legs" are spotted at work by Youichi Hiruma. The demonic captain of the Demon Devil Bats football club. He forcibly recruits him as a running back despite Sena's wish to be team manager instead. Sena is given the number 21 jersey and a unique helmet to conceal his identity as a player. He becomes "Eyeshield 21," the team's most tightly kept secret weapon.
Hajime no Ippo
Makunouchi Ippo is a 16-year-old high school student who assists his mother in running the family company. His heavy schedule makes it difficult for him to maintain a social life, making him an easy target for bullies. One day while getting beat up by a bunch of bullies. Ippo was saved by a boxer called Mamoru Takamura and brought to Kamogawa Boxing Gym. This after-school bullying session changes Ippo's life forever. When he discovers his hidden aptitude for boxing and chooses to pursue it professionally. Mamoru, on the other hand, doubts Ippo's resolve. He sets him on an almost impossible assignment, but the steadfast Ippo trains diligently to achieve his objective. While gaining new friends and defeating difficult opponents, he learns what it takes to achieve genuine strength.
Touch
This was one of Mitsuru Adachi's early manga works, and it has maintained its popularity for years. He then went on to develop Cross Game. Tatsuya and Kazuya Uesugi are twin brothers who are both smitten with Minami, a girl they've known for many years. The brothers are also embroiled in a battle over their baseball abilities. The friction between the brothers is realistic. The readers will be on the edge of their seats to witness how the brothers build their relationships.
Namaikizakari.
Yuki Machida was obliged to become responsible for her numerous siblings at an early age as the eldest child of a large family. She is all too accustomed to disappointment. The anguish of hiding her genuine sentiments since she is used to making sacrifices for others. Despite her expectations, Machida accepts the position of basketball club manager to get closer to her crush. On the other hand, Shou Naruse joins the squad at the start of the new academic year. He's a gifted musician that developed an interest in Machida. Despite how tenacious he is regarding gaining her love. From kissing her without warning to asking for permission to grope her. she seems unaffected by his efforts. When Naruse makes no attempt to hide his wants, keeping her calm and focused on basketball becomes a much more difficult chore.
Real
After being crushed by the guilt of wrecking a young girl's life in a traffic accident. Tomomi Nomiya, a former captain of his high school's basketball team turned delinquent and chose to drop out of school. As he devotes his spare time to assisting her, he meets Kiyoharu Togawa, a former sprinter who has lost the use of his right leg and now uses wheelchair basketball as a kind of recreation. Inspired by this meeting, he understands that he cannot let his passion for basketball die so easily. He resolves to do all in his power to assist others while pursuing his dream of being a professional basketball player.
Good Ending
Seiji Utsumi, a second-year high school student, passionately loves Shou Iketani, the energetic and scatterbrained tennis club captain from the year above him. Still, he can't bring himself to speak to her. He is delighted with merely observing from afar, perhaps a little too literal, because he cannot make any progress. On the first day of a new semester, Seiji is caught spying on the tennis club's morning practice and accused of peeping by Yuki Kurokawa, a club member who ends up in his class. When Yuki realizes that Seiji is sincere about Shou and has no ill motives, she resolves to assist him in confessing his emotions. As Seiji gets closer to Shou with Yuki's guidance, he realizes that his simplistic view of love and relationships prevents him from seeing the complexity and darkness under the surface
Kokou no Hito
One can reach the summit of the globe via suffering and rigorous work. There is an amazing sense of accomplishment standing where no man has ever set foot before. Mori Buntarou trains, works, and lives for this. When he transfers to a new high school, he begins his ascent to the top. Mori's peers urge him to climb the school building despite his lonely and isolated personality. He comes to a standstill as he approaches the point of no return when he is confronted with a final ominous stumbling block: a horizontal overhang. Mori jumps for the final grip at the peak, adrenaline coursing through him. From there, he notices something he wouldn't have noticed otherwise—another rise, another objective. Mori embraces the spectacular sport of rock climbing with a reawakened enthusiasm and a renewed sense of purpose in life.
Suzuka
Yamato Akitsuki, a laid-back and lively young man, is excited to begin his high school career in Tokyo. He accepts his aunt's invitation to remain rent-free at her apartment complex without hesitation. However, he has no idea that the boarding home is an all-girls dormitory. Yamato notices a female preparing for the high jump while visiting his new school. He's enthralled by her athletic prowess and beauty, and he's eager to discover more about her. Suzuka Asahina happens to live exactly next door to him, but their previous experiences have left Suzuka with a negative opinion of him. Despite the misunderstandings, Yamato joins the track team in the hopes of impressing her and quickly learns that he has the potential to be a top hundred-meter sprinter. Yamato trains his heart out to try to win over the girl he loves, with friendship and maybe love on the line.
Blue Lock
The Japanese Football Association chooses to employ the mysterious and eccentric coach Jinpachi Ego to help them accomplish their ambition of winning the World Cup after considering the present status of Japanese soccer. Jinpachi starts the Blue Lock because he believes Japan lacks an egoistic striker eager for goals. The lone survivor of Blue Lock will gain the privilege to play striker for the national team, while those who are beaten will be permanently barred from joining the squad. Yoichi Isagi, a striker who failed to qualify his high school soccer team for the national championship has been chosen to participate in this dangerous experiment.
Chihayafuru
Chihaya Ayase, the strong-willed but aimless younger sister has never had a dream of her own. In contrast to her, Taichi Mashima, the son of a physician, is brilliant but insecure, since he is plagued by his strict mother's demands that he be flawless in all he does. Chihaya and Taichi's lives, however, are about to change when they meet Arata Wataya, a new transfer student in their class. Chihaya is soon enamored with the game after being inspired by Arata's ambition to become the greatest at competitive Karuta — a card game based on a famous anthology of one hundred Japanese poets. To avoid losing to the gifted Arata, Taichi joins in and immerses himself in the game, hoping to overcome his fated adversary one day.  
Ashita no Joe
Joe Yabuki is a disturbed adolescent who eludes an institution. He encounters old boxing trainer Danpei while wandering through the Tokyo slums. Joe is caught and sent to a holding facility, where he battles Nishi, his future closest friend and the head of a gang of hooligans. He and Nishi are then sent to a juvenile detention center located outside of Tokyo. Joe meets Rikiishi, a former boxing prodigy, and the two start a rivalry. They compete in a match where Rikiishi crushes Joe until the latter hits him with a cross-counter, knocking them both out. This motivates the other convicts to start boxing. Joe and Rikiishi make a promise to fight once more.
Ballroom e Youkoso
Tatara Fujita, a third-year middle schooler with no specific ambitions or plans for the future, longs to discover something he can devote his entire life to. Tatara's life changes when a guy named Kaname Sengoku saves him from delinquents. Tatara is dragged to Ogasawara Dance Studio by his savior, a motorcycle-riding dance instructor, who erroneously believes the youngster is gazing at the studio's flier. When Shizuku Hanaoka, a talented dancer and a classmate, agrees to a trial lesson, Tatara is paired with him. Tatara is dragged to Ogasawara Dance Studio by his savior, a motorcycle-riding dance instructor, who erroneously believes the youngster is gazing at the studio's flier.
One Outs
Toua Tokuchi, a master of gambling and mind games, has an outstanding record of 499 wins and zero losses in "One OutS," a simplified version of baseball in which just a hitter and a pitcher are used. Hiromichi Kojima, the top hitter of the Saikyou Saitama Lycaons, the worst club in Japan's baseball league, is paying a visit to Tokuchi's homeland of Okinawa. Dreaming of guiding the Lycaons to the title and in desperate need of a substitute pitcher during a training camp, Kojima engages in a game of One Out, only to lose to the unbeatable Tokuchi's regular fastball. After narrowly averting a loss in a rematch, Kojima invites Tokuchi to the squad, believing he could just be the best in the world.
Tennis no Ouji-Sama
One of Japan's top middle school tennis teams is based at Seishun Academy. Ryouma Echizen, a freshman tennis prodigy, enrolls at the elite university to earn a regular spot on the Boys' Tennis Team. Ryouma, the son of famous tennis player Samurai Nanjirou is tired of living in his shadow and hopes to one day outshine him. He is self-assured in his abilities and has an arrogant demeanor to match. On the other hand, his teammates are hesitant to welcome him into their starting lineup since he has yet to demonstrate that he is deserving of the place. Seishun's ultimate objective is to make it to the National Tournament before the end of the year, but they must first qualify for a berth at the Kanto Regionals.
Baby Steps
Maruo Eiichiro is a first-year honor student who decides one day that he is unhappy with the way things are and is not getting enough exercise. He comes upon a flier about a tennis club that captured his attention and decides to give it a try. Join Eiichirou as he starts on a tennis journey utilizing his wits, determination, and work ethic despite having little prior expertise and low physical shape.
Karate Shoukoushi Kohinata Minoru
Kohinata Minoru is a college student at a school known more for its athletics than for its academics. Minoru gets bullied by the better-ranking gymnasts despite starting as a gymnast with his pal Nana. One evening, a karate student at the college, Mutou Ryuuji, witnessed Minoru being bullied and comes to the rescue. Still, his intentions aren't to save Minoru, but to drag him into the world of karate. Minoru makes new friends and learns about some of their dark pasts, including a shocking death that reveals motives for revenge.
Cross Game
Kou Kitamura is a fifth-grader who comes from a family that owns and operates a sports goods store. The Tsukishima Batting Center is a regular client of his family's business. As a result, he comes to know the Tsukishima family's four girls (Ichiyo, Wakaba, Aoba, and Momiji) rather well. Kou has become a brilliant hitter due to his extensive practice in their batting cages, but he has no understanding of any of the other players. In contrast, despite being a year younger. Wakaba is Kou's classmate and she appears to be dead set on marrying him when she grows up. Everything seems to be perfect in their lives until tragedy strikes.
Teppuu
Natsuo Ishidou has been physically proficient for as long as she can remember while always being bored. Her ability to take up any sport nearly immediately has left her constantly looking for new challenges. She has acquired a selfish and apathetic attitude toward everyone around her due to her inability to find anything challenging. Natsuo notices a fellow student attempting to promote a mixed martial arts club one day. When the girl, Yuzuko Mawatari, picks Natsuo out of the throng and offers an invitation, she is offended by her manner and accepts the invitation.
Yowamushi Pedal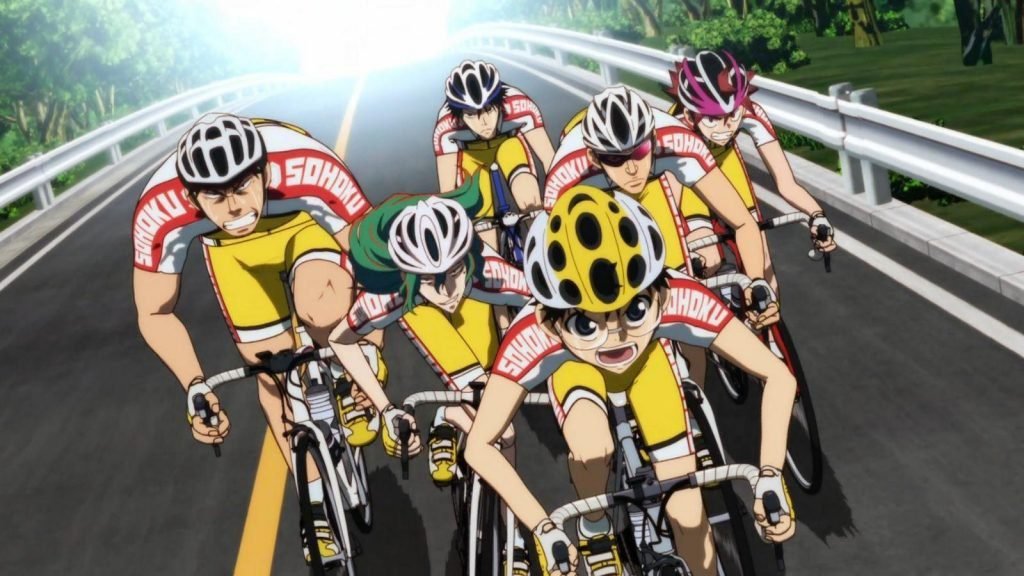 This sports anime focuses on riding, as indicated by the word "pedal" in the title. Sakamichi Onoda, the protagonist, is an otaku who is seeking friends. However, because the anime club at school has collapsed, he will have to settle with the bicycle racing club. The ensemble of characters is a lively bunch, with the main character isn't your usual sports anime hero. Not only are the protagonists fantastic, but so are the antagonists. It is not as unrealistic as Kuroko's Basketball, and some have even suggested that the cast of characters in this program is superior to Ace of Diamonds. But it's all a question of personal preference.
Yuri On Ice
On a lot of levels, Yuri on Ice is a unique anime. It portrays homosexuality in a highly distinct way from the yaoi genre, and it has gained a lot of acclaim for its unique perspective. The animation was fantastic, and it's tempting to watch the entire program again simply to see the skate parts. The animation brought the sport to life, but it also revealed the characters' personalities. The main character, Yuri, is clumsy and a bit of a geek. But once he's on the ice, he transforms into a very self-assured and serious individual and you can't blame Viktor for falling in love with him. With so much to say about this program, it's little surprise it drew such a large internet following when it first aired in 2016.
Rookies
Professor Kawato is a new Japanese teacher at the infamous Futagotamaga high school, whose baseball team is made up of thugs and bullies who have been barred from participating in any school activities for inciting a riot during an official match. Now that the suspension is ended, the only club members remaining are only interested in women, smoking, and doing nothing until they find a new dream called Koushien, thanks to professor Kawato's leadership. The journey to Koushien is not simple, as they must regain their fitness, learn to play baseball, and win everyone else's trust, including the principal and other professors, all these within a few months. Sweating and battling, the baseball team will find its resolve and strength as they pursue their goals. In contrast, Kawato's passionate and unconventional ways gradually influence the attitudes of others around them.
Grappler Baki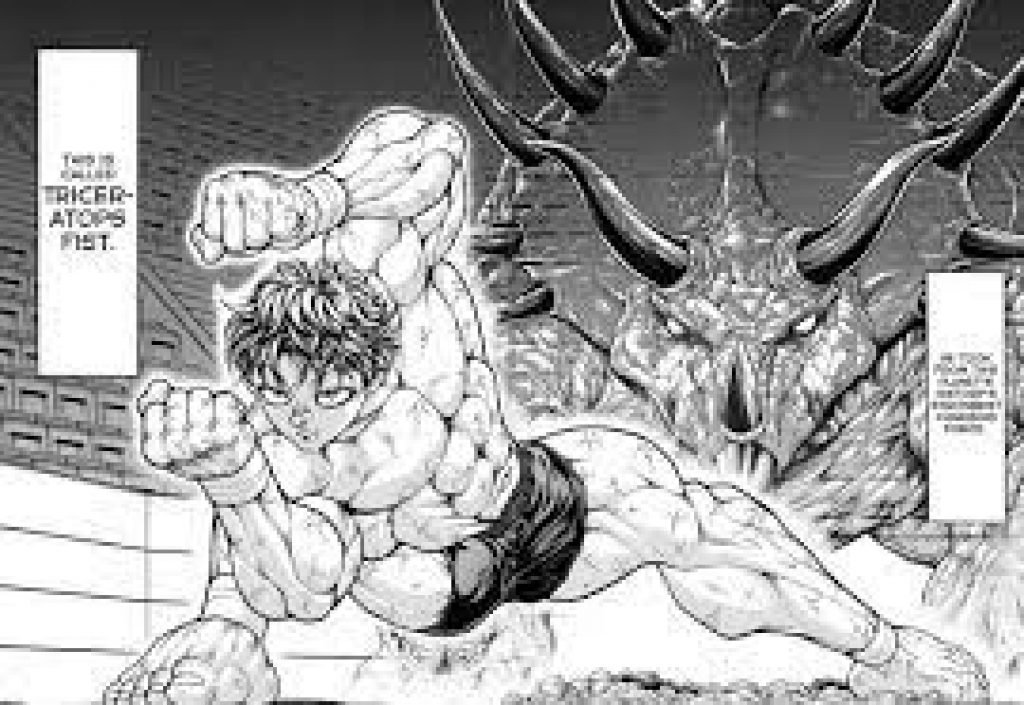 Kourakuen is an underground combat venue located beneath the iconic Tokyo Dome. There are only two actual rules in this arena: no weapons are permitted, and no prizes are available. Fighters here fight for nothing more than their dignity and the potential to change the world. Baki Hanma, a teen grappler, aspires to be one of Kourakuen's deadliest fighters, employing a unique fighting technique developed over years of arduous training and suffering. He is the sole known son of Yuujirou Hanma, the terrible horror known and dreaded across the world as the "Ogre." Baki has been filled with trauma and anger due to Yuujirou's cruel parenting and heinous international crimes, fuelling his desire to become as strong as possible.
Kengan Ashura
Since the Edo period of Japan, gladiator arenas have existed in certain areas. In these arenas, wealthy business owners and merchants hire gladiators to fight in unarmed combat where the winner takes all. Toki Taouma, nicknamed "Ashura", joins these arenas and devastates his opponents. His spectacular ability to crush his enemies catches the attention of the big business owners, including the Nogi Group chairman, Nogi Hideki.
Run With The Wind
The sport of running is the center of this anime. It's a character-driven tale, much like the other programs on our list. Everyone is fleeing for a variety of reasons, and each has their baggage to deal with. They each have a unique and complicated relationship with the sport. While the focus is on a ten-person squad, each character is allowed to stand out and express themselves. Aside from the individuals, the program does an excellent job of capturing a college dorm's atmosphere. After all, this is all taking place when the characters are at college.
Amanchu
This scuba diving-themed sports anime aired 12 episodes and an OVA in 2016. It's a scuba diving show, but it's also a slice-of-life narrative in which each episode seems like its own mini-adventure. Friendship is a significant theme in this program, as it is in every other title on this list. Pikari and Teko, the two friends who are the core of the story, are entertaining to watch since one is timid and the other is lively and quirky. Teko doesn't know how to swim at first, which is amusing. The animation makes you wish you were in a summertime beach town where you could go scuba diving.
Sport is a really interesting and intriguing thing to indulge yourself in so as reading this top 30 sports manga. They are certain to give you just what you were looking for in a sports manga.