Anime idols are similar to real-world idols but in a more fantastic setting. Music is undoubtedly an important component, but the romantic aspect keeps fans coming back for more. So here's a list of the Top 10 Best Idol Anime.
PriPara
A ticket awaits every little girl, a ticket that will grant them entry into the colorful world of Prism Paradise. It is a place where girls become idols and become who they want to be. Manaka Laala adores idols, but she prefers to watch them rather than participate in them; despite this, she ended up as one of the most popular idols in Prism Paradise. Laala, on the other hand, must exercise caution, especially at school, where such activities are prohibited for girls. In PriPara, anything is possible: music, fun, and adventure!PriPara is aimed at a young audience, as evidenced by Mahou shoujo-style transformation scenes, a lighthearted storyline, and tons of wacky humor. Aikatsu!, PriPara, and Full Moon Wo Sagashite are all small gateways for fans to enter the world of idol anime, and PriPara provides something that most idol anime lacks: extreme fun.
Skip Beat
Skip Beat rounds out the top of this list. Kyouko is a 16-year-old girl who wishes to assist her friend Shou in becoming a top-ranking idol. Kyouko is acting out of love, but Shou does not see her in the same light. She wants vengeance on Shou after realizing he only sees her as a servant. To accomplish this, she aspires to be a better idol than he is. Skip Beat ran for one season and 25 episodes. The anime first aired in the fall of 2008 and has since concluded. It is one of the top idol anime.
Gekidol
Gekidol is SO MUCH MORE THAN WHAT THE TITLE INDICATES. Gekidol's description hints at mystery and sadness, as it takes place five years after several cities are wiped off the face of the Earth. However, the promise of following young Seira as she pursues her dream of becoming an actress leads you to believe that it will primarily be about overcoming stage fright and learning to embrace an uncertain future. However, the drama in the troupe's personal life is what keeps you wanting to see more. Gekidol is best appreciated by not knowing what to expect, as it was most likely intended. It is one of the top idol anime.
BanG Dream! Episode of Roselia II
Roselia members begin their practice sessions after deciding to compete at FES and earn a spot in FUTURE WORLD FES. Lisa, who consistently avoids conflict and keeps her opinions to herself, begins to communicate more with the rest of the band, telling Sayo how to improve her guitar sound and Ako when to start playing the drums. Sayo is taken aback by Lisa's change in attitude, which causes her to reflect on herself. But, while everyone else is content and determined to move forward, Ako has some reservations. What happens to Roselia after they perform at the FWF? Because the band's goal from the start has been to reach that point, Ako is concerned that the end of Roselia ma. It is one of the top idol anime.
IDOLiSH7
The cast of Idolish Seven is entirely made up of male idols. IDOLiSH7 is a group of seven boys who form an idol group. Each character is distinct in their own right, and they strive to be the best idol group. They will, however, have to learn what it takes to be the best on their way to the top. The anime is relatively new, with an eight-episode side series called IDOLiSH7 Vibrato and a second season set to premiere in 2020. IDOLiSH7 aired 17 episodes during the winter of 2018, and season one is now complete. It is one of the top idol anime.
Marginal #4:
A very cute and colorful series!! On the lighter and more enjoyable side. The first episodes are ridiculous and follow the idol group's misadventures through their daily school lives, gradually incorporating more "idol drama" as the series progresses. They have simple, exaggerated personalities with unique interests/character quirks, which I don't consider a negative (uncomplicated is a positive for me!) The songs are featured in different sequences in each episode's credits, which is pretty cool because it allows for more air time for the episode's actual subject matter. It is one of the top idol anime.
I'll Make a Habit of It
Nagisa, a teenage idol singer who yearns for a normal life, is central to the plot. However, being so popular causes issues, so she decides to cut her hair and attend a regular school—as a boy. In a similar vein to Ranma, we quickly run into a slew of issues that arise when there is gender confusion. In the first episode, Nagisa finds a boyfriend to give you an idea. He loves her, but because he is unaware of her multiple personalities, he wants to challenge her male persona to a duel! As the series progresses, new characters are introduced, and various subplots emerge. some of which are quite bizarre. It is one of the top idol anime.
Zombieland Saga
Zombieland Saga is the first of this list's takes on the idol genre. Who says the undead can't be worshiped? Sakura is a 17-year-old girl who aspires to be an idol, but her ambitions are dashed by truck-Kun. However, ten years later, she reappears as a zombie with amnesia. She joins Koutarou's undead idol group, Franchouchou, along with six other zombie girls. Mamoru Miyano, Koutarou's voice actor, won best voice actor for his role in Zombieland Saga at the Crunchyroll 2019 Anime Awards. The anime was also nominated for Anime of the Year. The Zombieland Saga has one season of 12 episodes and a second season has been confirmed. The anime aired in the fall of 2018 and has now concluded. It is one of the top idol anime.
Prism Rhythm: Rainbow Live
Rainbow Live, perhaps taking many of the notes from Aurora Dream, starts with a bang. It improves on many of the previous series' flaws by introducing stronger themes and plot developments (twists) that, frankly speaking, may be beyond the series' target age. But it's precise because of this that it's so good. That and the characters are given adequate exposure due to many episodes. Even though the wonderful songs may sound repetitive again as a result.
Love Live! School Idol Project
This anime's first season was undoubtedly entertaining, introducing viewers to a new generation of idol characters. The issue is that it didn't stray far from the already-established franchises. Everything changes in the second season. The stakes have risen. The motivations are more powerful. Characters have a more genuine feel to them. And, perhaps because of the more inspirational themes of the second season, the songs have an even greater impact as they are introduced. If you were let down by the first series, give this one a shot. At the very least, you'll know if the idol genre is your cup of tea based solely on this series (start at season 2 for sure).
Miss Monochrome
The twist in this idol anime is that the main character, Miss Monochrome, isn't just a girl who wants to be an idol; she's an android who wants to be an idol! To top it all off, she despises all colors and wishes to convert everything to her preferred monochrome style! This is a short anime, with each episode lasting only 4 minutes, but it contains a lot of humor and quirky moments that are very entertaining. It's also a one-of-a-kind story in the idol world, and it makes you wonder whether an android can do a better job of becoming an idol than a human.
4DJ: First Mix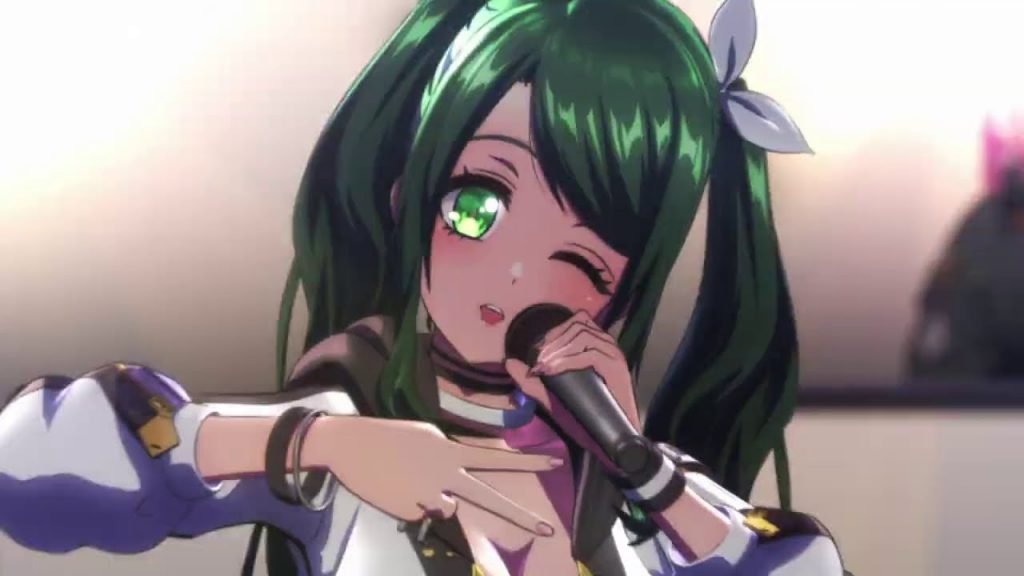 Rinku Aimoto returns to Japan and enrolls at Yoba Academy, a school with thriving DJ culture. An unforgettable DJ concert deeply moves her she witnesses at school, where she quickly meets Maho, Muni, and Rei one after the other. After some time together, the four of them decide to form their DJ group called Happy Around. Rinku and her friends make their way to the big stage by collaborating with Peaky P-key, Photon Maiden, and other DJ units at the school! "Everyone, please! "Happiness all around!"
Also check out: Top 50 Most Famous Light Novel Authors