We'll discuss the top anime shows about gambling nowadays. While some have open conversations about it, some (like poker anime) incorporate features of gambling. You've probably watched at least one episode of anime previously, even if you weren't aware of it, ranging from Yu-Gi-Oh! to Naruto. But did you know that there are also anime shows about gambling? Yes, you heard correctly. Let's get going.
Kaiji
Kaiji fails to find steady employment three years after graduating from high school and moving to Tokyo to look for work. It is due to the country being mired in its first recession since World War II. He is depressed and lives in his apartment, passing the time with cheap pranks, gambling, liquor, and cigarettes. Kaiji is constantly concerned with money, and his perpetual poverty frequently brings him to tears. Kaiji's unending misery continues until he is unexpectedly visited by a loan shark named Yji End. He wants to collect an outstanding debt that Kaiji. The end gives Kaiji two options: repay the debt over ten years or board the gambling ship Espoir for one night. It is one of the Top Gambling Anime.
Death Parade
The concept of heaven or hell is non-existent in the mysterious anime Death Parade. Those who die will end up at Quindecim. It is a bar where they will play various games against other recently deceased people. Watch these dearly departed souls battle it out, whether it's darts, air hockey, or even bowling. Those who win will safely reincarnate to their next life. While those who don't will be cast into the void. This establishment has been run in this manner for all eternity. It is until the arrival of a certain man causes even the ever-patient Decim to question himself. It is one of the Top Gambling Anime.
Kakegurui
Students are ranked based on their monetary contributions to the Student Council. It fuels an intricate gambling system in which students freely bet against one another after class. Those who win gain popularity, prestige, and connections. While those who lose and go into debt become slaves to the whims of the rest of the student body known as Pets. Pets who are unable to pay off their debts by graduation are given "Life Schedules". It dictates their futures while they work to pay off their debts. It is one of the Top Gambling Anime.
One Piece Film: Gold
The film sets in Gran Tesoro which is an independent country. It is chartered by the World Government that is home to the world's greatest entertainment city. It is where well-known pirates, Marines, and millionaires from all over the world congregate. There, the Straw Hat Pirates meet the country's ruler, the golden emperor, Gild Tesoro, who easily wins over pirates, Marines, and even the World Government with money. He is about to act to satisfy his bottomless ambition. This may result in significant changes in power dynamics in the New World… It is one of the Top Gambling Anime.
Legendary Gambler Tetsuya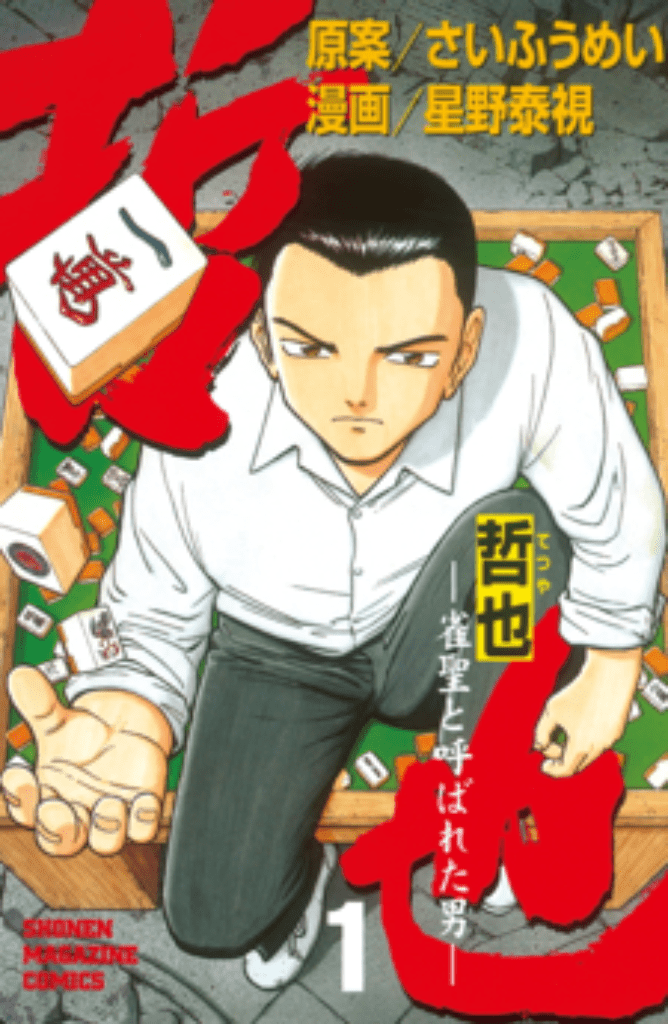 Shinjuku's residents are down on their luck in 1947. Some people turn to gambling to survive when they don't have enough money to buy food or other necessities. When Tetsuya travels, he spends his time at Mahjong parlors, wiping the floor with his opponents. However, when Tetsuya meets the intensely skilled Boushu-san, he realizes that his abilities are still lacking. It is one of the Top Gambling Anime.
One Outs!
Tokuchi purchases the Lycaons three times the original bid. Despite strong opposition from the team due to his dubious nature. Tokuchi begins to implement a wide range of changes, most notably the L-Ticket. It's the old admission ticket with a new 1.5 admission fee. But it comes with the promise of a full refund if the Lycaons lose. Furthermore, by paying 200 yen per vote, spectators can cast up to five votes for the MVP on the ticket. It will directly influence the new player's salary. Though the Lycaons are in disarray as a result of the new changes. The team gradually realizes that these changes are exactly what the team needs to become. It is one of the Top Gambling Anime.
Akagi
Three years after the fight with Washizu, Akagi is last seen winning big in Tehonbiki. It is a no-chance gambling game and wandering around local gambling dens with Osamu Nozak. Akagi is a freckled young coworker from the toy factory where they used to work. It is one of the Top Gambling Anime.
No Game, No Life
Sora and Shiro are two hikikomori step-siblings who are known as Blank. It is an undefeated group of gamers, in the online gaming world. Tet, a god from another reality, challenges them to a game of chess one day. The two are victorious and are allowed to live in a world centered on games. It is one of the Top Gambling Anime.
Rio: Rainbow Gate!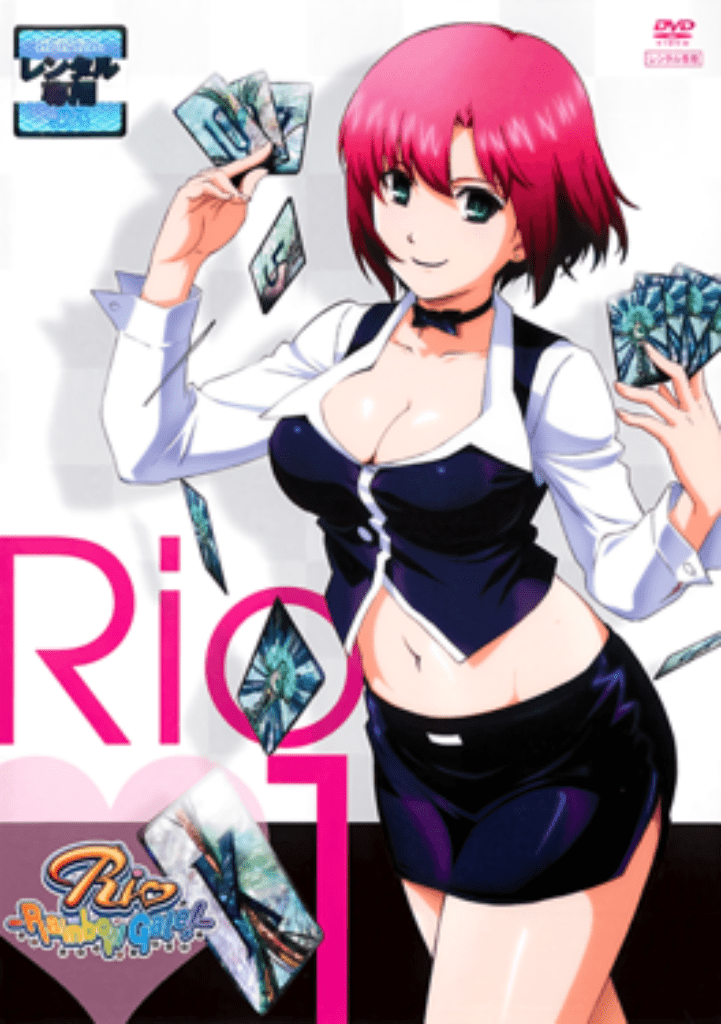 Rio's life is soon turned upside down when it is revealed that she is a "Gate Holder". A dealer who possesses one of the 13 legendary cards known as "Gates". Whoever collects them all is dubbed "Most Valuable Casino Dealer" (MVCD). Rio must participate in special matches called "Gate Battles" with other Gate Holders to gain their Gates.
Saki
The series is set in the Yoshino area of Nara and follows Shizuno Takakamo, an old friend of Nodoka's who used to be in the Achiga Girls Academy's mahjong club together. Shizuno sees Nodoka on television making her stride in mahjong a few years after the club disbanded and the two split up. Shizuno decides to resurrect the Achiga Mahjong Club so that she can compete against Nodoka in the inter-high national championships. Shinohayu the dawn of age, a spin-off, depicts the childhoods of the series' various pro mahjong players, focusing on a girl named Shino Shiratsuki, who enters the world of competitive mahjong to find her mother, who went missing one day.
Yu-Gi-Oh!
As the series progresses, Yugi and his friends discover that the person inside his puzzle is the spirit of an unknown Pharaoh from Ancient Egypt who had lost his memories. As Yugi and his companions try to help the Pharaoh regain his memories, they face numerous trials as they wager their lives against gamers wielding the mysterious Millennium Items and the dark power of the Shadow Games.
C: The Money of Soul and Possibility Control
The visitor, who goes by the name Masakaki, petitions Yoga to come to the Eastern Financial District, a place where money flows freely if one offers their "future" as collateral. Despite his reservations, greed triumphs over reason, and Yoga accepts the offer, taking on the mantle of an "Entre." But, unbeknownst to him, the land of wealth he has entered is an alternate realm built in his image, where Entres are forced to participate in weekly duels called "Deals," with their collateral on the line. Pitted against his countrymen and fate, Yoga must adapt quickly to this new world if he hopes to protect his fortune and future—and learn just how much money is truly worth.
Joker Game
Before World War II begins in earnest in 1937. Lieutenant Colonel Yki of the Imperial Japanese Army establishes the "D Agency," a military intelligence organization under his command and supervision. Lieutenant Sakuma is attached to the Army General Staff to observe the unit's performance. D Agency searches far and wide for agents other than Japanese military personnel, and Yki establishes D Agency's tenets, which contradict IJA doctrine: "Don't kill, don't get killed, don't get captured." Yki uses this to train a team of operatives who carry out missions against both domestic and foreign powers.
Dorei-ku The Animation
When two SCM users engage in a duel, the devices have a strong influence on their brains. Once the duel is over, the SCM heightens the loser's sense of obligation and forces them to submit to the winner's will. Yuuga, desperate to put his abilities to the test, asks Eiya to act as his insurance if he becomes a slave. Eiya's job, given access to 10 million yen, is to persuade Yuuga's would-be master to release him from servitude. Though she is initially hesitant, Yuuga's words resonate with her yearning for more from life, and she agrees to his request. However, when a mysterious organization begins rapidly amassing slaves, Eiya is drawn into a far more dangerous game.
Mahjong Hishō-den: Naki no Ryū
Ryuu, also known as Crying Dragon, is a mysterious man who frequently engages in games with the gang members. He only wins by "ron," which requires waiting for the opponent's tile to complete the win.
Mudazumo Naki Kaikaku: The Legend of Koizumi
Politicians have devised a new method of resolving disputes in the name of global peace: they gather in locations around the world and wager on a game of Mahjong. Koizumi is a former Prime Minister of Japan's Cabinet who is not only a Mahjong master but will not let anything – not even three bullets to the chest from hired hitmen – stop him from attending a game. Whatever obstacles appear in his path, whether they are alien-controlled ministers, weapons of mass destruction barreling towards Tokyo, or a resurrected form of Chairman Mao, Koizumi will play his best hand, right down to the last tile.
Kengan Ashura
Kazuo is forced to manage Ohma, who enters these arenas only to destroy his opponents. His spectacular ability to crush his enemies catches the attention of big business owners, leading to his invitation to Hideki's Kengan Annihilation Tournament. This tournament is held by Japan's most powerful CEOs, and the winner receives the position of Kengan Association chairman, a position of enormous power and prestige. As the tournament progresses, Ohma's strength is tested while his mysterious past comes back to haunt him, and Kazuo struggles with managing Ohma and determining why he was invited to this tournament.
Usogui
Usogui follows Bak Madarame, also known as The Lie Eater, as he gambles against malevolent people who want to kill him in the ultimate bet. Games like Old Maid, Hangman, and Escape the Abandoned Building are as depraved as the people who place the bets. Bak's ultimate goal is to keep his life, and in this process, Kagerou, a third party who oversees and secures these games and eliminates anyone who interferes with them, enters the picture. Follow Bak as he attempts to out-gamble Kagerou and gain control of him.
Hikaru no Go
Set shortly after the Hokuto Cup event, it depicts two Inseis, ranked 14th and 16th in their group, debating whether Akira Toya or Hikaru Shindo is the stronger player. They are paired with Hikaru and Akira in the Young Lions Tournament, forcing them to reconsider who is stronger. Hikaru and Akira are paired against each other in the second round and begin a match, but the outcome is unknown.
Rei Kiriyama's parents and younger sister were killed in a car accident when he was a child. He then moved in with the family of Masachika Kda, a friend of his father's. When Rei reached adulthood, he left his foster family, believing he was only causing trouble. He is now single and has few friends. Akari, Hinata, and Momo, three sisters from the Kawamoto family, are among his acquaintances. Rei deals with his maturation as a professional shogi player and as a person as the story progresses, all the while strengthening his relationships with others, particularly the Kawamoto sisters.
That's all folks! These are the Top 20 Gambling Anime of all Time. If you know any more anime do mention them in the comment section below. We would love to hear from you!
Also, check out-> 24 anime that will motivate you to study hard