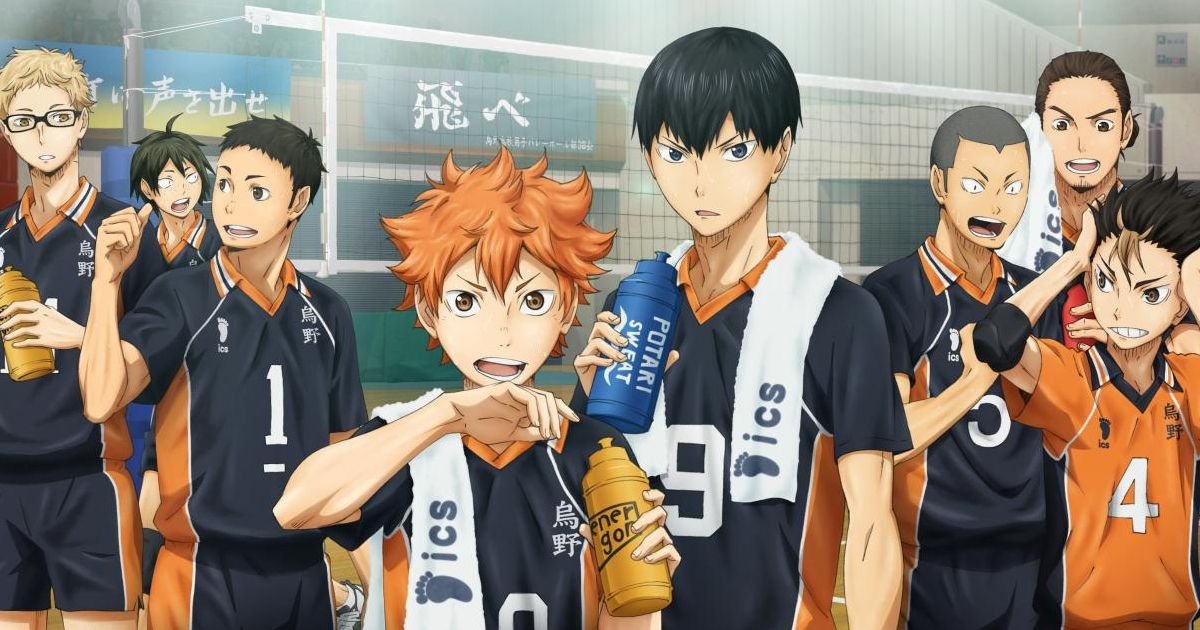 Hey, welcome to animerankers.com! 
Today we decided to embark on a journey to rank the Top 25 Must Watch Sports Anime. So here it is. 
Hope you like it. 
25. Try Knights 
Haruma Riku enters high school with no prospects for the future. With a fleeting glance, his attention is drawn to the wild, animal movements of the student on the school playground. He jumps higher, runs faster, and tries harder than anyone Riku has ever seen. That student is Kariya Akira. The sport he does is one that Riku has tried in the past but quit: rugby. As he watches Akira run with a rough, unrefined step. Riku gives him advice without hesitation, the words reigniting his passion for rugby. With the first meeting of these two young men, one tactical and the other physical, a new light begins to shine on Riku's future. It is one of the best sports anime.
24. Extra Olympia Kyklos 
Demetrios was a young man in ancient Greece who was a potter's apprentice, but also a fairly shy otaku. Despite practicing art, he was gifted with natural sporting talent. One day he gets caught up in a conflict in a village. Demetrios wonders how helpless he is, but suddenly he's struck by lightning. When he recovers, he is no longer in Greece. He is in a foreign country where he doesn't understand the language and people look completely different. Yes, somehow he finished in 1964 in Tokyo! Of course, Demetrios has no idea what Japan is. What will happen to him ?! It is one of the best sports anime.
23. Sayonara Watashi no Cramer 
Over the years, the reputation of women's soccer in Japan has gradually faded away. Despite this rather grim scenario, there are still schools with teams trying to keep the sport alive. Along with this, there are glimmers of hope. 
Playing for a boys' soccer club while she was in junior high, Nozom Onda's skills are no less than wonderful. For this reason, she thinks playing soccer with her friends will only pull her off. She is motivated to play her best when she faces those she considers worthy opponents. Meanwhile, Sumire Suou is a promising newbie with a unique talent. A talent hindered by a team unable to keep up with her abilities. It is one of the best sports anime.
22. 2.43: Seiin Koukou Danshi Volley-bu 
The brilliant quarterback Kimichika Haijima returns to Fukui from Tokyo. After an incident with the school's volleyball team that forces him to retire. There, he reunited with Yuni Kuroba his childhood friend and a member of the Monshiro High School Men's Volleyball Team. Haijima noticed Kuroba's ability and was determined to form a new volleyball team with Kuroba as the ace of the team. In the Prefectural Tournament, Kuroba collapses under pressure, causing Monshiro's team to fall apart after a loss. The failure also creates a rift between Haijima and Kuroba, leading to the departure of the former from the team. It is one of the best sports anime.
21. Skate-Leading Stars 
Figure skating prodigy Kensei Maeshima unexpectedly withdrew from the sport. He withdrew after his unilateral opponent Reao Shinozaki refused to acknowledge his skills. As a student at Inodai High School, Kensei used his athletic skills to help other sports teams. One day, Reo announces that he has switched from solo figure skating to team figure skating. He announced that he is joining St. Clavis Gakuin – last year's Grand Prix winners. Hayato Sasugai, a classmate who had a mysterious connection with Reo, convinced Kensei to change his leadership on skateboarding. They eventually defeated his opponent in the game. It is one of the best sports anime.
20. Iwa Kakeru!: Sport Climbing Girls 
Video games, especially puzzles, have always been at the heart of Konomi Kasahara's life. However, upon entering high school, Hanamiya decides to deviate from this lifestyle. Konomi wanders the corridors in search of a new activity to engage in. She comes across a giant wall belonging to the school's climbing team. Fascinated, she tried to climb the wall and found that she could use her puzzle-solving techniques to help her reach the top. 
Convinced that she has found her calling, Konomi immediately joins the club. Trying to improve his climbing skills, Konomi, along with the rest of the Hanamiya Climbing Team, learns what it means to be a "sport climber". They work hard to achieve victory in the upcoming competition. It is one of the best sports anime.
19. Beyblade Burst Sparking 
A year after the events of Beyblade Burst Rise, brothers Hikaru and Hyuga are witnessing the super-chaining powerhouse / sparkling evolution of Valtryek, Roktavor, and Satomba. The three beys radiate a power that was impossible to even dream of as their blades fired a sparkling rocket. Inspired by Hyuga and Hikaru to create their sparkling beats, Hyperion and Helios, they compete with the legendary sharpeners. They train to get the best out of the best players that have ever touched the stadium. 
Prepared to do whatever it takes to become the best, they go out all over the world to challenge the best to let them tear themselves apart, strive to become stronger, and fight all the best players who have been able to make their mark on the stadium. It is one of the best sports anime.
18. Number24 
Natsuza Yuzuki has been playing rugby as a left-winger since childhood. After entering Doushisha University, he quickly became a rising star in the Kansai University League. 
His dreams, however, are shattered when a nasty motorcycle accident leaves him with a herniated spine, preventing him from playing rugby anymore. With no other role available than that of manager, he accepts the new position and hopes his team will win the league title. 
Yuzuki's team is an unbelievable group, including his stoic best friend and defender Seiichirou Jingyouji; the impetuous freshman Yasunari Tsuru, who has a strong aversion to Natsuza, taking up his former left-wing position; and Yuu Mashiro, who tries to hold the position as half of the scrum. 
Even though Natsuza puts everything into training his team for the championship, their roster still feels incomplete. A year ago, Ibuki Ueka, the brilliant flyer who was once Doushisha's ace, suddenly quit rugby – and now Natsuza is determined to get him back. It is one of the best sports anime.
17. Shakunetsu Kabaddi 
Tatsuya Yoigoshi was once a nationally recognized football player and is now a freshman at Noukin High School. Due to a developed hatred for the sport, he abandoned his previous aspirations to become a famous live streamer on the Internet. One day, Souma Azemichi, his first year in the kabaddi band, searches for Yoigoshi and spontaneously interrupts his live broadcast. 
Without any expectations, Yoigoshi follows Souma to the school's gym, where he witnesses second-graders Kyouhei Misumi and Shinji Date engage in the original Kabaddi contact sport. Despite ridiculing the rules of the game, Yoigoshi is stunned by the intensity of the round. Due to a tempting contract and a slight compulsion, he agrees to settle the prospect of his recruitment in the most invigorating way: a kabbadi battle, a team sport played empty-handed. It is one of the best sports anime.
16. Mix 
Meisei Academy High School was famous for its amazingly strong baseball team. But 26 years after their fame, the team was unable to maintain their record and has since lost fame. 
Two stepbrothers, Souichirou and Touma Tachibana are looking to revive the once-strong Meisei Academy baseball team and take part in the national high school baseball championship. 
Souichirou and Touma are in their second year of Meisei Academy Middle School. Both boys are gifted baseball players. Souichirou has demonstrated excellent skills as a catcher and batter. While possessing an unusual ability as a blaster, Touma no longer throws for some reason. 
Once they both enter high school, they unite as a battery and strive to win the National High School Baseball Championship! It is one of the best sports anime.
15. Taisou Zamurai 
At the height of his gymnastics career, Joutarou Aragaki – known as the Samurai for his distinctive hairstyle – suffers a shoulder injury following his wife's death. Five years later, he continues to push the boundaries of his body as a member of the Japanese gymnastic team. However, Joutarou's grueling training shows no progress. His coach, Amakusa Noriyuki, advised him to retire. 
Joutarou and her energetic and helpful 9 years old daughter, Rei, went to ego's wonderland to convey her sad news. However, their tour ends with a strange encounter with a peculiar self-proclaimed ninja named Leonardo. He follows them home and interrupts Joutarou's every attempt to tell his daughter. It is one of the best sports anime.
14. Ahiru no Sora 
Lacking the most important asset in basketball, Sora Kurumatani has been struggling with her short stature since she loved basketball. Despite the lack of this advantageous aspect, Sora's unwavering momentum never allowed his short stature to dictate his ability to play, firmly believing that he was trying the hardest and persistent practice to prove his skills. 
Hoping to fulfill her mother's wishes, Sora enters Kuzuryuu High School to become a basketball club member and compete wholeheartedly in tournaments. However, Sora is disappointed to learn that the boy's basketball team is nothing more than an escape for punks who are not interested in the sport. Sora also learns that the brothers Chiaki and Momoharu Hanazono – whom he became acquainted with – have also lost their motivation to play. It is one of the best sports anime.
13. Dumbbell Nan Kilo Moteru? 
During the regular shark after school, voracious high school student Hibiki Sakura is confronted with her best friend Ayaka Uehara about her constantly expanding waistline. As her attempts to exercise alone fail, Hibiki decides to join the newly opened Silverman Gym. In her orientation, Hibiki runs into the student council president and school idol Akemi Souryuuin. 
However, it quickly turns out that Hibiki is waiting for much more than she expected. Not only is the Silverman Gym full of world-renowned bodybuilders and athletes, but even worse, Akemi turns out to be a total muscle fetishist! Disaffected by the scene before her eyes, Hibiki begins to walk away but is stopped by coach Naruzou Machio. Fascinated by her newfound Prince Charming, Hibiki signs up as a gym member. Now, as a result of a decision made on the spur of the moment, Hibiki has to adjust to her new lifestyle. It is one of the best sports anime.
12. Houkago Teibou Nisshi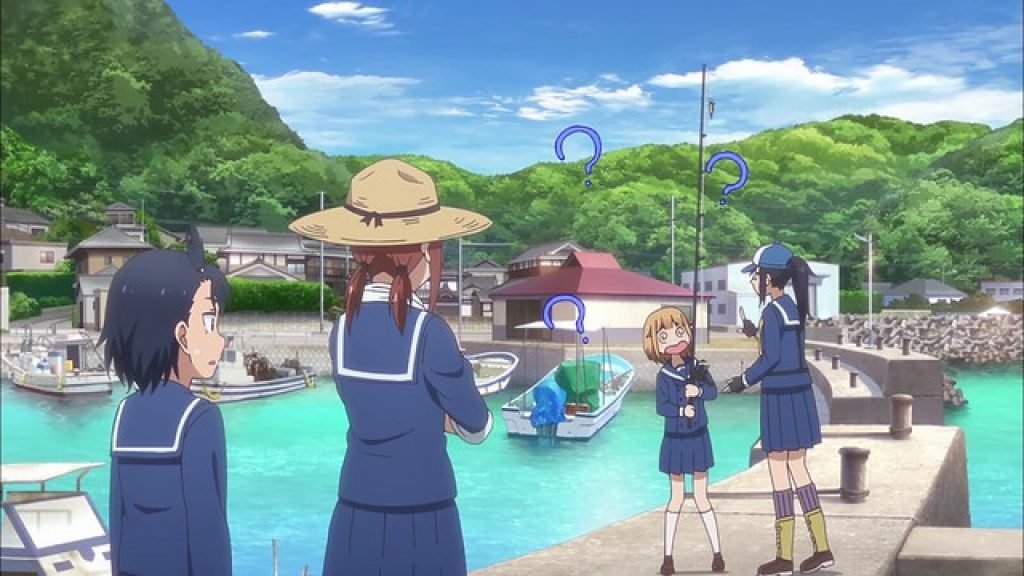 Hina and her family moved to a quaint seaside town. Hoping to enjoy the view of the calm ocean, Hina stumbles upon a girl named Yuuki Kuroiwa – an upper-class student at her new school – who invites Hina to join her fishing. Hina curls up into an octopus that falls on her; afraid of worms and large creatures, he panics and begs Yuuki to remove her. Yuuki sees this as an opportunity to force Hina to join the school's Breakwater Club – a club where members gather, fish, and eat various types of marine life as their main activity. 
Though her attempts to refuse to join are unsuccessful, Hina slowly begins to discover the hidden joy of fishing. Her view of the sport is changing, now she is waiting for all the great experiences that she can participate in along with other members of the club. It is one of the best sports anime.
11. Major 2nd   
After recovering from an internal struggle he has faced in the past, Daigo Shigeno continues to play baseball and is now captain of the baseball team at Fuurin Private Academy. Together with Mutsuko Sakura, his classmate from elementary school, he wants to lead the team to glory. However, due to unexpected circumstances, the Fuurina baseball team only has six members: Daigo, Mutsuko, Yayoi Sawa, Tao Sagara, Seira Kandori, and Hiromu Tanba. The team, left mostly to women and devoid of experience, tries to gain the confidence and trust of the recruits – Akira Nishina, Anita Kabashima, and Chisato Fujii. Faced with challenges such as the lack of a proper coach, problematic recruits, and limited membership, Daigo's resolve is put to the test as he tries to get his team together in time to compete in the first-ever tournament. It is one of the best sports anime.
10. Hoshiai no Sora 
The boys' soft tennis club, which has been constantly surpassed by the girls, is facing disintegration due to poor skills and poor performance. Desperate for the members of Tom, Shinjou seeks out talented players but fails to recognize anyone. Enter Maki Katsuragi, a new transfer student who shows great reflexes as he catches a stray cat in his class, immediately grabbing Tom's attention. With interest aroused, Toma ambitiously asks Maki to join the boys' team but is quickly dismissed as Maki refuses to join any club. Toma refuses to back out and ultimately convinces Maki – only on the condition that Toma pays him for the participation and other club expenses. 
When Maki joins the team, his amazing form and quick learning allow him to instantly overshadow the rest of the team. While this causes conflicts between the boys, Maki challenges and pushes the other team members to not only keep up with his seemingly natural talent but also force them to devote themselves to a game they once neglected. It is one of the best sports anime.
9. Bakuten!! 
Shotaro has always loved sports, but he has never been more than a substitute for the school baseball team. After noticing a group of gymnasts in the park, she decides to watch an artistic gymnastics tournament on a whim. Despite a great performance at the competition, Shoushukan High School's Rhythmic Gymnastics Club is in the penultimate position due to the penalties received for not fielding a full six-person squad. 
His skill performance attracted Shoutarou. Although he had no experience in this sport, he decided to join Morikikan, hoping to join the team. The club recruited him with the prodigal son Ryouya Misato who finished second in the Junior Championships. It is one of the best sports anime.
8. Haikyuu!!: Riku vs. Kuu 
There is a fierce battle at Tokyo Qualifiers for the remaining three places in the national volleyball competition. Nekoma High School, Fukurodani High School, Nohebi Academy, and Itachiyama Academy are passionate about participating in the tournament. Despite the various problems in the courts, Nekoma is particularly eager to prove that they are worthy of entering the national level. 
As teams struggle to secure a spot by beating both opponents and their weaknesses, qualifying in Tokyo determines which teams will win and join the national competition. 
7. Uma Musume: Pretty Derby Season 2 
In the horse racing world, the horses of Team Spica are gaining ground as they continue to win. Toukai Teiou, known for her cheerful personality and exceptional running skills, attracts the most attention in the group. Teiou wants to become the invincible triple crown girl by winning all three G1 races consecutively, which has not been done since the legendary Symbolic Rudolf did so many years ago. 
On her way to winning the Triple Crown, Teiou faces many challenges, meeting both old and new rivals. Amidst the fierce rivalries, however, Teiou will soon have to make decisions that will have a profound impact on her racing career. 
6. SK∞ 
The Reiki Kyan high school student is passionate about one thing: skateboarding. When night fell, he headed to "S", which is an illegal underground mine competition, where skaters compete in extremely dangerous conditions. After losing, resulting in the destruction of the skateboard and breaking the arm, Reki is now unable to exercise at all. 
While at work, Reki meets his new classmate, Langa Hasegawa, a half Canadian, half Japanese who has no experience in skateboarding. Lang desperately needs money. After they both visit "S" when given a job by Reki's boss, they run into trouble and are forced into a bet where Langa will skate in the race. However, the mystery transfer apprentice has a trump card that Reki is unaware of that could help him win the race in the most unexpected ways. 
5. Diamond no Ace: Act II 
The sacred site of the Koshien stadium is a "dream field" in which the ambitions of high school students are fulfilled. After winning the fall tournament last year, the Seidou High School baseball team finally won the right to compete there for the first time in seven years. Outside of the spring tournament, a battle is approaching to find the best team in the country – Summer Koshien. 
As the third-year players are due to retire after the summer tournament, the team must integrate the seniors 'experience with the newcomers' potential to defeat both known and new opponents and win the coveted national title. 
4. Nomad: Megalo Box 2 
Megalo Box is an advanced form of boxing in which competitors wear a metal frame called Gear. When the first-ever Megalonia tournament was held, "Gearless" Joe became its champion and is known to everyone as a legendary fighter. Shortly after, however, he lost an exhibition match to the second champion and disappeared from the public eye. 
Seven years later, Joe is now going through the "Nomad" and is unobtrusive, occasionally fighting in several underground matches to survive. He is haunted by hallucinations and relies on a set of painkillers to dull his mind. 
3. Haikyuu!!: To the Top 
After defeating Shiratorosawa Academy, the Volleyball Team won their long-awaited national team ticket. In the early days, the talented player Tobio Kageyama was invited to participate in the All-Japan Youth Training Camp to fight alongside other well-known national players. Meanwhile, Kei Tsukishima is invited to a special training camp for beginners in Miyagi Prefecture. Without receiving any invitations, Shouyou Hinata felt left behind. 
However, Hinata does not back down. Transforming his frustration into his motivation, he boldly decides to sneak into the same beginner training camp as Tsukishima. Although Hinata only gets a job as prom boy, he begins to see it as a golden opportunity. He begins not only to reflect on his volleyball skills but also to analyze the wealth of information available on the pitch and how to use it. 
2. Chihayafuru 3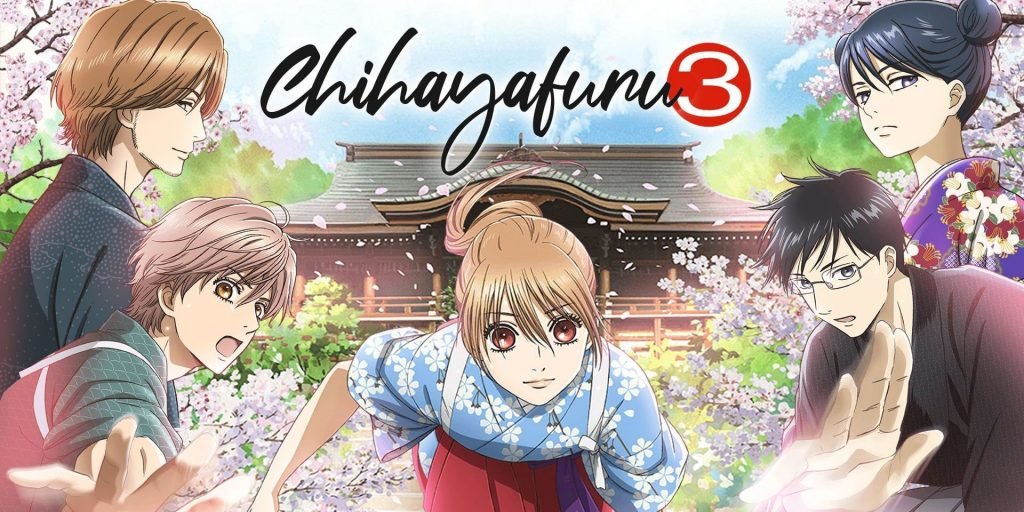 Winning the team tournament in high school was a great achievement for the members of Mizusawa. Each of them has made great strides in self-improvement, and victory symbolizes how far they have come. But after achieving one goal, their individual goals are at hand. Chihaya Ayase focused on Wakamiya Shinobu and the title of Queen, and now Taichi Mashma has reached the A grade, and can finally compete with Arata Wataya. Everyone in Mizusawa wants to be better and you don't know what the future will bring if they try. 
1.  Haikyuu!!: To the Top 2nd Season 
Once called a fallen power and known as "Flightless Crows", Karasuno High School finally entered the national competition. With their all-around performance against Tsubakihara Academy in their first match, the team is now facing its toughest opponent: the runner-up of the last spring tournament, Inarizaki High School. Moreover, dealing with Miya's powerful twin brothers only makes Karasuno more difficult. 
As soon as the match starts, Karasuno is overwhelmed by the noise and mockery of Inarizaki High supporters but reignites his strength thanks to his loyal fans. Karasuno also gains momentum, using an attack focused on Shouyou Hinata, but Atsumu and Osamu Miya's eccentric play deals an unexpected blow that astonishes the opponent. 
That's it, folks! Hoped you liked it, if yes, don't forget to like, comment, and share with your friends. 
Have a Good Day!!
Also, check out -> Top 25 Reincarnation Anime