One of the best types of anime that most people can watch is anime sans fanservice. These anime tend to be more realistic and provide a more stimulating experience. There are many things to enjoy about anime, which has grown in popularity over the past ten years. However, a lot of anime contain fanservice, which some viewers may find offensive. Therefore, it is difficult to locate a good anime these days. The top anime without fanservice that is entertaining for their stories and character growth will be covered in this list.
Big Windup!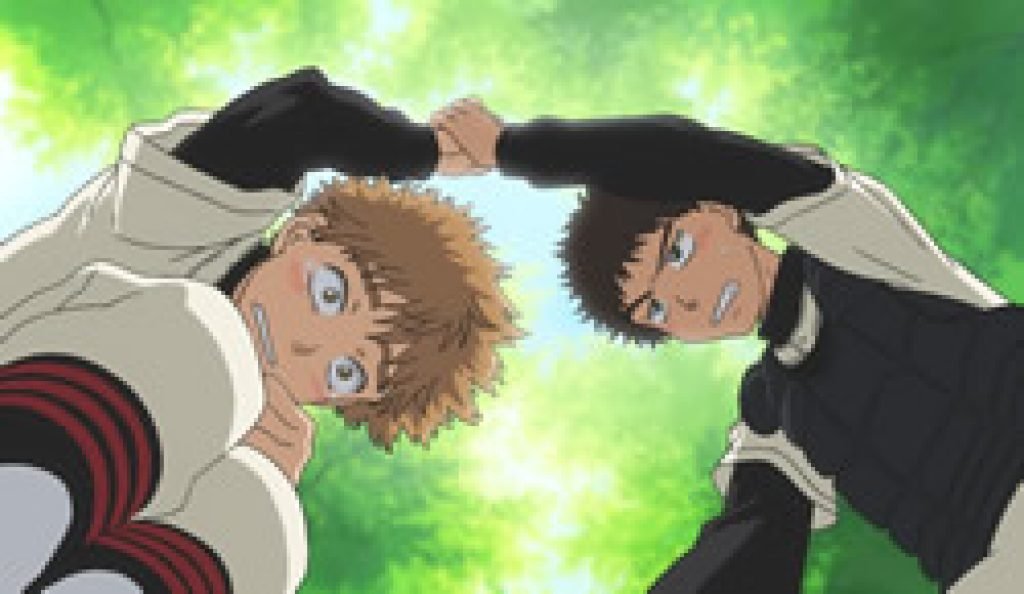 Ren Mihashi is a pitcher who was blamed by his middle school team for their string of losses. He suffers from low self-esteem and transfers to a different high school. He is the protagonist of the story. Mihashi reluctantly joins the school's first baseball team as their Ace Pitcher there. He grows in stature, confidence, and skill with the help of his new teammates, helping his team excel with his abilities. It is one of the top 20 cleanest anime.
Skull-Faced Bookseller Honda-san
Skull-face Bookseller Honda-san is based on the author Honda's real-life experience as a bookstore employee. The plot follows the lives of the employees while explaining how a bookstore operates. It is one of the top 20 cleanest anime.
Silver Spoon
Silver Spoon is set in the fictional Oezo Agricultural High School in Hokkaido and depicts the daily life of Yugo Hachiken. He is a student from Sapporo who enrolled at Yezo to escape his strict father's high demands. However, he quickly discovers that life at an agricultural school is not as simple as he had imagined. Unlike his new classmates, he has no plans to pursue an agricultural career after graduation. Though he envies them for having already set goals for their lives and pursuing their dreams. It is one of the top 20 cleanest anime.
Chihayafuru
Chihaya Ayase is a young woman who has spent the majority of her life assisting her sister in her modeling career. That changes when she meets Arata Wataya, a gifted karuta player. He believes Chihaya has the potential to be a great player after becoming friends with him. It is one of the top 20 cleanest anime.
The Tatami Galaxy
Man is unhappy. Despite all his dreams of a "Rose-Colored Campus Life", his social life goes nowhere. There is no girlfriend, his only good friend keeps getting him in trouble. The circle he has joined does not make him happy. So he tries again and again, living his first two years of college life ad nauseam. Making different decisions each time, not remembering having done it before. Will a man ever be pleased with how his life will turn out? It is one of the top 20 cleanest anime.
The Great Passage
A new dictionary called The Great Passage is being written. Mitsuya Majime is originally from the sales department of publisher Genbu Publishing. He has been recruited to succeed the retiring editor of the dictionary department, Kouhei Araki. This is due to his love and dedication to reading. Internally, the dictionary department is known as the "money-eating insect". But Mitsuya uses his perseverance and attachment to words to become a great editor. It is one of the top 20 cleanest anime.
Fate/Zero
Fate/Zero is a prequel to Fate/stay night. The Einzbern family is defeated in the successive wars of The Holy Grail. Now they are determined to win the next one and elect to hire the Magnus Killer, Kiritsugu Emiya. Kiritsugu spends the next six-year preparing for the war and along the way unknowingly forming a family with their daughter,  Irisviel. The Magnus Killer, facing six other participants, stands in the middle of a very dangerous survival game. What will happen next? It is one of the top 20 cleanest anime.
Polar Bear Cafe
Shirokuma Cafe is located near the local zoo and is owned by the charismatic polar bear Shirokuma. It is a popular spot for both animals and humans, allowing them to relax. Shirokuma enjoys serving his customers, and he frequently strikes up conversations about various topics. It is one of the top 20 cleanest anime.
Bunny Drop
Daikichi Kawachi, 30, is a bachelor who works a respectable job but otherwise wanders through life. When his grandfather dies unexpectedly, he goes back to the family home to pay his respects. When he arrives at the house, he encounters a mysterious young girl named Rin. She, much to Daikichi's surprise, is his grandfather's illegitimate daughter! It is one of the top 20 cleanest anime.
Moribito: Guardian Of The Spirit
Balsa, spear wielder and bodyguard, is a wandering warrior who has vowed to atone for the deaths of eight people in her past by saving an equal number of lives. During her journey, she saves Prince Chagum and is assigned to be his bodyguard. The Mikado, his father, has ordered his assassination. The two embark on a perilous journey to ensure the prince's survival. Balsa's complicated past emerges. They learn about Chagum's mysterious connection to a legendary water spirit with the power to destroy the kingdom. It is one of the top 20 cleanest anime.
Cells At Work
The story follows the world of a human body, which is represented as cities with approximately 37.2 trillion anthropomorphic cells that work together indefinitely every day to run their world. Every day, they fight to remove and resist pathogenic cells like germs and bacteria from invading the body. It is one of the top 20 cleanest anime.
Howl's Moving Castle
Sophie lives a routine life at her late father's hat shop, but everything changes when she meets wizard Howl, who lives in a magical flying castle. The evil Witch of Waste objects to their budding relationship and casts a spell on young Sophie, causing her to age prematurely. Howl must now use all of his magical abilities to defeat the jealous hag and restore Sophie to her former youth and beauty. It is one of the top 20 cleanest anime.
Mob Psycho 100
Do you or someone you know require the services of a low-cost exorcist? Reigen is your man! What's his trick for catching ghosts while keeping pricing low? First, he's a charlatan, and second, he pays his student helper Shigeo less than the minimum wage. Shigeo is an awkward but nice young man whose desire to assist people and get along with them is intertwined with the mental safety locks he's set on his feelings. Reigen is well aware that he must abuse Shigeo to continue in business, but for better or worse, he is also his mentor and advisor. And he also understands that when the typically suppressed child's emotions reach level 100, it may unleash more psychic energy than either of them can handle. It is one of the top 20 cleanest anime.
A Place Further Than The Universe
A Place Further Than the Universe follows Mari Tamaki, a high school student who wants to make the most of her youth but is afraid to do so. One day, she meets Shirase Kobuchizawa, a girl who has been saving up to travel to Antarctica to find her missing mother. It is one of the top 20 cleanest anime.
Anohana: The Flower We Saw That Day
Six childhood friends have drifted apart over the years since one of them, Menma, died. Jintan, the original 'leader' of this friend group, is currently aimless in life, and it is at this moment that he begins to see Menma's soul. She says he might be able to see her because of a desire she'd like to have granted, but she's not sure what it is. We shall see the many routes the members of the buddy group have taken over the years as they have developed, while he seeks to fulfill her last desire as a result of Menma urging Jintan into action. It is one of the top 20 cleanest anime.
Mushishi
Ginko and the Mushi are the only common elements in this anime series with no overall plotline. Ginko is a man with one green eye who can not only see but also attracts all varieties of mushi. As a result of this skill, he is always on the move and smokes to keep the mushi at bay. He appears to have a laid-back disposition, but when it comes to defending people from mushi, he can be very serious and focused on his task. He emphasizes that the mushi are not wicked and are simply trying to survive like the rest of us. The majority of the stories do not center on Ginko, but rather use him as a plot device.
Attack On Titan
This anime series is set at the time when humanity was on the brink of extinction and was forced to live a life within three walls to protect themselves from Titans, humanly looking giant creatures. The story focuses on Eren, their adoptive sister Mikasa and their childhood friend Armin. The first attack resulted in the death of Eren's mother since then the three of them decided to join the Scout Regiment, take revenge, and reclaim the world from the Titans.
Zankyou No Terror
While the world searches for the criminal mastermind responsible for this tragedy, two mysterious children – children who shouldn't even exist – expertly carry out their plan to alert the public to a buried tragedy while evading capture. Cursed with the names Nine and Twelve, the two combine to form "Sphinx," a clandestine entity determined to seek justice for themselves and the other children society has forgotten.
Trigun
The next film on this list is a sci-fi/western hybrid with a dash of everything in between, from humor to kickass action to character depth. It's a fantastic shounen title, but it's also a fantastic Sci-Fi series. Vash the Stampede is the universe's most sought badass. Anyone who follows his path of devastation is greeted with a gunshot, yet no one knows for certain that the guy has never murdered anyone. He's just the type of reckless moron who can get away with the sixty-billion-dollar price tag on his head, yet there's a lot more to him than meets the eye. Trigun has a Cowboy Bebop-like appeal, with its episodic format leading to increasingly severe episodes.
The anime story follows a group of adolescent schoolmates in elementary school as they express their emotional, social, and spiritual traits, particularly as they relate to a hearing-impaired girl who is welcomed into their group. Each youngster has a unique reaction to the newcomer, with a wide range of positive and negative effects. Shoya Ishida, a former delinquent, bullies Shoko Nishimiya, a deaf girl, with the help of his pals. Finally, once Shoko is forced to move to another school due to the most heinous bullying, all of Ishida's friends, as well as the teachers, blame him for pressuring her to leave. Despite others' different degrees of responsibility for tormenting her, he is made the scapegoat.
That's all folks! These were the Top 20 cleanest anime that doesn't have fanservice and ecchi content. If you know any more anime do mention them in the comment section below. We would love to hear from you!
Also, check out-> 24 anime that will motivate you to study hard