Whether you are blissfully married or seriously lacking in the love area, anime shows are enjoyable to watch. Give one of these 25 top romantic anime shows a try if you're missing something in your nonexistent love life or just want to watch some heart-pounding action. Unlike some of the other literary subgenres of the medium, anime never seems to experience popularity peaks and valleys. Fans are constantly searching for the next heartwarming anime to watch with their life partner. We've added 25 top-notch romantic anime to our list.
A Silent Voice
Shoya, who was an outcast throughout middle school due to his reputation as a bully, is now a depressed loner. He is unable to look others in the eyes and imagines an "X" mark over people's faces. Shoya goes to the sign language center to return Shoko's notebook and apologize, but then panics and asks to be friends instead. Shoko accepts his offer, prompting Shoya to try to make amends for his bullying Shoko. Another outcast, Tomohiro Nagatsuka, befriends Shoya after he saves him from a bully. It is one of the top anime to watch with your partner.
Spice and Wolf
Holo is a powerful wolf deity who is worshipped in Pasloe for blessing the annual harvest. However, as time passes and the villagers become more self-sufficient, Holo is reduced to a folktale. When a traveling merchant named Kraft Lawrence stops at the settlement, Holo offers to be his business partner in exchange for transporting her to her northern home of Yoitsu. The astute trader recognizes Holo's unusual ability to assess a person's character and agrees to her proposal. It is one of the top anime to watch with your partner.
We Were There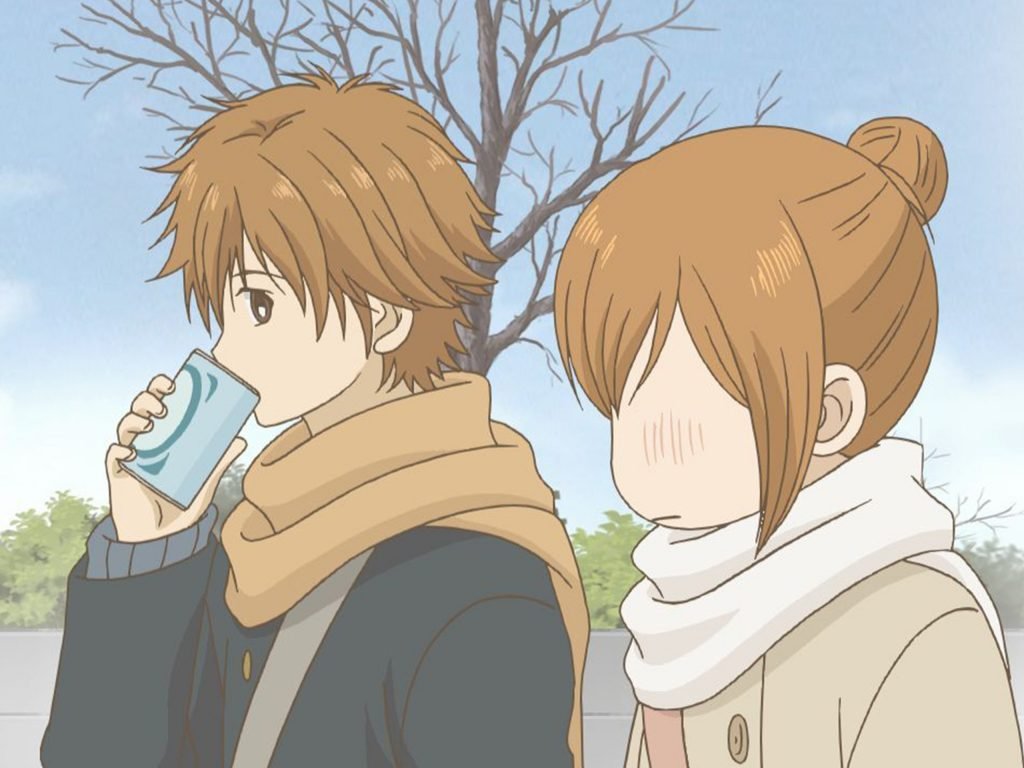 Nanami Takahashi is entering her first year of high school with high hopes of making many new friends. She learns about Yano Motoharu, a popular boy in their class, after meeting the shy Yuri Yamamoto. Yuri dislikes Yano because of his previous relationship with her older sister Nana, and Nanami initially dislikes his attitude as well. Nanami, on the other hand, quickly warms up to Yano and develops feelings for him. They spend more time together and eventually decide to begin dating. But their love is not without difficulties; Yano has difficulty opening up to Nanami because his first girlfriend, Nana, died in a car accident the previous year. It is one of the top anime to watch with your partner.
Honey and Clover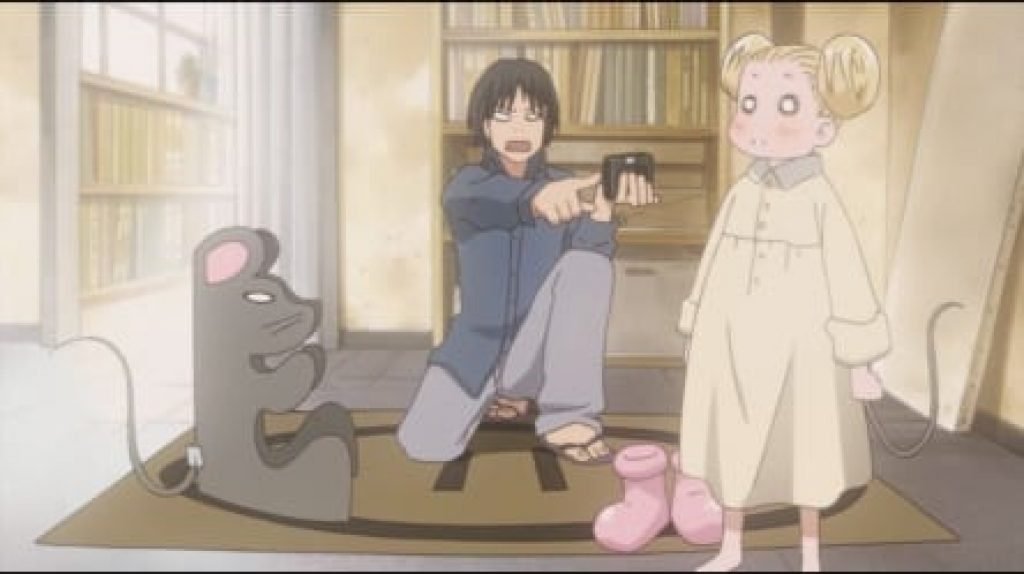 Yta Takemoto, Takumi Mayama, and Shinobu Morita are three young men studying at a Tokyo art college who live in the same apartment complex. One day, they meet Hagumi Hanamoto, the daughter of a cousin of Shji Hanamoto, an art professor, who has moved in with Hanamoto and is now a first-year art student at the art school where everyone attends. Both Yuta and Shinobu fall in love with Hagu, but Yuta hides his feelings and tries to be a friend to Hagu, whereas Shinobu expresses his love in ways that appear to scare Hagu, such as calling her "Mousey" and photographing her constantly. Hagu, who is initially shy and afraid of company, gradually warms up to three. It is one of the top anime to watch with your partner.
The garden of words
Takao Akizuki, a 15-year-old amateur shoemaker who frequently skips classes to practice, is the subject of this short film. With an unsupportive and broken family, he goes to the Shinjuku Gyoen National Garden when it rains for peace and a place to make his shoes alone. On a rainy day, he meets Yukino, a mysterious 27-year-old woman. Both looking for a friend, they unconsciously decide to meet on rainy mornings, and it quickly becomes a tradition for the two. While Takao skips classes to design shoes, Yukino avoids work due to serious personal issues. It is one of the top anime to watch with your partner.
The Light of a Firefly Forest
When Hotaru is a child and becomes lost in a forest, she is rescued by a spirit. Despite the spirit's warning that if he is ever touched by a human, the two become friends. When Hotaru is a child and becomes lost in a forest, she is rescued by a spirit. It is one of the top anime to watch with your partner.
Romeo × Juliet
Leontes Montague and his men lead a bloody coup on the floating island of Neo Verona, murdering all members of the ruling House Capulet. Only Juliet, Lord Capulet's young daughter, can flee. Leontes rules the land with an iron fist fourteen years later, crushing anyone who opposes him. It is one of the top anime to watch with your partner.
Nodame Cantabile
The story follows the "adventures" of the eccentric musical genius Noda Megumi and her love interest, the handsome Chiaki Shinichi, as in the manga. They meet by chance, and Nodame quickly falls in love. What follows is a wild ride of laughs, many of which you won't see coming. It is one of the top anime to watch with your partner.
5 Centimeters Per Second
Takaki and Akari appear to pass and recognize each other at the train crossing while walking down the same road they knew as children. It's the same place they had promised to watch the cherry blossoms together thirteen years ago, just before Akari moved to Tochigi. They come to a halt on opposite sides of the tracks and begin to look back, but a passing train obscures their view. Takaki waits for the train and discovers that Akari has vanished. He smiles to himself and continues walking as the cherry blossoms sway in the wake of the train. It is one of the top anime to watch with your partner.
Toradora!
Toradora! revolves around Ryuuji Takasu, who, despite his gentle demeanor, has the eyes of an intimidating delinquent. Class rescheduling during his sophomore year of high school paired him with his best friend, Yusaku Kitamura, and his hidden crush, Minori Kushieda.
Say "I Love You"
Friends will only let you down—that is the sad truth Mei Tachibana has lived with since her so-called friends wrongfully blamed her for the death of a class pet in grade school. She has avoided people since then to avoid being hurt again. However, Mei's life changes dramatically after a high school misunderstanding leads her to meet popular student Yamato Kurosawa.
My Love Story!!
Takeo Gda is a tall and muscular high school student who has a hard time with women because every girl he likes ends up falling for his best friend, Makoto Sunakawa, who is charming and good-looking.
Blue Spring Ride
The plot revolves around Futaba, a girl in middle school who was in love with a boy named Ko Tanaka. However, it did not work because he transferred, but when she meets him again in high school, her world is turned upside down.
The Pet Girl of Sakurasou
Sakura Dormitory is a high school dorm affiliated with Suimei University of the Arts (often abbreviated as Suiko), which houses the strangest and most troublesome students. Sorata Kanda moves into Sakura Dormitory after being kicked out of the regular dorm for keeping a stray cat. Mashiro Shiina, a world-famous artist who cannot even take care of her daily life, moves in as he begins to adjust to life in the dorm. Sorata is forced to take care of Mashiro. The plot revolves around their daily lives as well as their mental development.
Maid Sama!
Seika High, once an all-boys high school known for its rowdy students, has recently become a co-ed school. However, with the female population still a minority despite recent changes, Misaki Ayuzawa works hard to make the school a better place for girls.
Nana
The series revolves around Nana Osaki and Nana Komatsu, two women who move to Tokyo at the age of 20. The plot revolves around Nana O.'s pursuit of fame and Nana K.'s pursuit of romance, all while struggling to maintain their friendship.
Kokoro Connect
Taichi Yaegashi, Iori Nagase, Himeko Inaba, Yui Kiriyama, and Yoshifumi Aoki, members of the Cultural Research Club, witness a strange phenomenon one day when Aoki and Yui switch bodies without warning. The same thing begins to happen to the other club members, causing chaos in their daily lives.
Lovely★Complex
LovelyComplex follows Koizumi and Ootani as they support each other in their search for love and become close friends. Aside from their ridiculous antics, they quickly discover a surprising similarity in their music and fashion tastes.
Snow White with the Red Hair
Shirayuki was a young girl with distinctive apple-red hair. She meets Prince Raji, a famous but foolish prince who falls in love with her at first sight and orders her to be his concubine. Shirayuki cuts her hair and flees to a neighboring country because she has nowhere else to go.
From Me to You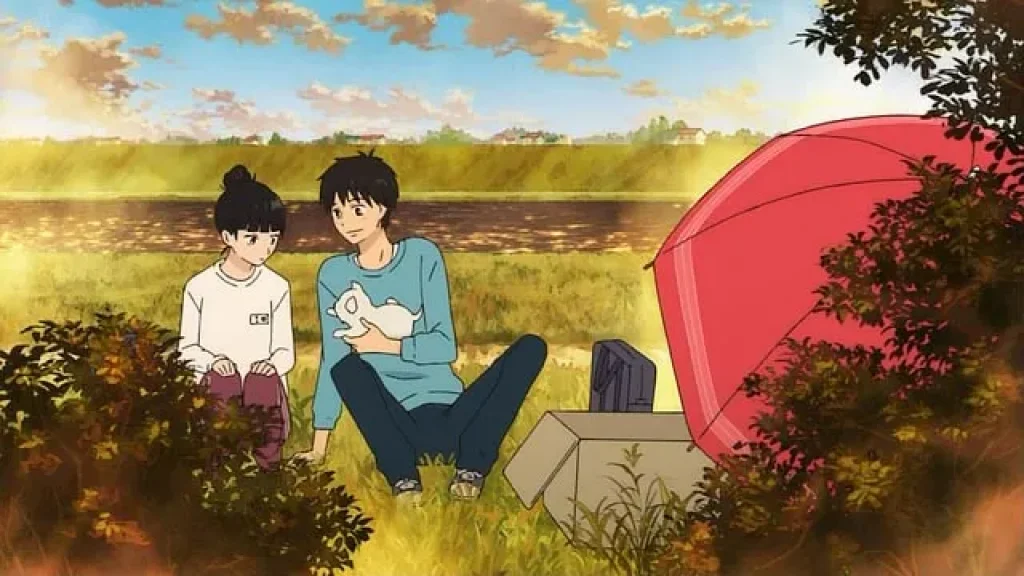 Because she resembles the ghost girl from The Ring, Sawako Kuronuma is misunderstood. But then the nicest boy in the class, Kazehaya, befriends her, and everything changed, as did everyone's perception of Sawako, but she still has a long road ahead of her.
Clannad: After Story
Clannad's sequel to the first anime. Tomoya's life continues after he confesses his love for Nagisa Furukawa. Tomoya's relationship with Nagisa grows stronger than ever as he meets and assists more people with their family problems.
Golden Times
Banri Tada is a freshman at a private Tokyo law school, having moved away from his hometown to begin a new life in the city after a severe accident that affected his memories. He has difficulty adjusting to city life, but he soon meets Mitsuo Yanagisawa, a classmate. Banri's university life becomes more complicated when he discovers that Mitsuo is being stalked by an obsessive childhood friend, Kouko Kaga, even though she has not reciprocated her feelings. And Banri's hopes of starting over in Tokyo fade quickly, as his forgotten past has not forgotten him.
Your Lie in April
Kaori, who is anemic and requires routine testing, collapses during a performance and is hospitalized. She invites Ksei to join her at a gala, but she does not show up. Her health worsens, and she becomes depressed. Ksei performs a duet with a friend, which inspires Kaori to attempt a potentially lethal surgery to play with Kosei again. Ksei sees Kaori's spirit accompanying him during the finals of the Eastern Japan Piano Competition and realizes she died during the surgery.
My Little Monster
My Little Monster is a 2012 Japanese romantic comedy anime based on Robico's manga of the same name. The plot revolves around the friendship of Haru Yoshida, a cheerful and seemingly delinquent boy, and Shizuku Mizutani, a socially awkward girl who is obsessed with academic success.
The Kawai Complex Guide to Manors and Hostel Behavior
The tenants at Kawai Complex are all eccentric individuals. Kazunari's roommate, Shirosaki, is a pervert and masochist; Mayumi Nishikino, a borderline alcoholic office lady, despises couples because of her bad luck with men; and Sayaka Watanabe, a seemingly innocent college student, enjoys leading men on. Kazunari is about to leave his new residence, shocked by the lack of decent people, when he meets shy senior student Ritsu Kawai and finds himself slowly falling in love with her.
That's all folks! These are the top 25 anime to watch with your life partner. If you know any more romantic anime do mention them in the comment section below. We would love to hear from you!
Also, check out-> Top 25 anime with the best animation quality