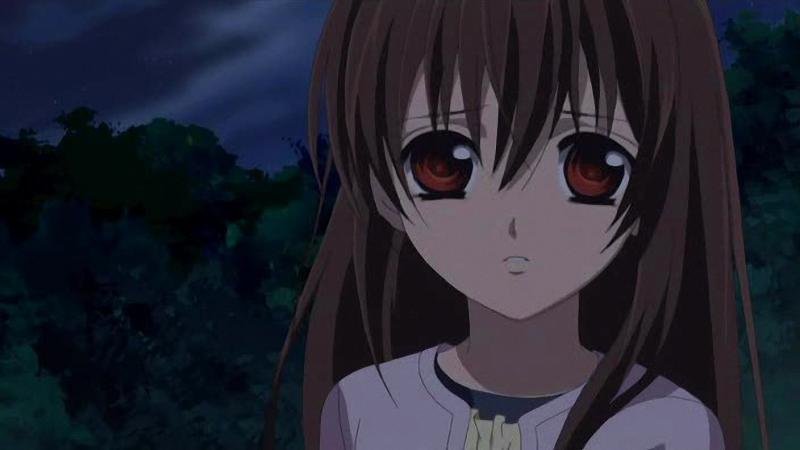 Yuki was a happy, compassionate, and somewhat comic girl with her trademark smile. She was labeled a terrible student since she dislikes studying and falls asleep in class as a result of staying up all night guarding the school grounds and preventing Day Class students from infiltrating the Night Class. Yuki has a strong bond with her close pals, especially Sayori Wakaba, whom she affectionately refers to as "Yori," and Zero Kiryu. Her hesitancy and indecisiveness can be traced to her nervousness about her lost past. As a human, she was viewed as siding with vampires, yet she feared all vampires, except for Kaname Kuran. She rarely left the Cross Academy grounds on her own because of this dread. Yuki doesn't like to show her concerns, so she hides them behind a grin.
"I long for him…but I understand. There's a line that vampires and humans can't cross." 

Yuki Kuran
"A glimpse of what I saw earlier was something so distant from me. And yet right now, this man is lying here in my arms. It's such a strange feeling." 

Yuki Kuran
"I love you Kaname-sama. You are the beginning of my world, and everything in that world… So even if I couldn't remember my past…I wasn't scared."

Yuki Kuran
"Being like this makes me feel like we've returned to the old days somewhat. Yeah. Zero is Zero. Even if you are a vampire now."

Yuki Kuran
"Both of us understand, but neither of us will say it. It's a sin to keep a vampire alive by offering my own blood as bait. We are doing something that is forbidden. No one must find out about this."

Yuki Kuran
"The world is dyed with the color of blood. It will never be able to go back to the way it was before…" 

Yuki Kuran
"I didn't understand anything. Zero suffered and suffered for four years. What were you thinking, all by yourself? He loathes vampires so much, he wants to kill them all. All this time, Zero wanted to kill himself too." 

Yuki Kuran
"If it's something I can only cry about in my heart, it's almost like a sin." 

Yuki Kuran
"I will keep running away so Zero has a reason to live." 

Yuki Kuran
That's all folks! These were the best famous quotes of Yuki Kuran from the anime Vampire Knight. If you know any more awesome quotes do mention them in the comment section below. We would love to hear from you!