So, I'm guessing you're seeking an excellent manga recommendation in the SHOUJO-ROMANCE genre; don't worry, my buddy. I'll show you some of my favorite shoujo manga[s] that I've already finished in this article! You wouldn't be concerned about the next chapter or put up with month-long updates (since waiting is so agonizing, right?) There are many recommendation lists on the internet, but you may want to check out and read mine. Some of the manga described here may also fall under the josei and smut genres; I'll include a caution if this is the case.
Absolute Boyfriend
Riiko Izawa, who has been rejected by far too many attractive (and unreachable) men, goes online and joins up for a free trial of a mystery Nightly Lover "figure." The next day, a gorgeous nude gentleman is delivered to her home, and he wants to be her lover! Riiko, have you died and gone to heaven? The cute guy turns out to be friendly, intelligent, a fantastic cook, and much more. And, even better, he looks like a million dollars, which is what he'll cost Riiko if she doesn't return him on time! Is she going to? Or will Night be returned to the corporation and turned into scrap metal? It is one of the top shoujo manga.
Ai Kara Hajimaru
Sakura Ai met her first love on Tokuzawa Taiyou when she was in elementary school. When the kind and gentle Tokuzawa-Kun went to another school, giving Ai-chan the amusing moniker "Granny Ai," Ai-chan attempted to forget about him. Even while she was in high school, fate never gave up on her! When Ai-chan walked to her sunflower garden beside the pool at school, she discovered a phone on the ground. When she realized it was Tokuzawa- Kun's, she threw it down and hurried away, wondering if her love for him would flower again now that the kind Tokuzawa-kun she knew as a youngster is now a forthright harsh criminal. It is one of the top shoujo manga.
 YONA OF THE DAWN
As the only princess in her kingdom, Princess Yona has an ideal life. She treasures the time she spends with the man she loves, Soo-won, who her father, the king, pampers, and guarded by her loyal guard Hak. But all changes when she sees her father's murder on her 16th birthday! Yona reels from the shock of witnessing a loved one's murder and having to fight for her life. With Hak's help, she flees the palace and struggles to survive while evading her enemy's forces. But where will this displaced princess go when all the paths before her are uncertain? It is one of the top shoujo manga.
 Ao Haru Ride
Yoshioka Futaba wants to "reset" her image and life as a fresh high school student for a variety of reasons. Her female classmates bullied her in junior high because she was too pretty, and due to a misunderstanding, she couldn't express her feelings to Tanaka-Kun, the one boy she has always adored. She is now in high school and wants to act as unladylike as possible so that her peers would not judge her. While living her life peacefully, she runs across Tanaka-Kun again, but he goes by the name Mabuchi Kou. It is one of the top shoujo manga.
Beast Master
Yuiko Kubozuka is a high school student who enjoys animals. Unfortunately, animals dislike her and flee anytime she comes close. One night, while attempting to save a stray cat in a tree, she encounters a boy with wild hair and frightening eyes who saves the cat. The next day, the boy is shown to be Yuiko's new transfer classmate, Leo Aoi. She finds him amusing and not at all frightening, but everyone else fears him due to his appearance. This makes Leo ecstatic. However, Leo harbors a dark secret. What will become of their relationship? It is one of the top shoujo manga.
SMUT WARNING
Except for Misao, the world is replete with enigmatic "monsters" that no one can see. She doesn't inform anyone and attempts to carry on with her pleasant high school life. Though she is envious of her peers who have boyfriends, she is just like any other adolescent girl, yet she keeps having nightmares about a boy she met when she was younger who had the same power that she does. Her humdrum existence is turned upside down when goblins threaten to devour her, and her old buddy Kyo returns to protect her. Then she discovers that she is being sought out as goblin food and that Kyo, too, is a goblin. Her wonderful adolescent life is about to begin. It is one of the top shoujo manga.
Blue Exorcist
Anna worked hard to get into the same high school as her crush. However, it appears that her crush is Reiji, her cousin!!! She conceals her sentiments deep inside, afraid that people will find her ugly if they date her… But what happens when she learns that Reiji prefers Rumi, her best friend? Is Anna willing to let Reiji go? Or will she remain devastated in secret for the rest of her life? It is one of the top shoujo manga.
Bokura Ga Ita
The first day of high school. That also marked the beginning of the girls' romantic life. It was no different for Takahashi Nanami (Nana for short), a fresh new first-year student… She ends up in the same class as the extremely popular Yano Motoharu, who reports claim two-thirds of all the females will fall in love with him. But will it hold for Nana, who claims that if she had to pick between liking and disliking him, she would choose dislike!? It is one of the top shoujo manga.
Chiguhagu Planet
Matsuda Erika (or Eri for short) has trained herself to be independent and highly trustworthy because her parents are a little sluggish. Furthermore, she commits herself to caring for people around her, even though some of her peers find her behavior to be excessive and irritating. A weird new transfer student is brought to her class one day. Nogina Kaname is a boy who speaks in choppy phrases and has little to no facial emotions. Eri feels obliged to look after this martian-like new boy in her class right away. It is one of the top shoujo manga.
Chocolate Cosmos
Sakurai Sayuki appears to be staring at you with her "sharp eyes" from a distance. However, appearances are not necessarily deceptive. Sayuki is a girl who wants to fall in love. If only people would look at her on the inside rather than her outside appearance. Her friends compel her to accompany them to the beach one day to meet some gorgeous males. She encounters a mysterious person who is not only polite to her but also attractive! All she knows is that he attends her high school and has a subtle chocolate odor. Can she track him down? And what if he's closer to her than he appears…..? It is one of the top shoujo manga.
Daa! UFO BABY
Miyu, whose mother was chosen to be an astronaut, was sent to live with Kanata, a guy she had just recently met. Kanata's father abandons the two shortly after. A strange UFO appeared in the midst of the chaos… Ruu and his babysitter-pet Wannya emerged. For Ruu's sake, the four of them begin living together. You can only download this on manga traders but RIP for the site. You can still read it on manga reader/manga fox, etc. The 78-episode anime is good, the last eight episodes have no subs, but there are many sources where you can download it. This series is just full of nostalgia feels. This is cute, more of a family drama! It is one of the top shoujo manga.
Dengeki Daisy
Teru, a poor and compassionate girl, just lost her sole surviving family. Before he died, he gave her a mobile phone that connected her to someone he said would support her if he couldn't. As time passes, she is encouraged by text messages provided by this enigmatic figure known only as DAISY. But, after an unforeseen occurrence while working for the delinquent school janitor, Kurosaki, Teru begins to question DAISY's identity. DAISY could be closer to Teru than she realizes something… It is one of the top shoujo manga.
Faster Than A Kiss
Fumino and her brother go from relative to relative after losing their parents. Tired of continually relocating, she chooses to drop out of school and work to support her brother on her own. While they were sitting on a park bench, her instructor came in front of her and promised to marry her and support her and her brother!! Is he serious or simply having fun…!?
Fruits Basket
Tohru Honda has been living in a tent since her mother's death in a car accident, but she finds up living with Yuki Sohma, her school's "prince," and his cousins Shigure and Kyo. But Tohru quickly finds that the Sohma clan has its secret: Certain members of the family have been possessed by the Zodiac animals, and if a member of the other sex embraces them, they transform into that animal! Tohru agrees to preserve their secret and resolves to break the curse in some way, and she may end up curing the Sohma clan members in other ways as well.
Hapi Mari
She works full-time as an office woman and part-time as a hostess to pay off her father's debt from his bankrupt business. A high-class customer fires her from her part-time job one night. The next day, she is summoned to visit the president – whom she had never seen in the office before – only to learn that she is to marry him! But who is Mamiya Hokuto in the first place? Will he become one of Chiwa's issues, or will he save her? And how long will this marriage last?
Heroine Shikkaku
This could be any young lady. Consider yourself the heroine of a love tale. Hatori also saw herself marrying her childhood buddy Rita one day. That, however, is not how the world works! This is a beautiful comedy that depicts a young girl's sad unrequited love tale!
High School Debut
Haruna Nagashima was only interested in two things in junior high: softball and manga. Haruna's emphasis has shifted as she begins high school–she wants to find a guy and have the romance of her dreams! She does, however, have one minor issue. She has no idea how to approach her yet-to-be-found love because she never paid attention to fashion or trends in middle school. However, a chance meeting with Yoh Komiyama gives her the opportunity she requires. If he teaches her how to be more appealing, she will undoubtedly find a boyfriend! Haruna is a tomboy at heart who used to play softball. She is, nevertheless, determined to understand what it takes to be a girl who attracts males. And the well-liked Yoh has volunteered to tutor her under one condition: She must not fall in love with me.
Hikoukigumo
 University student Miyu always sacrifices time with her friends to visit the house of her brother-in-law and his son. The brother-in-law tries to stop her from helping out around the house since their relationship should have ended after the death of his wife, but Miyu just would not give up. Why is she so adamant about hanging around them?
Hirunaka no Ryuusei
Suzume Yosano, a 15-year-old rural girl, is forced to relocate to Tokyo to live with her uncle owing to her father's transfer. She meets a mystery man who takes her to her uncle's house when she gets lost. Suzume will be seeing him a lot more frequently once she begins school since he's her homeroom teacher!? Tsuyu Kaoru, a one-shot tale, is included in the manga. (A Love Story in Moist Rainy Days) in volume six: A romantic and melancholic love story behind a red umbrella.
Houkago x Ponytail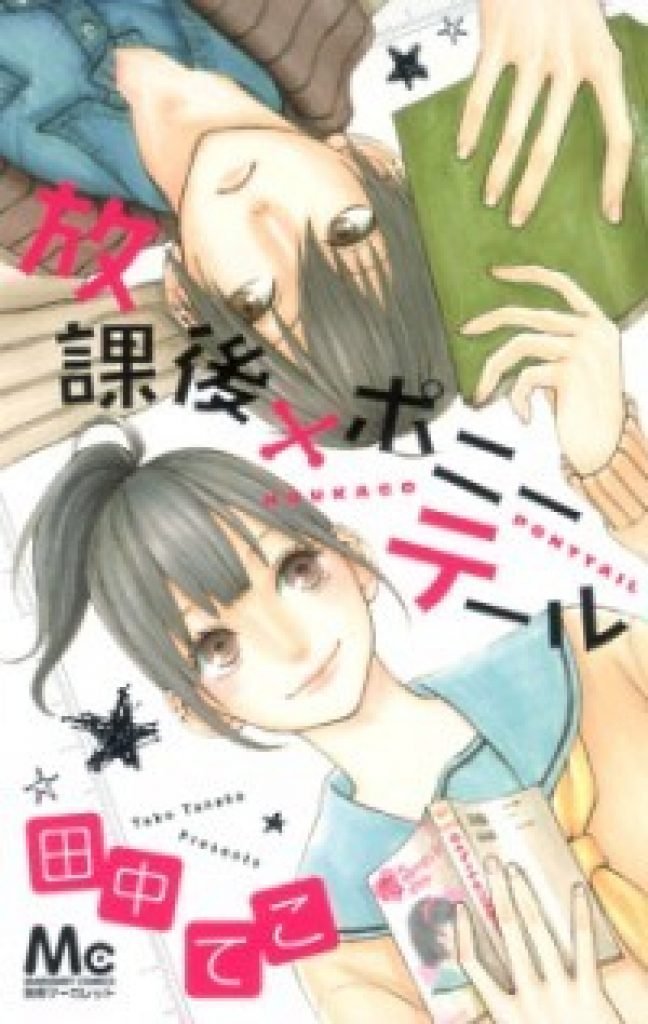 Natsuki, an otaku high school student who prefers comics to lovely clothes, injures a creepy-looking mangaka named Kiritani Taichi by mistake. To reward him, she offers to remain his role model until he is completely healed. Kiritani turns out to be Ichijou Kiriko, a prominent shoujo mangaka, and Natsuki's favorite author! Plus, underneath that disheveled hair, Kiritani is a good-looking man! What will become of these two?
FROM FAR AWAY 
The adventures of a schoolgirl named Noriko begin when she is unexpectedly transported into a strange fantasy world where the teenager discovers she possesses a prophetic power that can awaken powerful evil forces.
Itazura na Kiss
Aihara Kotoko, a senior in high school, has had a crush on Irie Naoki since freshman year. But she's been prevented from admitting to him because of a few factors: he's in "Class A," the best ranking class in school, whereas she's in "Class F"; he gets the highest score on every exam; and he's so clever, popular, and attractive that he's been class president every year. When Kotoki eventually works up the confidence to present him with a love letter, Naoki flatly rejects it, informing her, with a look of contempt and boredom.
Iya Da Nante Iwasenai
Anzu presently works part-time at a beach house, but she can't help but be chilly and bashful when servicing male guests. When she unintentionally spills a drink on one of them, a male coworker, who turns out to be her childhood buddy Rei, saves her. Anzu is delighted to see Rei again, but Rei may be looking for something more.
Kaichou wa Maid-Sama
Misaki Ayuzawa is the President of the Student Council of Seika High Institution, which was previously a male school. Unfortunately, most of the students are still male and entrenched in their slovenly habits, so man-hating Misaki socks 'em in an attempt to make the school more presentable to recruit more female students. But what will she do when the hottest boy in school discovers that Misaki works in a maid café after school? — In volume one, there is also a short narrative called Toumei na Sekai. Training, studying, and even becoming the school's first female student council president, she discreetly works part-time at a maid café to support her family despite her tough-as-nails exterior. Unfortunately, her hard-earned reputation is jeopardized when Takumi Usui, the popular, handsome, and slightly aloof Takumi Usui, develops an interest in her after seeing her in a maid uniform after school.
Kiken Mania
Nono dislikes flirtatious guys because of her prior experiences; therefore she prefers to find a serious, honest man. It's like a dream come true when Akkun confesses to her. But does he genuinely adore her? Shoujo Crusade, Sho Nono, and Kazuma find themselves in a romance after breaking up with their respective exes due to unforeseen circumstances. What exactly does it need to make things work?
Kimi Ga Inakya Dame tte Itte
Mayu and Oumi were childhood pals. Nayu discovers that she has developed feelings for Oumi without recognizing them. However, just as she is coming to grips with her thoughts, Oumi admits his affection for the lovely Tsuzuki-san in his class. How would Nayu handle such heartbreak?
Generally, shoujo manga is aimed at young females, roping them in with romance and relatable characters. However, sometimes the storylines are too good to be missed, and they end up captivating the rest of us as well.
Here the list comes to an end! Hope you guys liked our list of the top 30 Shoujo Manga. Comment down if you like any of the Manga from our list!
Also check out: Top 25 Korean Light Novels