Hey, welcome to animerankers.com! 
Today we decided to embark on a journey to rank the Top 20 Best School Romance Anime. So here it is. 
Hope you like it. 
20. The World God Only Knows II 
Keima Kasuraga's romance with dating simulators has been continually disrupted since he unknowingly agreed to a deal with Hell. The high school student who can conquer any 2D girl is tasked with tracking down fugitive ghosts from hell that inhabit girls' hearts. With the help of his demonic friend Elsie, this Capturing God must make these women fall in love with him and force the intruders to flee. But after capturing four such ghosts, Keima begins to discover that not every love story can play according to the rules of his beloved games. There are more loose souls in the world, and Keima must free his hosts from their parasitic embrace! It is one of the top school romance anime.
19. The Pet Girl of Sakurasou 
Sorata Kanda has a real problem – she just can't refuse a cute kitten's face! However, his miraculous stray finally got him into trouble as his dorm does not allow animals to be kept. After receiving an ultimatum to get rid of the cats or move out. Sorata makes the mistake of defending herself and is banished to Sakurasou, a misfit house with which the school doesn't know what to do. However, the longer she spends there, Sorata sees that they all have amazing talents. However, what fascinates him most is the newcomer: Mashiro Shiina, a world-class artist who can't seem to support himself or dress himself up! Since none of the other residents has any responsibility, it is Sorata's responsibility to "Mashiro Duty"; What will happen to Sorata and his last stray, and will he ever achieve his goal of escaping Sakurasou? It is one of the top school romance anime.
18. School Rumble: 2nd Semester 
The second year of high school is about to start and it's still as crazy as ever. Despite numerous attempts, always so hopeful Harima and too naive Tenma failed to convey his message of love. However, is it a loving manga or even a gigantic plate of curry; nothing seems to get it right. What other methods can they use when the old love triangle is expanding at an alarming rate ?! It is one of the top school romance anime.
17. Kimi ni Todoke – From Me To You 
Kuronuma Sawako is like other high school girls who want to make friends and become useful. The only problem is that she is disturbingly similar to Sadako in "The Ring!" Because of her reputation, people not only fear her, but little dogs even bark for fear of her presence; in fact, the only person in school who will talk to her is the lively chick from class, Kazehaya. As the couple spends more time together, Kazehaya slowly begins to pull Sawako out of his shell, and soon their mutual feelings develop further. Though with her paralyzing insecurity, lack of social skills, and a series of cruel rumors and misunderstandings, it seems that Sawako's dream of a normal life will not be so easy to come true. It is one of the top school romance anime.
16. The World God Only Knows: Goddesses Arc 
After freeing fourteen girls from the fugitive ghost's grip, and making them fall in love with him, Keima proved himself a God of Kidnappers in both 2D and 3D worlds! But a new challenge is waiting for Diana, the goddess owned by Keima's neighbor Tenri, ordering him to find her siblings, and the only clue about their whereabouts is the past conquests, which still retain their memories. Now Keima is hunting in the hopes that these divine beings will finally free him from his deal with Hell. But with a dark organization known as Vintage looking to kill these girls, it becomes a race against time to put an end to their plans and restore these goddesses to their former power! It is one of the top school romance anime.
15. Clannad 
This anime is about Tomoya Okazaki, a third-year high school student. He is usually bored with life and does not take his studies, future, or anything else seriously. However, one day he meets a lonely girl, Nagisa Furukawa, in the schoolyard. She explains to him the source of her loneliness: she missed a lot in the previous school year and thus repeats the third year; everyone she knew had already graduated and she is lonely. Tomoya is rather indifferent at first but decides there is nothing better to do and spends more and more time helping Nagisa rebuild the school's drama club. As the relationship with Nagisa develops, Tomoya begins to open up to different people at school as well … It is one of the top school romance anime.
14. Chihayafuru 
Chihaya Ayase is a famous beauty in her school, but far from being a conventional girl. Three years ago, in the last year of elementary school, Chihaya and her friend Taichi fell in love with the card game Karucie after making contact with a lonely boy named Arata Wataya. But when the trio graduated from elementary school, they each went their separate ways, but with one common goal: to be successful in the game and meet at the national championship. Now Chihaya tries to share her passion for the game by creating a competitive Karuta club at school, but when she reunites with Taichi, it seems like maybe only she is going to fulfill her childhood promise … It is one of the top school romance anime.
13. ReLIFE 
Arata Kaizaki 27 years old quit the job he got after graduating in just three months. His life didn't go well after that. Now his parents are threatening to stop sending money and want him to come back home. He has no friend or girlfriend to share his problems with … as he hits rock bottom, a strange man named Ryo Yoake shows up. Yoake invites Kaizaki to join the NEET social rehabilitation program called ReLife. This program uses a mystery drug to make him look younger and sends him back to high school for a year … It is one of the top school romance anime.
12. Kimi ni Todoke – From Me To You 2nd Season 
It's already mid-February, and although Sawako is getting closer to Chizu and Ayane, her relationship with Kazehaya has stalled and both sides are still unable to admit their feelings. However, as the next school year approaches, Sawako's new man, flirtatious Kent, enters his life – and he's taken a special interest in the awkward teen! As the new man catches his sweetheart's attention, Kazehaya's patience begins to run out. But what exactly are Kent's motives, and will Sawako ever find a way to convey her feelings to the boy she loves? It is one of the top school romance anime.
11. My Teen Romantic Comedy SNAFU TOO! 
When his adviser Hiratsuka Shizuka persuaded him to join the service club, Hikigaya Hachiman seemed to praise the lonely life with his unique way of thinking. Along with his fellow members, the breathtaking flawless Yukinoshita Yukino and the lovely popular Yuigahama Yui, he spent his days solving all kinds of problems for his classmates, from relationship problems to managing a cultural festival committee. The seasons have given way, and now Hachiman, Yukino, and Yui are getting ready for a trip to Kyoto. What request was made to the Service Club this time? It is one of the top school romance anime.
10. Full Metal Panic? Fumoffu 

Sousuke Sagara is far from your average high school student – not only is he highly trained in military tactics, but he also uses his knowledge in every applicable (and even non-applicable) situation. To turn ordinary high school experiences into bizarre adventures. Love letters become terrorist threats and field trips become commando operations; his survival depends on the watchful eye of his best friend and classmate Kaname. Together, they can just leave high school alive … It is one of the top school romance anime.
9. Maid-Sama!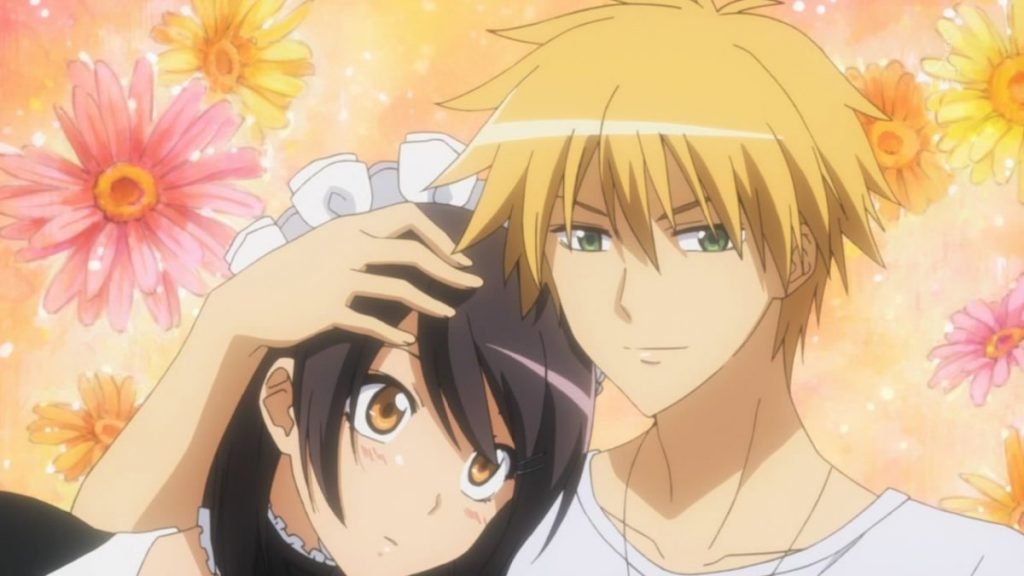 The head of the Student Council of nearly all Seika High School boys, tough Misaki Ayuzawa works every day to make life easier for the small student population that enrolls there. Although he is a godless terror for all male beings during school hours, to ensure the livelihood of his impoverished family, he secretly works after school at the maid's cafe in Akihabara. However, when Usui Takumi's handsome campus wanders into a restaurant during his shift, he suddenly finds his reputation in the school at his mercy … It is one of the top school romance anime.
8. Toradora! 
Ryuuji Takasu has a rich life: his classmates think he is a criminal because of his "killer" eyes; his crush on Minori seems always out of reach, and had just had an unfortunate encounter with a "hand-sized taiga" – a pugnacious and delicate girl in her class. With different cleaning habits and temperaments, the two collide like night and day; that is, except for the fact that Taiga and Ryuuji have a crush on the other's good friend! With the school rumors full, the duo must now work together to play matchmaker for each other.  It is one of the top school romance anime.
7. The Tatami Galaxy 
Man is unhappy. Despite all his dreams of a "Rose-Colored Campus Life" filled with raven-haired girls who adore him, his social life goes nowhere. There is no girlfriend, his only good friend keeps getting him in trouble, and the circle he has joined does not make him happy. So he tries again and again, living his first two years of college life ad nauseam, making different decisions each time, not remembering having done it before. Will a man ever be pleased with how his life will turn out? It is one of the top school romance anime.
6. Nodame Cantabile 
Hardworking and tense Chiaki is well known as the best pianist in his school and dreams of becoming a world-class conductor like his idol, Viera; but his fear of flying (which prevents him from studying abroad) coupled with a recent break-up and dismissal from a piano instructor make the future both bleak and improbable. After falling outside his apartment, drunk, Chiaki accidentally meets a young woman named Nodame who, while quite gifted at the piano, is dirty, clumsy, and random. Even though they are nearly opposites, they begin to get closer and work together to overcome obstacles in their careers. It is one of the top school romance anime.
5. The Girl Who Leapt Through Time 
Makoto Konno is a somewhat stupid and tomboy high school student who spends most of her time with two friends. Things change one day when he suddenly gains the ability to leap back in time! At first, she uses her newfound skill to prevent her sister from stealing the dessert, cheating on a test, and singing karaoke for 10 hours. However, the small changes she makes to the timeline turned out to have unforeseen consequences that turn into dramatic and deadly situations for her and her surroundings … 
4. Rascal Does Not Dream of Bunny Girl Senpai 
Puberty Syndrome  Reportedly, abnormal experiences on the Internet are caused by sensitivity and instability in adolescence. Sakuta Azusagawa, a sophomore and high school student near Enoshima, met several girls who were experiencing this kind of " maturation syndrome." For example, he meets a wild bunny in the library that turns out to be an actress on recess, Mai Sakurajima, who also has a high school diploma. For some reason, no one else can see this charming girl. became invisible? 
3. Ouran High School Host Club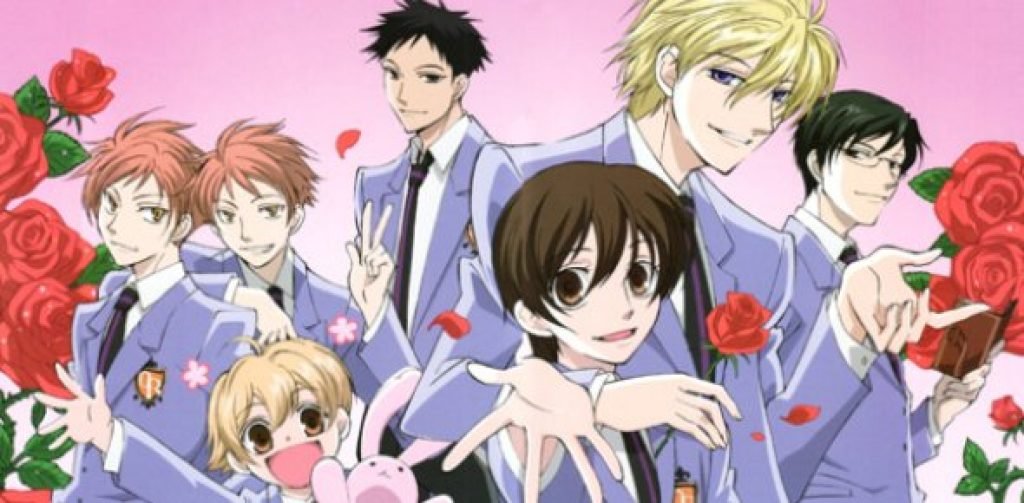 Ouran High School is a school for extremely rich people, and in Haruhi's case, it is a school for extremely talented people. But no talent will help when Haruhi accidentally drops an eight million yen vase in the music room. The vase was owned by Ouran High School Host Club, a group of attractive young men who, for a fee, devote their time and affection to their loving clientele: college students. Fascinated by this strange new specimen, the poor and clumsy mob, they force Haruhi to work for them until the debt is paid; but they get a lot more than they expected … 
2. Doukyuusei 
Rihito Sajou is an outstanding student with excellent results in each subject on the High School Entrance Examination. Hikaru Kusakabe plays guitar in his band which performs live and is popular with girls. These boys would never cross. But one day, Hikaru offers Rihito to help prepare for the upcoming choir festival, and the two start talking. When they get together after school, they connect through songs and harmonize as their hearts beat together. Hikaru's emotions are frivolous, pure, and direct, causing Rihito to hesitate at first but gradually open up his heart. Boys learn about each other and each other, supporting each other in this difficult period of their youth. As it is time to start thinking about their future, and what these young men find as they try to move forward. 
1. I Want to Eat Your Pancreas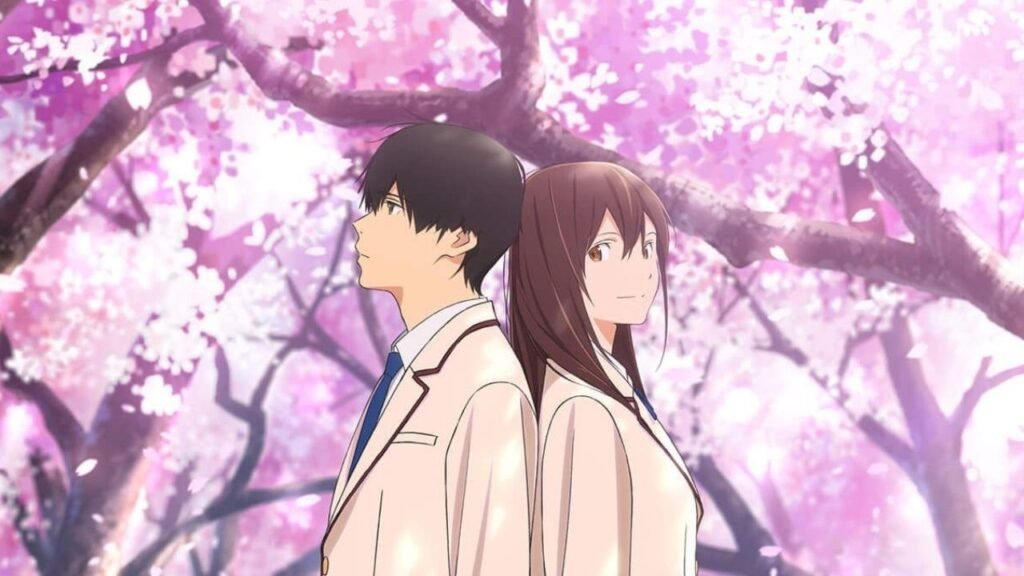 One day, an unnamed protagonist finds a diary in the hospital. The diary belongs to his classmate, a girl named Sakura Yamauchi, who suffers from a terminal pancreatic disease and only has a few months to live. Sakura explains that the protagonist is the only person other than her family who knows about her condition. The protagonist promises to keep Sakura's secret. Despite completely different personalities, the protagonist decides to be together with Sakura for the last few months.  
That's it, folks! Hoped you liked it, if yes, don't forget to like, comment, and share with your friends.  
Have a Good Day! 
Also, Checkout -> Top 20 Samurai Anime