Crunchyroll
The best place to watch anime in the world is none other than Crunchyroll. It is one of the oldest and most popular streaming services dedicated to anime. It has some regional restrictions which are the only con you ask me about. But other than that Crunchyroll is by far the best app to watch anime. It is one of the top anime apps.
Animelab
As the name suggests anime labs is a popular anime streaming service with an amazing collection as well as quality. The collection of anime in animelabs is so good that it took the 2nd stop on the list. So you can sure about its quality and service. It is one of the top anime apps.
Funimation
Similar to Crunchyroll we have the Funimation group and its amazing content service. It's comparatively new and is not available in all countries. But it is by far one of the best apps for watching anime online. It is one of the top anime apps.
It provides a very high-quality streaming service making it one of the best services for watching anime in HD.
Netflix
Netflix is the undoubted champion when it comes to TV shows and Series. With the increasing popularity of Anime, Netflix has now become the hub for anime shows as well. Many of the animes are getting sponsored and made by Netflix. With so much love for anime, we can hope to see a lot more anime shows on Netflix in the future.
Tubi
Tubi is more famous for its TV Shows. But now similar to Netflix it has amassed quite the collection of anime shows which are perfect to watch online on your mobile devices. Tubi is free making it the best free app to watch anime, It does not even require a signup. It earns money based on ads so you cannot use an adblocker though.
Hulu
Hulu is quite popular in western countries for its amazing content. Similar to Netflix Hulu has amassed a huge collection of fan-favorite anime shows that you would love to watch on your mobile devices.
Hulu requires a subscription just like Netflix and it's a bit premium for most people. But it has very good streaming quality services so you can enjoy bufferless anime streaming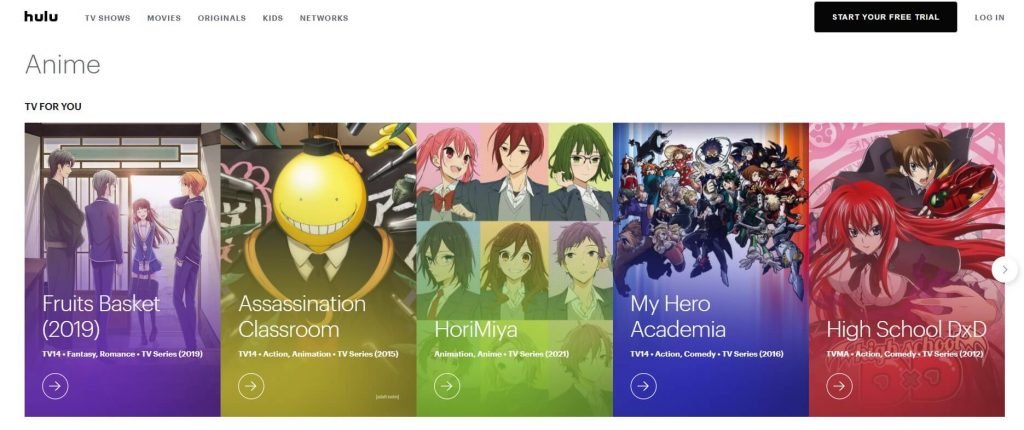 hIDIVE
Hidive is a popular streaming service for anime that is slowly growing. Its collection is subpar compared to others on the list but it still has a decent collection.
It does not have a regional restriction as far as we know making it quite useful, to be honest.
Amazon Prime
Amazon Prime is now one of the most popular streaming services on the planet. Its cheap price is giving Netflix a run for its money. Although the number of anime shows on amazon prime is less it is still quite a good service for watching the anime shows that it does have.
The availability of anime shows varies according to region. In my region, I could see 41 anime shows. Whereas in some regions they go much higher.
VRV
VRV is a very popular streaming service for TV Shows which works with other services giving you a huge collection of shows to watch. VRV has a partnership with Crunchyroll and thus almost all of the Crunchyroll Anime collection is available on VRV.
If you want to watch anime on your mobile device then VRV is one of the best apps for it.
CONTV
Contv is a popular streaming service that focuses on cartoons and anime. It also has comics and a huge variety of content and series to binge-watch. It has a decent collection of anime and thus has managed to secure the 10th spot on our list of apps to watch anime online.
Make sure to check it out. It has apps for android and ios.
That's all folks. These are the top 10 apps to watch anime online legally. They have amazing video quality and servers which ensure an uninterrupted anime binge-watching session. If you liked this post then do share this post with fellow anime fans.
Happy Binge Watching Anime