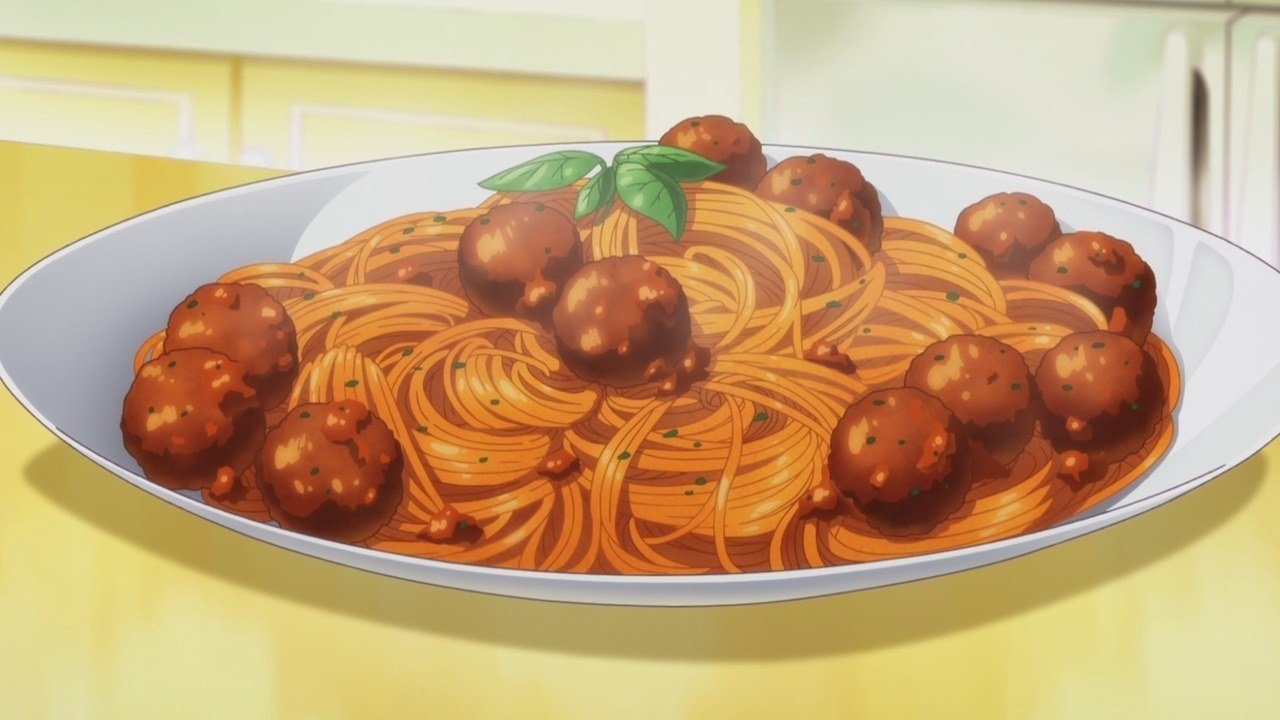 Hey, welcome to animerankers.com! 
Today we decided to embark on a journey to rank the Top 25 Best Cooking and Food Based Anime. So here it is. 
Hope you like it. 
25. Neko Ramen 
Taishou is the full-time owner and chef of a small ramen shop in Tokyo-and he is also… a cat! Although he is keen to run the best restaurants, there are still many shortcomings in the cooking skills of cats-this is a fact that Tanaka-san, the most frequent visitor to Taishou, regularly experiences. With part-time helpers like thieves and tramps, and plans to provide food to restaurant critics instead of the usual swill and other businesses, Tashou's ramen shop will never be a boring place to patronize or work! 
24. Toradora SOS! Hurray for Gourmands 
Recently, food-related issues have been plagued everyone, from Ami's pudding problem to Yuri's curry rejection. To cheer everyone up, Ryuuji's foolproof plan is to take them to a family restaurant. However, with each visit, a chance encounter with Minorin will soon overturn his plans. Regardless of whether the two are ultimately vying for the best meat spaghetti or seafood or comparing their knowledge of curry, their time together is always troublesome. 
23. Sugar Bunnies 
One day, fourteen small rabbits were transported from their hometown of Bonnisfield to the human world to complete the tasks assigned to them by the two queens. When they arrived, they met and became friends with Sofia, a human girl who dreamed of becoming the best pastry chef in all of Europe. Although Sofia had hidden the rabbits from everyone in the town, even her parents, when the whole town found out that they were real, their cover was blown up. They make amazing food with the Sugarbunnies, and everyone makes their special treats. 
22. True Cooking Master Boy 
In China in the 19th century, the protagonist Liu Maoxing won the title of Super Chef, the youngest in history. Master Zhou Yu suggested that he further expand his cooking skills and travel around China with his friends Shirou and MeiLi. After returning, he also joined forces with Xie Lu and Lei En to fight against the underground cooking club. Then he learned the secrets of 8 legendary cooking tools. In the past, Mao's mother, Bei, wished everyone happiness and fought against the Underground Culinary Association. To continue his mother's last wish and protect the legendary cookware from the influence of the Underground Culinary Association, Mao and his friends embarked on a journey. 
21. Ramen Fighter Miki 
Miki is a mentally disordered mascot, waitress, and delivery girl, and her job is the same as the terrible mother's ramen shop. As a survivor and instigator of years of unrelenting and unrestrained domestic violence, Miki has destructive powers and is usually only found by those who add something like " the Impaler" to their name. However, she also has a kind side. It is often found that she takes incredible distances to save the well-known and truly lost kittens, although some vicious souls may misunderstand this as just giving up her job. 
20. Manly Appetites: Minegishi Loves Otsu 
Minegishi is a handsome and friendly salaryman who has gradually emerged in his work. He does have an unsatisfied desire in the office: he likes to feed his grumpy colleague Otsu. Otsu may be eating food, but he did not take the bait he thinks Minegishi's calmness is a challenge and refuses to be fascinated like the others in the office! But the best way to treat a man's heart is through his stomach, and Minegishi's attention may reflect a desire for more. Can he break through Otsu's shell? 
19.  Toriko x One Piece Collabo Special 
After Sanji was blown into the unknown sea, he reported some devastating news to Luffy: Their food has been eaten! Fortunately, when the straw hats landed on an uninhabited island, it seemed that salvation was right in front of them, where the flesh grew on the trees. However, this small island is not completely deserted-it is inhabited by the food hunter Toriko. Through their love of meat, Luffy and this manly food lover quickly became firm friends. After eating a large group of roast pork, the straw hat group wanted to collect supplies for their voyage.  
Toriko came up with a perfect solution: they would hunt down the legendary Hungri-La bird together. But when Nami and Komatsu were kidnapped by Cocoalas, all thoughts about food disappeared, almost. 
18. Antique Bakery 
Tachibana recently quit her job in a high-end company and decided to open a bakery for some reason. His first employee was Ono, a talented pastry chef, also known as the "devil charm gay" which made him unemployed countless times. Also joining the crew is Eiji a retired champion boxer who was hired as an intern on the spot, purely because he is not the type of Ono. However, the talkative childhood friend and Tachibana shadow Chikage are exactly what he likes! Now that the shop is finally opened, everyone is filling their positions; but there is still one question: What was the motivation of Tachibana to open a bakery, and is this related to his troubled past? 
17. Bartender 
Pouring the perfect cocktail is a daunting task, but the bartender Ryuu Sasakura is a skilled master whose drinks are well-known all over the world.  
No matter what challenges are encountered, Ryuu will take time to understand his customers and provide them with the most helpful reconciliation to help them resolve their emotions. With his calm demeanor and caring heart, this skilled bartender will make his clients and colleagues happy at all costs. 
16. Mister Ajikko 
Genjiro Murata, the most famous food critic in Japan and leader of the Ajiou Group, discovered a boy named Youichi Ajiyoshi (called Mr. Ajikko by his friends). His innate cooking skills created the most heavenly flavor. Mr. Murata is convinced that he may have just found the heir to the company and decides to let Youichi completely immerse himself in the world of professional chefs. In this world, cooking is not only a skill but a matter of pride, honor, and reputation; if You can't even make "al dente" pasta, so you better leave the town. 
However, not everyone is so sure of the foreign wildcard boy's abilities, and there are more than enough challenges in line to prevent Youichi from climbing. Is a young, untrained chef ready to prove that he is the best in Japan? 
15. Toriko Movie: Secret Recipe of Gourmet God! 
In this world, most delicious ingredients come from dangerous lands and deadly beasts, only the strongest and bravest can become true gourmets.  
Toriko is a gourmet hunter, a powerful warrior with gourmet cells. These can be implanted in humans, and those who successfully integrate into them will see their specific characteristics rapidly increase, enabling them to acquire superhuman abilities. He and his chef-partner Komatsu are looking for the most delicious food in the world! Their latest task is to investigate a mysterious biome where it is said that there is a special formula left by the world's most legendary hunter Acacia. But a mysterious and deadly hunter named Grim interrupted him, announcing that he would find Acacia's legacy and keep it for himself! When his power proved to be too overwhelming for Toriko, allies and enemies must work together to stop Gillim before it is too late! 
14. Cardcaptor Sakura: Leave it to Kero 
Kero was eating a delicious bowl of takoyaki, provided by Sakura, and Kero forced Spinel, who was initially reluctant, to try takoyaki.  
However, after discovering how delicious they were, the appetites and self-esteem of the two creatures began to fight for the last morsel, unfortunately, after an over-enthusiastic sword battle, they were finally thrown out the window. Unwilling to give up, Kero and Spinel relentlessly chased takoyaki on the city streets and found themselves in all kinds of trouble but who is most determined to bite the delicious dumplings? 
13. Cooking Papa 
Araiwa Kazumi, is an energetic office worker who can handle work and family responsibilities perfectly. Kazumi is also an excellent chef, even though many of his colleagues don't know this. His wife Nijiko is a journalist and she has some trouble making time for family life.  
However, she tried to be a cheerful mother forever. Live a happy family with their 7-year-old son Makoto at the beginning of the story.  
This is a story about the Arai family and their enjoyment of food. 
12.  Cooking Master Boy 
Mao is an aspiring young chef, striving to live up to his mother's legacy a nationally recognized culinary genius.  
This inspiring boy left his home as a successor winner of cooking, traveling the length and breadth of China to expand his hot repertoire. In addition to meeting various characters with different gastronomic skills, Mao must also use every skill his mother left him to become a legendary chef in his capacity. 
11. Ristorante Paradiso 
Casetta dell'orso is located in a small street near the center of Rome. It is a small and popular restaurant made up of a group of elderly gentlemen wearing glasses. Nicoletta is a 21-year-old woman who has just arrived in Rome to meet the husband of her estranged mother, who is the owner of the restaurant.  
She intends to tell him that his wife has not only been married once but also her daughter a secret her mother desperately wants to keep. When she arrived at the restaurant, Nicoletta became fascinated by one of the waiters, Claudio, and began to spend more time there. Despite the large age gap, Nicoletta found that her feelings for Claudio were growing. After promising to keep her mother's secrets, Nicoletta started working as an apprentice chef in a restaurant. Now she is trying to become a good chef, but can Nicoletta overcome the age difference and win the heart of Claudio? 
10. Isekai Izakaya: Japanese Food From Another World 
On a desolate street somewhere in Kyoto, there is a Japanese-style bar called " Izakaya Nobu". But this hole in the wall hides a secret: its entrance is mysteriously connected to another world! Chief Yazawa Nobuyuki and his waiter Senja Shinobu decided to develop business in this remote and unfamiliar land, an ancient city called Aitheria. Court guards, craftsmen, merchants, nobles… Nobu's door is open, welcoming everyone with a cold beer and hot meals! 
9. Ben-To 
Falling on the street, covered in blood and bruised all over, You Satou no longer remembers what happened to him-the only thing he remembered was going to the supermarket to buy a lunch box. After a whole day of strange encounters, including a stern warning to stay away from the store, you come back that night to buy dinner.  
However, when he saw the half-price bento shelf and reached for one, the penniless teenager found himself being pushed into a world where the eagerness to make a deal became an epic where only the strong can survive. battle. 
8. Toriko TV 
This is the age of food, and countless delicious foods are waiting to be eaten in this land. Unfortunately, many of the rarest and most delicious ingredients require special skills and incredible physical strength to obtain. Enter Toriko, a luxury food supplier who is passionate about anything edible. This hired hunter travels the world with his new assistant, Chef Komatsu, to taste each new ingredient and decide on his ultimate full meal menu. With nothing but his knife, fork, and appetite, can Toriko hunt down his prey and discover the perfect ingredients? 
7. Restaurant to Another World 
On a corner of a shopping street near the office area, there is a restaurant on the basement floor of a multi-tenant building. This 70-year-old restaurant is called Western Cuisine Nekoya with a sign with a cat picture. This restaurant looks completely normal during the week, but on Saturdays, it is only open in secret to some very unique guests. During these times, the doors of various regions of the parallel world opened, allowing customers of many different races and cultures to enter the restaurant. 
6. Yotsuiro Biyori 
This story takes place at the Japanese tea house "Liubaotang" which is popular due to the efforts of Sui (the shop manager in charge of tea), Gre (responsible for latte art), Tsubaki (responsible for desserts), and Tokihoku (responsible for food),. They are not only warm and hospitable but also help solve their worries from time to time. A series of lovely stories happened in this cozy restaurant. Who will be their customer today? 
5. Yumeiro Pâtissière SP Professional 
After two years of training in Paris, Ichigo returned to Japan, ready to continue on the path of becoming a world-class pastry chef. She happily applied for the senior year of St. Mary's College, only to find that her champion culinary team was disbanding, and the candy princes were on their own! Although frustrated that things can't stay the same forever, Ichigo is determined to ensure that her old friends and competitors will not forget each other or what they can accomplish together. Now, when Henry Lucas puts her in charge of her candy store, the budding pastry chef, along with her friends and Sweet Spirit Vanilla, is facing a real test of her abilities. 
4. Yumeiro Pâtissière 
14-year-old Amano Ichigo is a prospective pastry chef. She got her love for sweets from the desserts of her late grandmother. After meeting the talented Henry Lucas at the local candy festival, Amano convinced her parents to let her enter the Culinary Mary Academy so that she could realize her dream. However, because she had only a positive attitude and no real cooking skills, Amano soon found herself at the bottom of the class. Fortunately, she soon met vanilla, a kind spirit who wants to help Amano reach her full potential. Together with good friends such as Rumi and the three gorgeous candy princes, Amano will bake, mix and sift her way to the top! 
3. Food Wars! The Fourth Plate 
Yukihira Soma was sharpening his cooking skills while working at his family's restaurant, Yukihira Diner. He entered the super-elite cooking school, Totsuki Tea house Culinary Academy. While at the school, Soma encountered various other chefs and continued to grow, but things changed drastically as soon as Nakiri Azami took over as the school's new director. He establishes Central, and the students become unable to cook freely anymore. Soma and his friends decide to fight back against how Central is handling things, which turns them into rebels. 
2. Food Wars! The Third Plate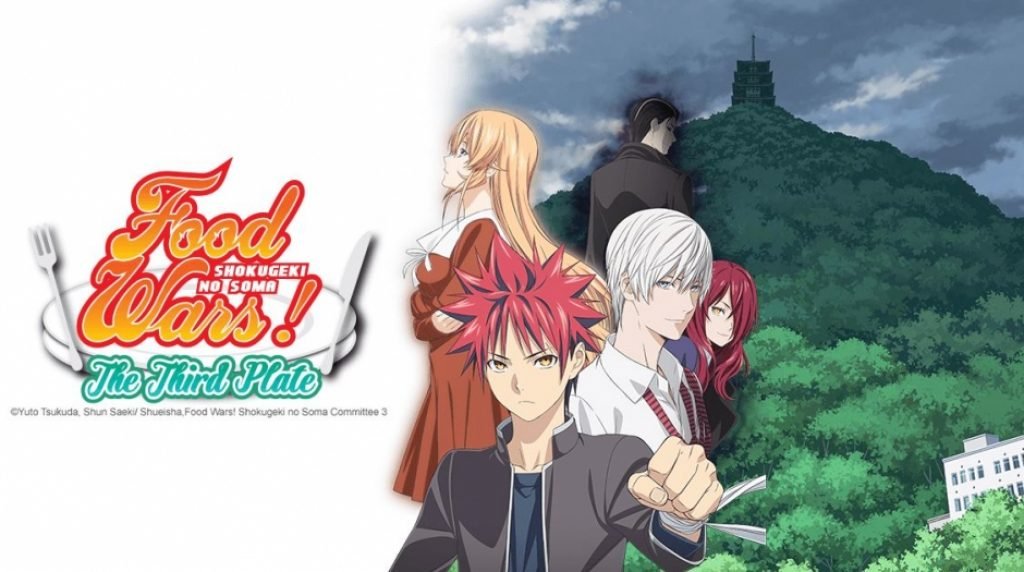 Souma Yukihira started to hone his cooking skills by helping out at his restaurant and is now studying at Totsuki Tea house Culinary Academy, an elite culinary school. After meeting various other chefs at the academy, Suma began to work hard to perfect his cooking style. Gaining experience working in actual restaurants helped him raise his skills to a new level and discovered a brand new taste in cuisine. Now he is ready to challenge Totsuki's top ten elites at the Mid-Autumn Festival of the school, which is an attraction large event with 500,000 participants every year! Soma's new battle is about to begin! 
1. Shokugeki no Souma 
Souma Yukihira's main goal since childhood was to beat his father in a cooking competition and take over the family restaurant. This is why Souma was shocked when his father suddenly announced that he would close the restaurant and send Souma to the cooking school. However, Tohtsuki Academy is not an ordinary cooking school. This elite institution is full of culinary giants like "God's Tongue" Nakiri, who does her best to prevent low-priced orders like Souma from entering the door. However, if the snob can show it, Souma can provide it, and when he learned that only a few students can graduate each year, he swears that the only way he can leave is to rank first! 
That's it, folks! Hoped you liked it, if yes, don't forget to like, comment, and share with your friends. 
Have a Good Day!