Hey, welcome back to animerankers.com! 
This list is for you medieval genre lovers. Today we decided to embark on a journey to rank the Top 15 Best Medieval Age Manga. Hope you enjoy it: 
Berserk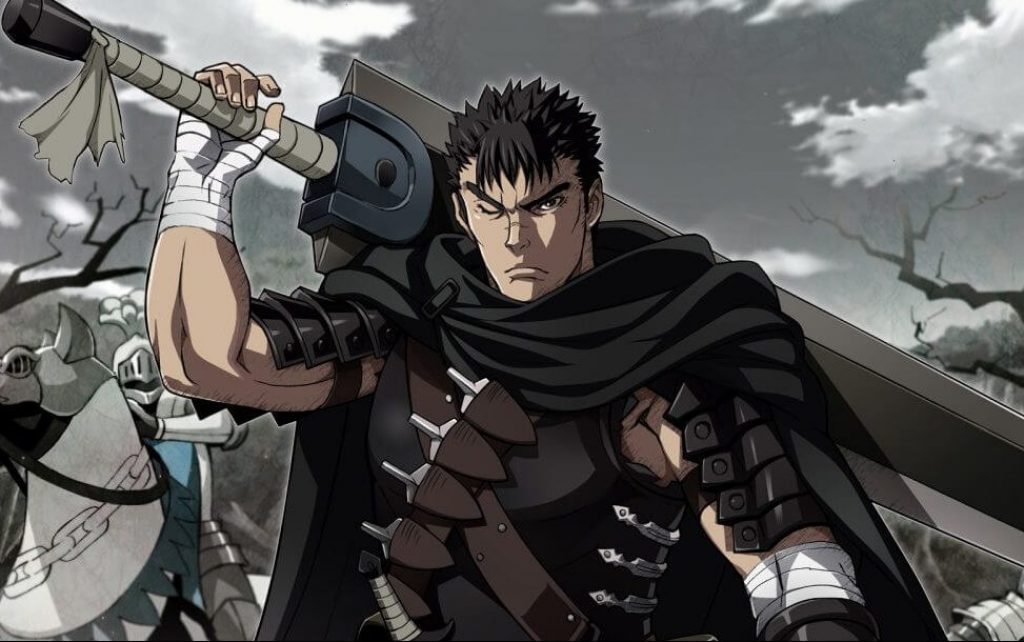 Guts were born under the gallows tree hung by his dead mother. He spent his adulthood in cruel battles. To build his strength, he took on others. His life was simple until he met Griffith, the mercenary leader of the Hawk Band. When Gust lost to Griffith in a duel, he was forced to join the hawks. Even though he was forced he still found friendship and a sense of belonging with them. It is one of the Top Medieval Age Manga.
The Seven Deadly Sins 
The Seven  Deadly Sins is about the most chivalrous and cruelest order in the kingdom. This order is formed by seven deadly criminals who committed horrible sins. These criminals have carved symbols of the seven beasts into their bodies. They became the main protagonist of the show after they were framed for the murder of the Great Holy Night and were disbanded. It is one of the Top Medieval Age Manga.
Claymore 
This is another interesting recommendation you'll love. The story is about a young boy who witnessed the massacre of his family by a Yoma and moments later Claymore comes in to kill the Yoma. The young boy named Raki interacts with the Soma who was appointed to kill the demon in the village. The Claymore named Clare saved Raki when he was confronted by Yoma who had taken the form of his brother. With no place to go Raki follows Clare on her adventure. It is one of the Top Medieval Age Manga. 
Vinland Saga 
A strong fighter named Thors has killed in a battle against ruthless Viking Askeladd a long time ago. Thorfinn, the son of Viking Askeladd, witnessed his father's death and vowed to avenge his father in a glorious duel. Thorfinn was recruited to Askeladd's ship and began to work with the crew. They looted settlements and deceived the naive army. Thorfinn spends his time honing his fighting skills to win a reward. Will Thorfinn be finally able to defeat Askeladd? It is one of the Top Medieval Age Manga.
The Saint's Magic Power is Omnipotent 
A 20-year-old office worker named Sei was taken to a whole new world. Unfortunately for him, the ritual that summoned her was designed to produce a "saint" capable of expelling dark magic and brought two people instead of one. Everyone likes the second girl instead of Sei. She left the palace to open a shop for making potions and cosmetics with her newly discovered magic. Prosperous business, may not be a bad life as long as her Sainthood does not come back to trouble her. It is one of the Top Medieval Age Manga.
Snow White with the Red Hair 
Shirayuki is an energetic pharmacist with bright red hair that has never been seen before. Even the prince of the kingdom where she lives was fascinated by her hair and asked her to be his concubine. Shirayuki fled civilization and headed to the forest because she didn't want to be regarded as an object. A zen master rescued her from the clutches of the prince. Shirayuki decided to return to Zen's castle with him to pursue her dream. But becoming a pharmacist for a palace is not easy. It is one of the Top Medieval Age Manga.
Hachi Nan Tte, Sore wa Nai Deshou! 
Shingo Ichinomiya works in a company sleeping while thinking about tomorrow. When he woke up, he found himself in a strange room with a 6-year-old taking over his body and mind. He quickly learned from the boy's memory. He cannot manage the vast land owned by his family without administrative capacity. But he had a very rare magic talent. It is one of the Top Medieval Age Manga.  
Barbarities 
In response to a threatening letter written to the country's judicial master, Viscount Adam was appointed as a personal guard. Viscount is also an extremely handsome man who can make men and women fall in love with his charm. But now he fell in love with Joel, the Judicial Lord's nephew. It is one of the Top Medieval Age Manga.
 Joou Heika to Yobanaide 
In the Lindor Kingdom, Francesca, the granddaughter of the king is a householder who likes chess and stays at home. After her grandfather's sudden death, it turned out that he nominated her as a candidate for queen. Several young nobles in search of power appeared before her. Stewart, the very intelligent Cyan, and the knight captain Irwine. What will result from the desperate resistance of this closed princess? 
Kami Neko Mii-chan to Neko Youhin Shoukanshi no Isekai Funtouki 
The 18-year-old Neji died after saving the stray kitten Mii who belonged to the goddess. The grateful god proposed that he continue to enjoy the blessing of life in another world. Neji, now called Nero, yearned to start his new adventure in the Kingdom of Lumiel, but he soon knew that Mii would accompany him on his journey and his new ability has been replaced by the ability to feed cats.
King's Maker: Triple Crown 
In this gender bender anime following the failure of his father, Wolfgang Golden Leonard achieved everything, he pursued his love for Shin SooHyuk and the power of the throne. However, Soohyuk, who was the property of the former king, regarded their unstable relationship as one of the war trophies and victors, even though Wolfgang expressed his love for him. As the royal family's uncertainty increases, forces beyond their control are preparing for a second coup.
Crimson Spell 
Prince Vlad wielded the ancient sword passed down from generation to generation by the royal family and was cursed and turned into a demon. To seek guidance, he asked for help from the powerful magician named Halvi. They embarked on a journey to break the curse. The magician hid one thing from the young prince that the violent demon turns into Wald every night and can only calm down when Harvey satisfies his desires. Will they be able to break the curse?
Spice and Wolf 
Kraft Lawrence is very familiar with the life of a lonely traveling businessman. The hawker only wandered from town to town and adapted well to his daily life until the night Lawrence found a wolf goddess. Holo turned into a fairy with wolf ears and tail, tired of harvesting in the countryside, and bargaining with merchants, and lent him the cunning "Wise Wolf Holo" to increase profits in exchange for taking her on a trip. Lawrence soon learned that having an ancient goddess as a traveling companion can be a mixed blessing. Is this wolf girl too savage and tame? 
The Heroic Legend of Arslan 
In the prosperous Kingdom of Pals, there is the royal capital of Ecbatana, a splendid and wonderful city ruled by the undefeated and terrifying King Andragoras. Arslan is the young and curious prince of Pals, and despite his best efforts, he does not seem to have what his father needs to be a qualified king. At the age of 14, Arslan participated in his first battle, but as the blood-stained fog of war gave way to the scorching flames, he lost everything, leaving him facing the demise of the once glorious kingdom. However, it is Arslan's destiny to become the ruler. Although he faces trials, he must now embark on a journey to regain the fallen kingdom. 
They Only Remembered Her 
Clarence returned a war hero, but the painful memories on the battlefield tortured her. To get out of those memories she gave up her knighthood and left the city. Clarence's disappearance caused quite a stir in the capital even though she hoped to return home quietly. Turns out that her comrades in arms had memories of her much deeper than she had imagined. As everyone searched for her, Clarence tries to leave the past behind, and the lady may find that some memories shouldn't be forgotten. 
So that's it, folks. Hope you enjoyed it. These are some must-listen recommendations from us. Don't for to like, comment, and share with your friends. 
Also, check out-> Anime Characters Everyone Knows About