Anime Niche genres like fishing are always in high demand unfortunately the animes based on fishing tend to stay unknown. So to help the fishing world here are the top 10 best fishing anime of all time. Don't forget to binge-watch this fishing-based anime this season.
1. Diary of Our Days at the Breakwater
Probably the latest and most entertaining fishing anime in recent times. The story revolves around Hina Tsurugi is a first-year student who just happens to be an indoor kid.
Now after she has moved to a town by sea, she is suddenly thrown into the world of fishing when a senpai at her school Yuuki Kuroiwa, invites her to be a part of the school's fishing club. And thus her passion for fishing and adventure begin.
Honestly a great watch with splendid animation. There are few anime with such Good fishing animation overall.
2. Super Fishing Grander Musashi
Super Fishing Grander Musashi is one of the oldest fishing anime ever made. It is the story of a young boy named Musashi who moves from the big city of Tokyo to a small village in the countryside. He is forced to move with his father against his own will.
After seeing a man catching bass with only a decoy fish, Musashi becomes intrigued by the lure fishing and starts trying it out himself to discover that his great grandfather was the best fishing champion of his time.
This is one of the best fishing anime ever made that goes quite in-depth with various fishing techniques and skills. If you love fishing and wanna learn a thing or two this is the anime I recommend you to watch.
3. Tsuritama
Tsuritama is quite the popular anime based on Yuki Sanada, a socially awkward young man who is frequently on the move because of his grandmother's work. He has trouble making friends and holding conversations.
However, all that changes when a transfer student named Haru decides to become friends with Yuki. Haru happens to be a self-claimed eccentric alien who wields a water gun and fishbowl. Despite Yuki's resistance, Haru convinces him to go on a fishing journey with a few other friends. A fun and thrilling fishing adventure for those who love fishing and the sea.
4. Fishing Maniac Eika-san! Sky Girls Dynamite Fishing!
Sky girl's dynamite fishing follows the story of Eika who happens to be a great fishing fanatic who just can't catch any fish. The anime is quite underrated even though it's quite good. It's quite fun and one of the few anime's that is completely based on fishing.
If you haven't seen it yet I recommend you do it. It's a short 9 episode anime that can be easily binge-watched. It's a fun family anime that you can watch and relax.
Must watch: Best Boat Racing Anime of all Time
5. Namiuchigiwa no Muromi-san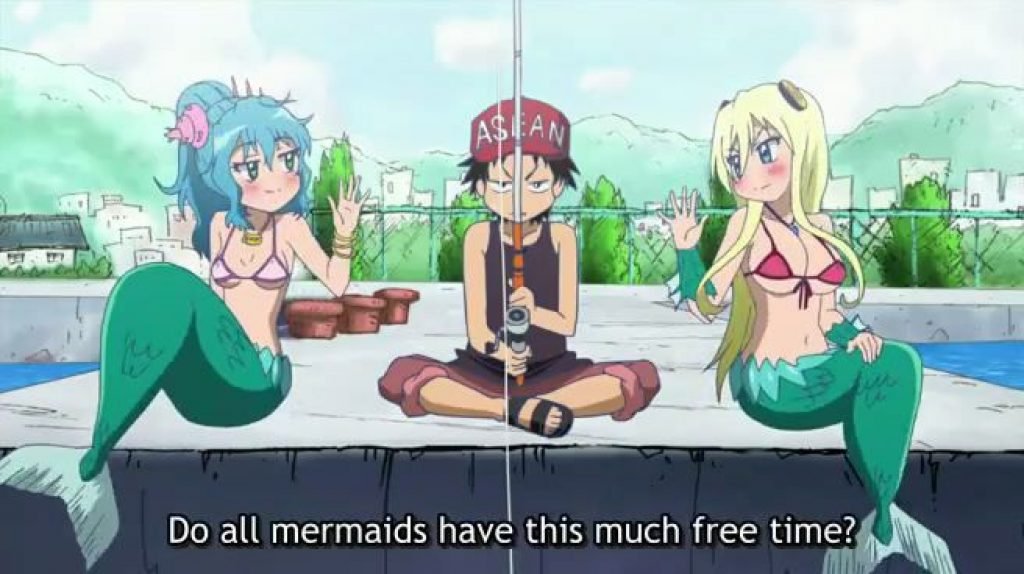 Namiuchigiwa no Muromi-san is a truly wacky and ecchi comedy anime about mermaids and fishing. Mukoujima Takurou is a lonely teenager who reels in a beautiful mermaid on one of his fishing trips. Now, what happens when a lonely guy meets a beautiful mermaid?
The mermaid whose name is Muromi-san is supposedly a legendary sea creature famous for her beauty and wild outbursts. For better or worse Mukoujima Takurou is about to have his life changed forever.
A funny romantic anime about fishing and mermaids I'm sure you guys would love.
6. Tsurikichi Sanpei
Tsurikichi Sanpei is undoubtedly the oldest anime ever made. It was produced over 40 years ago but is still considered one of the best fishing anime ever made. With more than 100 episodes Fisherman Sanpei is one of the biggest anime ever made in the history of the anime world. Tsurikichi Sanpei is a down-to-earth fishing anime unlike a few of the other animes on the list.
The main character is not the most overpowered fisherman but with his first-rate knowledge of the sport, he always managed to get the edge. The anime is full of challenges and competitions that are sure to interest people who love fishing. All in all a great watch I recommend all fishing fans to watch.
7. Tsuri Baka Nisshi
Tsuri Baka Nisshi is the perfect anime to represent fishing fanatics. Hamazaki Densuke is a wage-earner with no real-life goals other than his passion for fishing. particular motivation. Due to his obsession with fishing he has earned the nickname "Fishing Baka."
Great fun and relaxing anime about fishing that will surely make your day.
8. Orenchi no Furo Jijou
If you want an animated comedy related to fishing but is not exactly fishing then Orenchi no Furo Jijou is just perfect for you. The story revolves around a high school boy named Tatsumi and a beautiful Wakasa merman. Wakasa's home lake has been devasted by the increase in pollution and he has decided to live with Tatsumi.
Tatsumi gives him his clean bath as a resting place that Wakasa graciously accepts. A fun and interesting tale about a merman and a high school student begins.
A great comedy anime with plenty to learn from. It's a good watch though it's not exactly a complete fishing anime.
9. Puka Puka Juju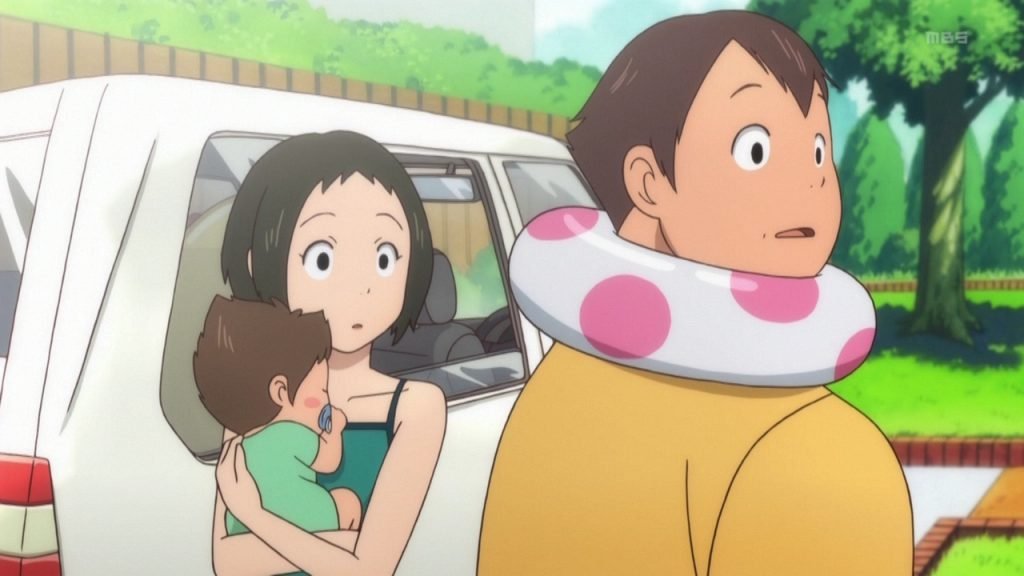 Puka Juju is a cute and entertaining family anime that tells the story of a young girl, Mika, who wants to go to the beach with her father. Unfortunately, her father is suffering from Thalassophobia: the fear of the sea.
Now when her plastic dungong comes to life she is instantly hooked on the adventure of a lifetime. It's a great family anime to pass the time.
Bonus: Some More Fish Based anime you might like:
The below anime is not exactly based on fishing but is quite related to fish in general. We wanted to make sure you read about the best fishing anime so we decided to exclude them from the list.
They are still a great watch but do not fall in the fishing anime category according to us:
1) Kuragehime
2) Gake no Ue no Ponyo
3) Kingyo Chuuihou!
That's all for this list guys. These were the top 10 fishing anime of all time. If you know any more fish-related anime make sure to mention them in the description below.
Happy Fishing and Binge-watching Fishing anime..!!