A good chuckle may make your day better. Isn't it true that once you find something that makes you laugh, you never want to let it go? Even though you already know how the story will end, you might want to return a book that makes you laugh just to feel that same sensation all over again. For me, humor manga does the same thing. It's the most amazing feeling in the world when characters find themselves in situations that you can't help but giggle at. These comedic mangas, in anime ranker's opinion, are the answer to days when you don't feel well. When you need them the most, they will be there for you. First on our list is.
1. One Piece
Monkey D. Luffy was inspired to become a pirate as a youngster after hearing stories of the buccaneer "Red-Haired" Shanks. However, Luffy's world was turned upside down when he ate the Gum-Gum Devil Fruit by mistake and got the ability to stretch like rubber at the risk of never being able to swim again! Years later, still determined to become the pirate king, Luffy embarks on his quest. One guy alone in a rowboat, in search of the legendary "One Piece," said to be the greatest treasure in the world. It is one of the top comedy manga.
2. Slam Dunk
Hanamichi Sakuragi isn't interested in girls at all! It doesn't help that he's notorious for throwing down at the drop of a hat and always winning. He's been rejected by 50 females in a row, a hopeless bruiser! All of that changes when he meets Haruko, the girl of his dreams, and she isn't frightened of him! His life is permanently transformed when she introduces him to the game of basketball. It is one of the top comedy manga.
3. Yotsuba to!
 Yotsuba's father accompanies her on her travels around Japan in search of something new, while they also build a solid father-daughter relationship that's sure to capture your heart and make you laugh. Yotsuba and Yousuke create a fantastic comic duo because, on the one hand, Yotsuba just wants to explore the world for herself without ever stopping. At the same time, Yousuke desperately attempts to hold on to the ride as she takes him to all kinds of places. It's a slice-of-life comedy that teaches us not to take things for granted and to laugh at life's misfortunes since we only have one chance. It is one of the top comedy manga.
4. Haikyu!!
A fortuitous encounter sparked Shouyou Hinata's passion for volleyball. His club had no members, but it persisted and eventually made it to its first and last regular match of middle school when it was thrashed by Tobio Kageyama, the "King of the Court," a superstar player. Hinata applied to the Karasuno High School volleyball club, vowing vengeance only to meet his nemesis, Kageyama! It is one of the top comedy manga.
5. Fullmetal Alchemist
The Elric brothers' bodies were torn apart by alchemy. Is their relationship strong enough to bring them back together? Alchemists study and practice alchemical transmutation, which is the science of altering and transforming matter. They are constrained by the Law of Equivalent Exchange, which states that to obtain something of equivalent worth, one must give up something of equal value. Edward Elric lost his arm and leg in an alchemical procedure gone awry, and his brother Alphonse became little more than a soul in a suit of armor. Edward becomes a state alchemist, equipped with artificial "auto-mail" limbs, in search of the one item that might restore his and his brother's bodies…the mythical Philosopher's Stone. It is one of the top comedy manga.
6. GTO
As Onizuka retires from his past as a motorcycle gang member alongside his close buddy Ryuuji, he decides to work at Holy Forest Academy Private School, where things aren't holy. Onizuka simply wanted a fresh start, but he's put in a pickle when he's put in charge of a class full of misbehaving students. In this great comedy about school life and learning from mistakes, this isn't the only difficulty he'll encounter. The school administrator, Uchiyamada, is nothing but a thorn in his side. It is one of the top comedy manga.
7. Kaguya-sama (Kaguya sama)
Kaguya and Miyuki are the cream of the elite as heads of their exclusive academy's student council! However, it is lonely at the top. Fortunately for them, they've found love! There's only one problem: they're both too proud to acknowledge it. And so the daily plotting begins to get the object of their passion to first reveal their loving emotions. Love is a battle that you may win by losing. It is one of the top comedy manga.
8. Azumanga Daioh
It is a character-driven manga with clever comedy, a compelling plot, and a lot of fun. It follows the lives of eight ladies, each of which has her distinctive personality, which when combined, creates a thrilling trip that will leave you wanting more. The narrative isn't much of a story because there isn't a romantic sort of interaction and a lot of it doesn't make much sense. It's all been gathered into this brilliant piece of art, which focuses on the lives of eight females who each deserve their prize for outlandish conduct, complete with bizarre experiences that will make you laugh out loud. It is one of the top comedy manga.
9. Gintama
Gintoki is a stray ex-samurai who lives on the streets, doing anything he can to make ends meet. In this action-adventure comedy, Shimura, an extraterrestrial named Kagura, and a huge dog named Sadaharu form a company called Yorozuya, which takes them in all kinds of ways. Gintama is difficult to categorize in a single term, so we'll simply say that it contains everything you need to keep you smiling for days. Gintoki and his crew went through so much in this series, from strange encounters with genuinely repulsive animals like Pandemonium to a slew of humorous references to other comics, that you wish this world existed. Gintoki might be in the middle of a serious argument when something completely unexpected happens, causing you to break out laughing. We can't think of a better term to describe this one, so go check it out.
10. SPY X FAMILY 
An action-packed comedy about a fake family who needs to work together to save the world! Master spy Twilight needs a little bit of help to achieve this mission, and the help comes in the form of a fake wife and a child. What he doesn't know is that his new wife is an assassin and his new kid is a telepath! It is one of the top comedy manga.
11. Katekyo Hitman Reborn!
Tsuna returns home one day to see a baby in a mafia suit claiming to be his new home tutor. His mission is to help Tsuna ascend to the position of Vongola crime family's tenth leader. Tsuna must now come to grips with all that has suddenly appeared in his life as he embarks on this new journey. The narrative is an action-packed adventure, but Tsuna and Reborn friendship is nothing short of funny. Tsuna lacks expertise in every area, so there are moments when he makes such a blunder that his whole squad is placed in jeopardy, and you can see him feverishly trying to dig his way out of it with everything he has. Tsuna always tries to keep you smiling when opponents aren't being gunned down, because he can't seem to get anything right, and his comrades merely shake their heads in despair.
12. NHK ni Youkoso
Sato Tatsuhiro is addicted to narcotics and locks himself in his room, believing that the NHK is a corrupt institution that has made his life what it is. Sato falls in love with Misaki, a girl he thinks is trying to murder him, but he has no idea how to connect with her, let alone trust her. Getting out of his room gets more complicated as anime porn, manga, and drug use keep him from venturing out into the real world. Misaki is the only rational person who can save him from this agony. Sato is a complete failure in life, and he imagines that this girl will come to his rescue. This seems terrible, but it's hilarious how he tries so hard to escape the misery surrounding him, just to return to the domain of darkness that is hikikomori. It is one of the top comedy manga.
13. Toilet-Bound Hanako-kun
Rumors abound at Kamome Academy concerning the Seven Mysteries, one of which is Hanako-san. When summoned, Hanako-san is said to take the third stall of the third-floor girls' toilet in the old school building. Nene Yashiro, an occult-obsessed high school student with romantic fantasies, enters the haunted toilet but the Hanako-san she meets there is nothing like she imagined. It is one of the top comedy manga.
14. Magical Chef Shoujo Shizuru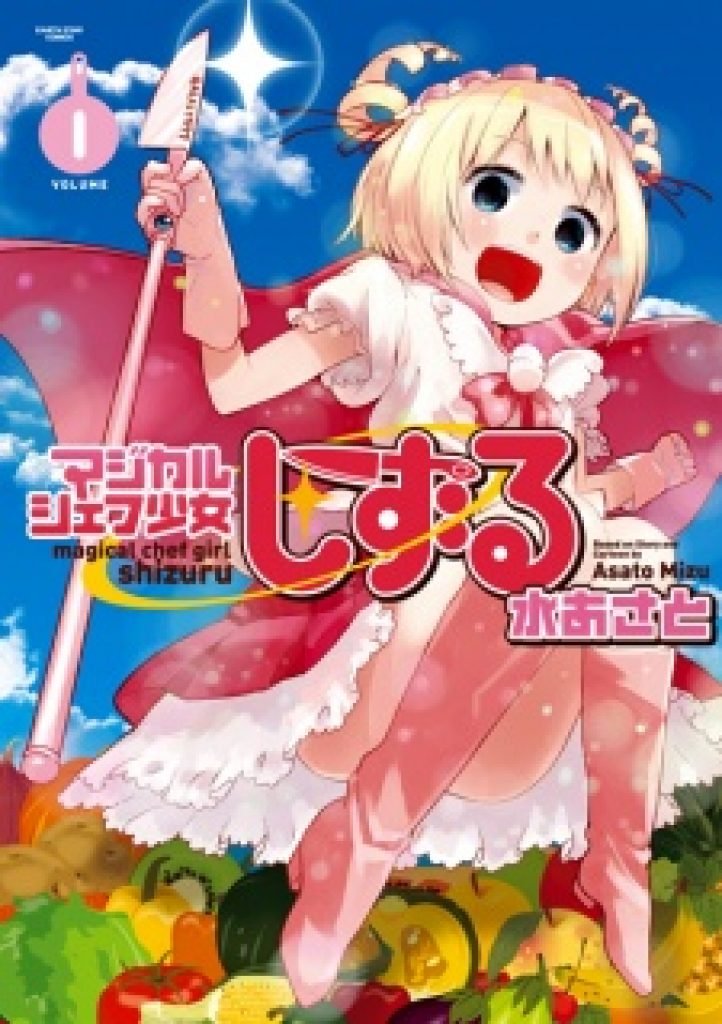 Many people in the Obento period have progressed beyond basic cooking skills and now possess unique talents known as tools, which enable them to produce even more remarkable dishes. Shizuru's mother vanished when she was a tiny girl, but she left her with a small knife and a promise to see her again. Shizuru, desperate to find her mother, enrolls at a bento cooking school despite her lack of the necessary instruments. If changing into a magical loli chef out of nowhere wasn't enough to make you laugh, Shizuru is about to go through a series of funny events. The characters she meets throughout the manga are why it deserves to be on our list. It is one of the top comedy manga.
15. Amano Megumi wa Suki Darake!
Manabu and Amano have been friends since infancy, and their relationship has always been tumultuous. Fast forward to a meeting between the two, but this time Amano isn't the same girl she used to be, at least not physically. Manabu is desperate to graduate with honors so that he may attend Tokyo University. Still, with Amano continuously distracting him with her childish ways and a new set of glorious oppai, Manabu is finding his life to be even more miserable by the minute. Amano's oppai merely sends his mind into a spiral of confusion every time he tries to set aside time for himself to prepare for his exams, and he suffers from continuous nosebleeds. It is one of the top comedy manga.
16. Gokujo
Akabane is an arrogant high school student who constantly competes with her peers to see who is the most gorgeous. She seeks to outperform them in every category imaginable since her pride will not allow her to accept anything less than perfection. On the other hand, her clumsiness frequently gets in the way, causing her to make a complete idiot of herself, making everyone laugh. If the summary wasn't enough to pique your interest, Akabane's bizarre conduct, combined with the numerous sexual references sprinkled throughout the manga, will have you giggling for quite some time. All of her pals have their own distinct and quirky personalities, which further adds to the madness of this all-girl chaos, as some have no shame and will go to great measures to be appreciated.  The story takes place in an all-girls school with lots of sexual innuendoes to keep you coming back for more.
17. Hunter x Hunter
Gon may be a rural lad, but he has lofty goals. Gon chooses to follow in his father's footsteps and become a legendary Hunter, despite his Aunt Mito's objections. The Hunter candidates set sail aboard a storm-tossed ship, where Gon meets Leorio and Kurapika, the only other applicants who aren't affected by seasickness. After surviving the perils of the wild seas, Gon and his comrades must now show their worth in a series of challenges to track down the Exam Hall. Will they ever make it out alive once they arrive…? It is one of the top comedy manga.
18. Dorohedoro
A tribe of Sorcerers has been pulling individuals from the streets to serve as guinea pigs for terrible "experiments" in the black arts in a place known simply as "the Hole." Nikaido came upon Caiman, a man with a reptile head and a severe case of amnesia, in a dark alley. To break the enchantment, they're hunting down and killing Sorcerers in the Hole, hoping to catch the correct one. When En, the chief Sorcerer, learns of a lizard man murdering his people, he sent a team of "cleaners" into the Hole, sparking a conflict between the two realms. It is one of the top comedy manga.
19. Hajime no Ippo
Makunouchi Ippo has spent his entire life being bullied. Ippo has always dreamed of changing himself but has never had the drive to do it. He is constantly doing errands and being beaten up by his peers. Amid yet another round of abuse, Ippo is rescued by Takamura Mamoru, a boxer. Ippo passes out due to his injuries and is taken to the Takamura boxing gym to heal. He is surprised and amazed by his new surroundings in the gym when he regains consciousness, but he lacks the courage to try anything. Takamura pushes Ippo to hit a punching bag with a photograph of a classmate. Ippo only feels something stirring inside him after that and begs Takamura to coach him in boxing. Takamura believes Ippo lacks the necessary skills and assigns him an impossible assignment with a one-week deadline.
20. One-Punch Man
Everything about a young man named Saitama in this new action-comedy screams "AVERAGE," from his lifeless look to his bald head to his mediocre body. This average-looking guy, on the other hand, isn't having your typical difficulty. He's a superhero on the lookout for a challenge! The problem is that every time he comes across a potential prospect, he stomps on them with one punch. Can Saitama finally find an awful enemy who can stand up to him? Follow Saitama on his funny adventures as he seeks out new bad people to fight! It is one of the top comedy manga.
21. Fruits Basket
Tohru Honda, a spunky high schooler, takes matters into her own hands after a family tragedy flips her life upside down and moves out into a tent! Unfortunately for her, she decides to build her new house on private land owned by the secretive Sohma clan, and it doesn't take long for the owners to figure out what she's up to. The Sohmas, however, have a secret of their own, as Tohru discovers when the family offers to take her in; when touched by the opposite sex, they transform into the animals of the Chinese Zodiac! It is one of the top comedy manga.
22. Who Made Me a Princess
The lovely Athanasia was murdered by her biological father, the cold-blooded monarch Claude de Alger Obelia! It's simply a make-believe bedtime story Until one lady wakes up to discover she has been transformed into the unlucky princess! She needs a strategy to avoid her terrible fate, and the clock is ticking. Will she stick to Plan A and try to live as quietly as possible to avoid attracting the attention of the famed emperor? Plan B: amass enough cash to flee the palace. Will she have to stick to plan C and sweet-talk her way into her father's good graces?!
23. Mob Psycho 100
Do you or someone you know require a low-cost exorcist? Reigen is the one for you! What's his formula for catching ghosts while keeping costs low? Well, for starters, he's a scam artist, and for starters, he pays his student helper Shigeo less than the minimum wage. Shigeo is an awkward but nice young man whose desire to assist people and get along with them is inextricably linked to the mental safety barriers he's erected around his own emotions. Reigen is well aware that he must abuse Shigeo to continue in business, but he is also his mentor and advisor, for better or worse. And he knows that if the typically suppressed kid's emotions reach level 100, it may release a flood of psychic energy that neither of them can control!
24. Beck: Mongolian Chop Squad
Yukio Tanaka has been a dull person for the first 14 years of his life. He has no hobbies, poor musical taste, and barely a sliver of a personality. Yukio longs for a more adventurous life, but his timid, neurotic disposition makes him his own worst enemy. He has no idea that meeting Ryusuke Minami, a wild and unpredictable 16-year-old fresh from America, who happens to be in a rock-and-roll band called for his Frankenstein-like patched dog—Beck—will change his life forever.
25. Aria
Akari Mizunashi has recently settled in Neo-VENEZIA, a futuristic recreation of the historic city of Venice, on the planet Aqua, once known as Mars. The technology of "Man Home" (previously Earth) has not yet reached this planet, and Akari is alone, unable to communicate with her family or friends. Nonetheless, Akari's new obsession is the town, with its lovely labyrinths of rivers and canals, as well as the goal of becoming a full-fledged gondolier. Akari's persona becomes both daring and uplifting as she returns to a more "primitive" existence and pursues a new trade.
26. Olden Kamuy
Saichi "Immortal" Sugimoto, a soldier of the Russo-Japanese War, ekes out a poor living in the Hokkaido wilderness during the postwar gold rush in the early twentieth century. When he comes upon a map that leads to wealth in hidden Ainu gold, he embarks on a perilous journey to find it. But Sugimoto isn't the only one who wants the gold; everyone who hears about it is desperate to get their hands on it! Sugimoto will need all of his talents and luck—along with the assistance of an Ainu girl called Asirpa—to live in the harsh circumstances of the northern tundra, as well as vicious criminals and renegade Japanese troops.
27. Kamisama Kiss
Nanami Momozono is alone and homeless when her father flees town to avoid paying his gambling debts and the debt collectors evict her from her residence. So when a man she just saved from a dog gives her his house, she takes advantage of it. However, it turns out that his home is a temple, and Nanami has unintentionally inherited his position as a local deity! Nanami is dealing with a slew of new duties, risks she isn't aware of, and a grumpy ex-familiar who is rather attractive. What should a newly minted godling do?
28. Wotakoi
Narumi Momose has had a difficult life: every partner she's had has deserted her once they discovered she's an otaku, so she's gone to great efforts to conceal her identity. When an accidental meeting at her new job with childhood buddy, fellow otaku, and coworker Hirotaka Nifuji nearly exposes her secret, she devises a strategy to ensure he never speaks out again. But he counters with a suggestion: why doesn't she just date him instead? There are no save points in love.
29. Gekkan Shoujo Nozaki-Kun 
Sakura and Nozaki, as well as their hilarious pals, star in Monthly Girls' Nozaki-Kun. Sakura had had a crush on Nozaki for a long time, and when she finally confesses, Nozaki misinterprets her words as "I want to work with you!" Sakura finds herself working as his assistant rather than going out with him. No one realizes he's one of the most well-known shoujo mangakas in the business.
30. My Next Life as a Villainess
It revolves around the life of a high school girl who gets reincarnated as the villain in an otome game. Her fate is not looking good (be exiled or die!), so she creates an elaborate plan to change her game story destiny! But this changes every single part of the game, not only the outcome but also the relationships around her. Bisexual icon Katarina Claes will enchant you quickly.
Some days are simply exhausting and make you want to forget about the rest of the day. Comedy is a great way to deal with any emotion, whether stress, exhaustion, or getting over a painful breakup. Whatever your cause, comedy is like a shoulder to rely on when you're having a hard time dealing with life's challenges. Dp makes sure you watch this manga because it will make you laugh, weep, and perhaps spit out your juice due to its creativity. Comedy has no bounds, and whatever it takes to make us laugh is all we need to heal our broken hearts.
Also, check out: Top 30 Shoujo Manga