Looking for the best musical anime? We've got you covered. Take a look at our list of the top 25 best musical anime. Musical anime are often neglected as they're not included in the mainstream. But, they are truly special in their musical way. Music gives life to the scene whether anime or real life then just imagine how amazing a series would be if music is the main theme of it.
25. AGGRETSUKO
I'm sure we all get stressed due to remarks from our co-workers, overwork, and getting shouted at by the boss at work. What do you think is right to do when it gets more than one can handle?
Bashing Aggressive death metal karaoke at top of your lungs while criticizing everyone that has done you wrong. No? Well, our protagonist does this and we can't control our laughter.
Every episode is merely 1 or 1:30 minutes but it's enough to entertain you and make you smile which you should do when sad.
The Art style is pretty simple and cute. The Plot is very straightforward but you won't get bored anywhere. It is one of the top best musical anime.
It's a pretty good watch for a quick laugh and very fun to see how she conveys her thoughts through her death metal music.
24. HYPNOSIS MIC: DIVISION RAP BATTLE
A world where women dominate the government and any type of weaponry is banned by all means. The world now has a different way to settle disputes which is through rap battles.
As wacky as the plot sounds the actual anime is even weirder.
One might say it is a Big Mess. The story, characters, and dialogues don't make sense or align but that's what makes it more fun. It is one of the top musical anime.
The rap battles! They're just pure headbangers. No matter what the situation is, war, kidnappings, or hostage situations people use the device "Hypnosis Microphones" and engage in rap battles.
TBH it's really bad but that's what makes it good. Am I making any sense? well, neither does this anime. But, watch it for fun and you'll have a good time.
23. ANONYMOUS NOISE
A girl who has experienced two very emotional partings often finds herself singing to the sea.
But, it's no fun without fate intervening and putting her previous two friends in the same class and the story of the love triangle begins.
To put it in a simple way the story is cliched but I guess sometimes that's what people like in it.
It had potential but was wasted. Some eps felt frustrating and lengthy for no reason. It is one of the top musical anime.
The music is where it shines and takes the center stage and the art style is good but the lazy animation took the fun out of it.
22. IDOLISH7: SECOND BEAT!
It wouldn't be wrong to say that this anime is criminally underrated in the idol/music genre.
The plot twists are so good you'll be re-hooked into this every time.
Music is very generic as one might expect from idol musicals and this one does the job, nothing more.
Consisting of two seasons, the second is better than the first one by rating and personal opinion.
At times gives the feel of Shonen anime but won't take the essence away. It is one of the top musical anime.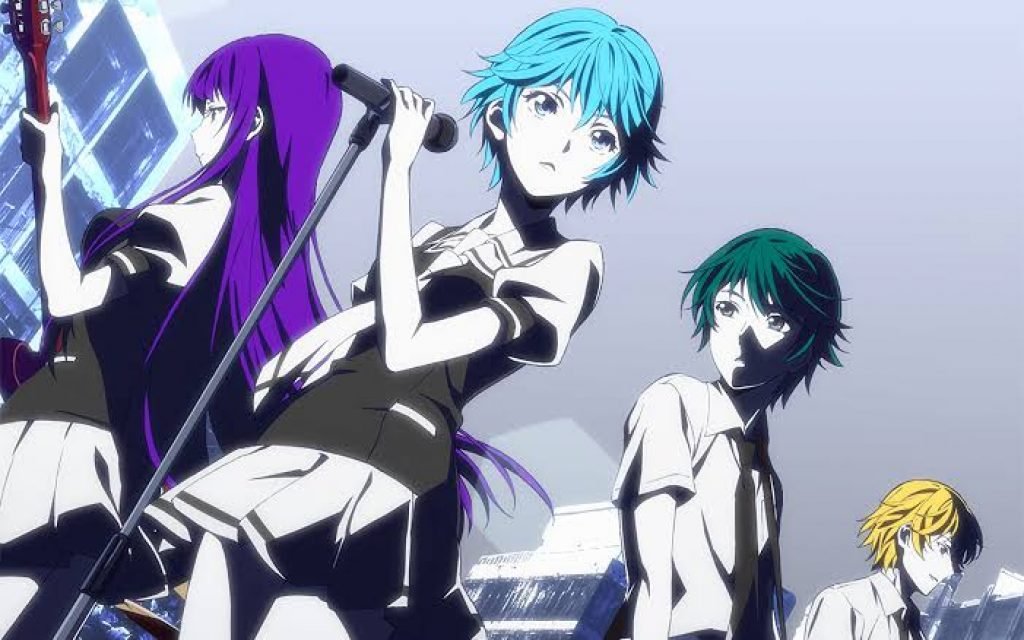 21. FUKKA
Fukka takes the lead in art style and animation. However, can't say it about other departments.
The story starts well but loses its charm as it proceeds toward the end.
The protagonist moves into a new city and meets a girl Fukka who breaks his phone due to some misunderstanding, later finds out that they're classmates and begins the story filled with music, humor, and at times sadness.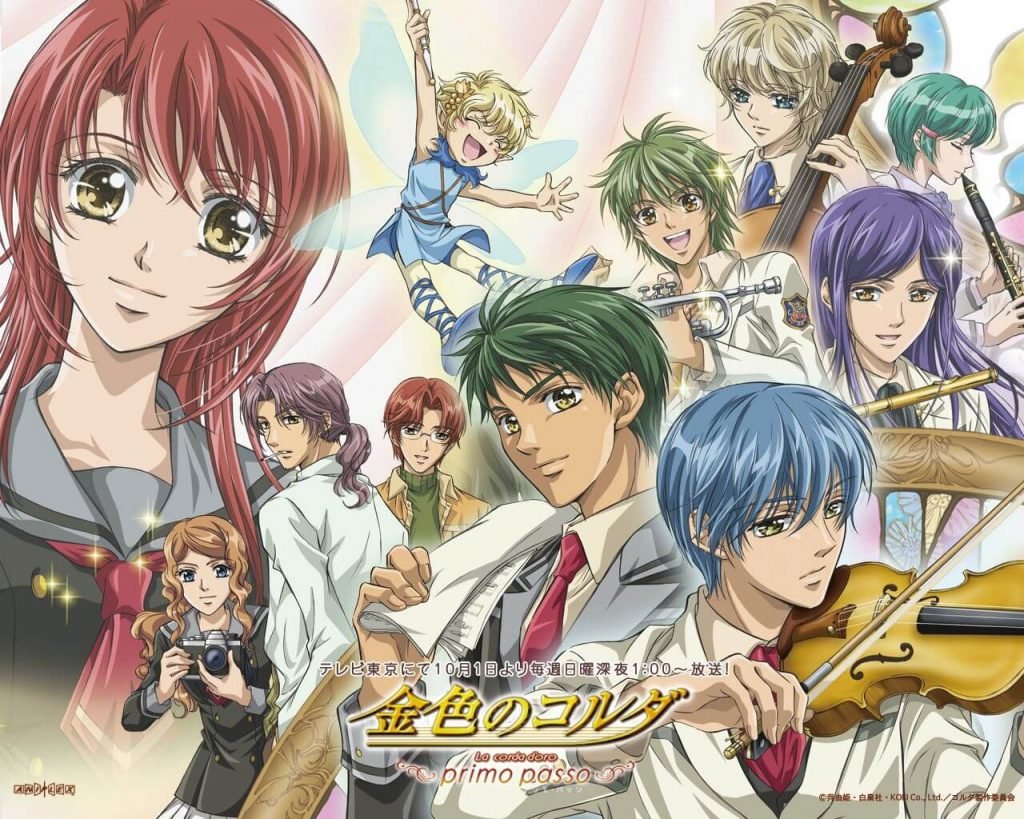 20. Kiniro no Corda: Primo Passo
Does it happen to you that you're running late to school and you come across a fairy only you can see? Yeah me neither.
But our mc did and was gifted a magical violin by her and thus her change starts to change.
Aired in 2006 its animation and art style is good considering the time it was released.
It explores the harem genre and at times feels a bit annoying while our mc is not sure about her feelings for the other characters which happens way too often.
The character is well-ranged but lacks depth but the music covers up for it and will keep you hooked till the end.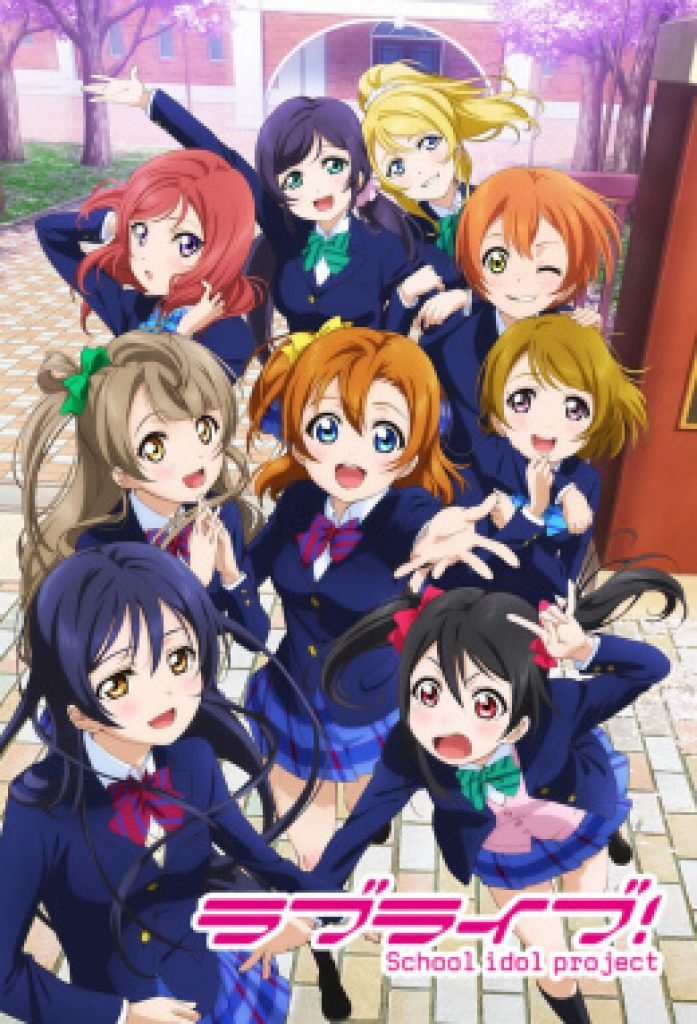 19. Love Live! School Idol Project
Another example of why tested formulas always work.
Idol, musical, and high school slice of life is one such formula that always works.
The plot is pretty simple and it is appreciated as it is.
The school is getting less number of students every year and is on the verge of closing, to avoid this bunch of friends creating an idol group to make their school famous and end compete in the Love Live competition for the best idol group.
The best thing about this one is the animation and music come second.
There are no romances but there are always subtle hints of it.
 Love Live! Provides everything you expect from a good anime that too with a blast.
18. Vivy: Fluorite Eye's Song
Vivy was created as the world's first autonomous ai tasked with singing at theme parks. One day an appears to her and mentions the war that's going to happen in the next 100 years and thus the journey of vivy to stop the war starts.
The animation is really beautiful as expected from WIT studio.
Sci-fi and musicals don't go together very often but once they do it's worth it and vivy is a great example of that.
The initial story might remind you of Terminator but it won't take long for you to experience the real stuff.
With time travel, great animation, and music that'll stay in your head for a while, Vivy: Fluorite Eye's Song is binge-worthy.
17. Mashiro no Oto
In the mindset of the girl band or idol musicals, this one is a different story that is often overlooked.
Setsu Sawamura gives up shamisen after the death of his grandfather and moves to Tokyo to discover his music style but fate has other plans for him.
The Story is very mature compared to other slice-of-life anime offered and you'll end up knowing a lot about the instrument and Japanese music.
Character development is admirable, you will notice the change in setsu from leaving the instrument to rediscovering himself through it. It is one of the top musical anime.
 It doesn't matter how much you like other instruments shamisen is going to be your favorite after watching this anime.
16. Hibike! Euphonium 1 & 2
How Music helps to overcome tragedies will serve as an underlining tone throughout the series.
Oumae enters high school after leaving music behind due to an incident. But, the music eventually finds its way into her life again.
The formation of a band and the inside clashes, and struggles are shown discretely and their journey to the top is very heartwarming.
An anime with a good 1st season and an even better 2nd season
16. Hibike! Euphonium 1 & 2
How Music helps to overcome tragedies will serve as an underlining tone throughout the series.
Oumae enters high school after leaving music behind due to an incident. But, the music eventually finds its way into her life again.
The formation of a band and the inside clashes, and struggles are shown discretely and their journey to the top is very heartwarming.
An anime with a good 1st season and an even better 2nd season.
Critically acclaimed and appreciated by many this one will be a treat to your eyes and ears.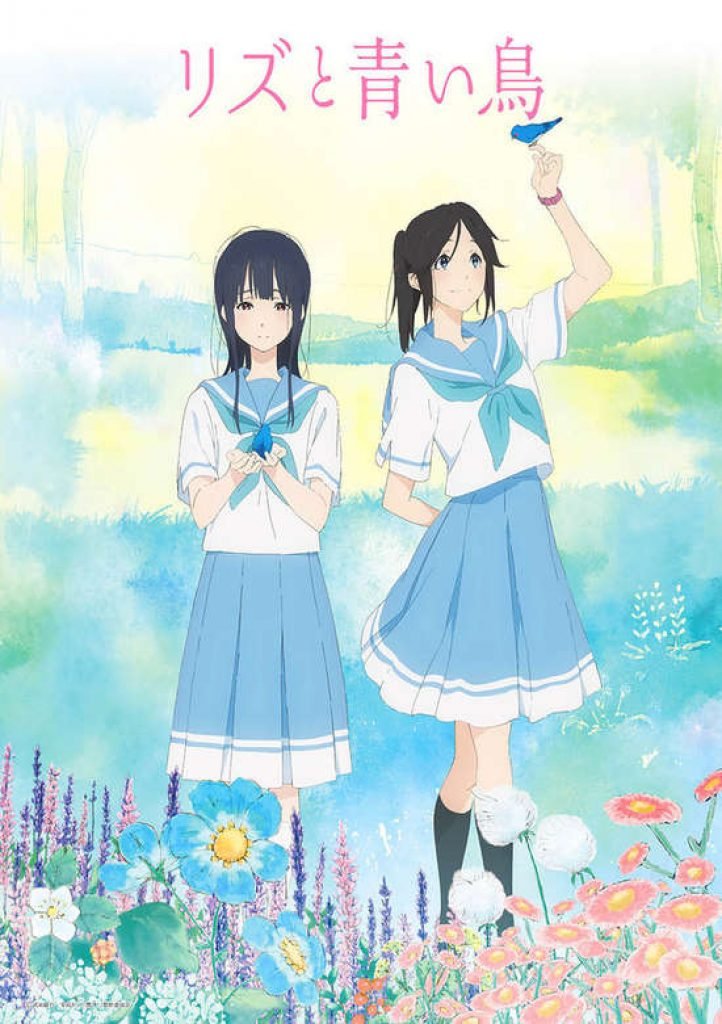 15. Liz to aoi  tori
With a score of 8.21 on MAH, this one is an absolute pleasure to watch.
Two friends are made to play lead instruments in the third movement of Liz and the Blue Bird, a concert band piece inspired by this fairy tale.
But this takes a toll on their friendship and so does the story that moves ahead.
It is a side story or spin-off film adaptation of the Hibike Euphonium! Series.
The story is simple and sweet with friendship, music, and fairytale as its main cast and is not to be missed.
14. White album 1 & 2
Having a girlfriend is a good thing but what if she's a famous idol and you're a normal college student?
Might sound good initially but will love last while they face their problems.
White album 2 is set 10 years after the events of WA 1, it isn't a sequel but could be called an alternate story.
WA2 is often overlooked because of the average ratings of 1st season but give it try who knows you might thank us for introducing you to this piece of art.
13. BanG Dream
Yes, another all-girl band but still makes it into this list because of how good a response it has it had 3 more seasons, live concerts,2 movies, and also a mobile game made on it! I mean it's rare to reach this popularity considering it's not a shonen.
The first season has mixed reviews but the next two seasons were well received by the audience.
 Kasumi Toyama a high school girl tries to rediscover the magic she felt while stargazing as a child which she finds through live performances and ultimately decides to form a band.
Might remind you of k-on at times but surely has a different feel to it making it the 13th spot. It is one of the top musical anime.
12.  Gravitation
The lgbtq+ representation of anime has been on quite a burst recently but gravitation was one of the major and early ones to make it into the limelight.
The story starts with Suichi trying to be the best singer in the world meets Yuki who insults him. From here they go from friends to something much more while pursuing their dreams.
The yaoi genre is filled with humor, tragedy, and danger, no wonder teenage girls of that era were crazy after this one. It is one of the top musical anime.
The animation quality is kind of okay but the music will make up for it.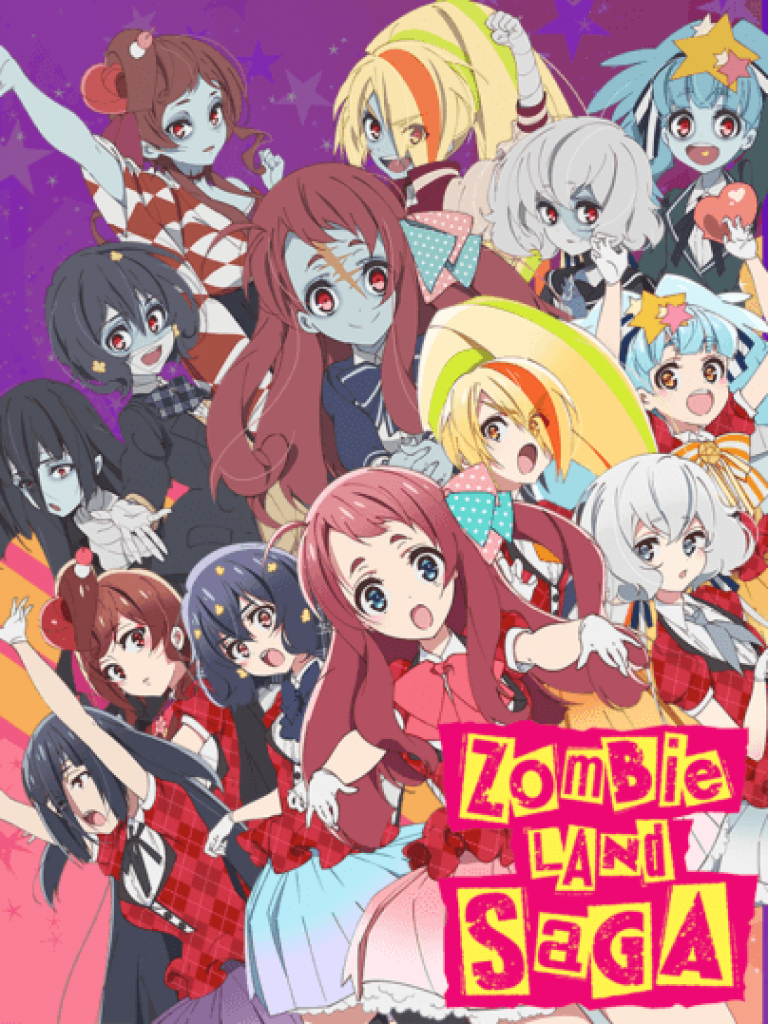 11.  Zombieland Saga
Being an idol is a big dream that many wish for, and so did Sakura Minamoto our mc but unfortunately gets in an accident and wakes up years later a zombie with no memory.
Later founds out there are six others resurrected for a reason i.e economically revitalizing Saga and making a band.
A zombie idol band. Because why not?
Witness their journey filled with humor as they regain past life memories and save saga prefecture.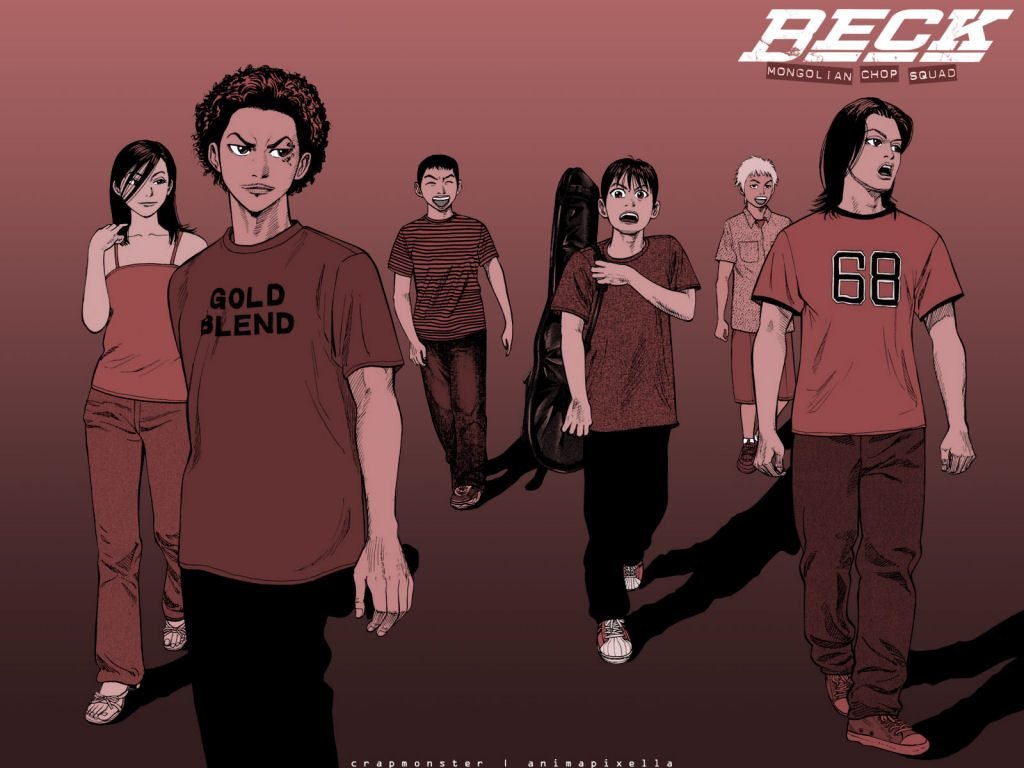 10. Beck
A rock band anime sounds good for the 10th spot in this list.
Koyuki is an average 8th-grade high school boy who lives an ordinary life until one day he saves a dog from some kids named beck its owner happens to be an emerging rock musician who then inspires him to play guitar.
The Beck revolves around their journey as an emerging band in japan and the highs and lows they face.
If being a musician you'll instantly get hooked on this but even as a normal watcher you'll feel satisfied with it.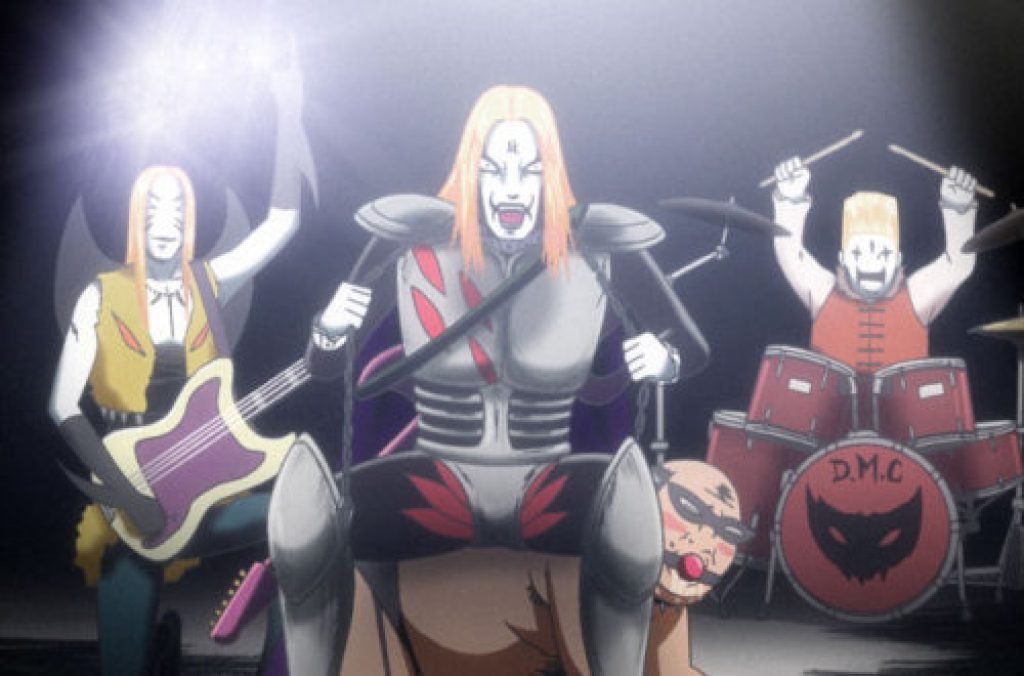 9. Detroit Metal City
Everyone has 2 sides to them is a statement we often use.
But, the MC Souchi, or AKA  Johannes Krauser II takes it to a whole other level.
Detroit Metal City or DMC is filled with offensive humor, so easily offended ones this one might not be for you. If not then you'll be rolling on the floor with the vulgar jokes and offensive remarks throughout the series.
The story revolves around Souchi Negishi a calm and composed graduate student who likes listening to soft music and drinking tea but this is one side, the other being his alter ego Johannes Krauser II the lead vocalist and guitarist of the popular death metal band – DMC.
Get ready for a ride that will leave you laughing like crazy or enjoying the death metal music.
One thing is for sure you won't be bored.
8. Carole and Tuesday
One thing humans have always had an upper hand on AI is creativity.
But what if I tell you they reached the same potential and dominate the scene?
This anime will answer that question for you as Carole who works part-time during the day and plays the keyboard at night comes across Tuesday a girl who left home to pursue her career in acoustic guitar takes on the ai musicians.
Based on futuristic mars, Carole and Tuesday take a different approach to exploring the sci-fi genre with a handful of good music, a teaspoon of good characters, and a pinch of wholesomeness.
A perfect recipe for a hit anime.
 7. Given
BTS, 1D who? After watching this anime "Given" will become your favorite band.
What happens when two guitarists come across and help each other and form a band…?
A good anime!
This might feel fresh as it explores an LGBT relationship and that too not in a weird or clichéd way. It just feels right in every way.
Also, the songs fit right into the story as they progress further as a band and as friends.
IN short a great anime with great songs and amazing character development.
6. Sakamichi no Apollon
Into jazz music? Well, look no further.
Kaoru Nishimi is an introverted pianist and also a top student, constantly relocating due to his father's work. He never had any friends due to transfers and his attitude. That is until he meets Sentarou.
Sentarou's passion for jazz inspires Kaoru to learn it and thus this story unfolds.
This one is filled with relatable characters, high school drama, and deep friendships.
Till the end, you'll end up falling in love with jazz and feeling nostalgic.
5. NANA
Do you ever come across someone and in that instant you know you'll be the best of friends?
Something similar is experienced in the plot of NANA.
Two girls nana Osaki and Nana Komatsu with the same name but life and background poles apart come across each other through fate and thus begin the rollercoaster of events while they share the same apartment and support each other through thick and thin.
Music Check!, romance Check!, Fashion Check!
The fifth spot in this list? Double Check!!
4.  Piano no Mori
Surely there are many anime based on piano, but this one is a bit different. How about an urban legend of an abandoned piano in the jungle that spirits listen to. Got your attention yet?
This one will be more than your average musical anime. It reflects the differences between the rich and the poor.
 Two boys from different upbringings kai a poor boy who has been playing the abandoned piano since he was a child and Syuhei son of rich and prestigious parents. The two worlds collide through the common thing, the abandoned piano.
3.  Nodame Cantabile
The main plot revolves around Shinichi Chiaki who is a great musician with a dream to play piano in Europe with the best in the world. But his fear of flying grounds him in japan. There he meets Nodame, a carefree and goofy musician and thus their love story starts.
If you want an anime with good music and a good long-range of characters, this might be your next favorite.
2.  K-ON
The story of how five schoolgirls make a band, learn, make music from the scratch and explore the journey of high school while eating a lot of sweets.
The whole anime is very wholesome and is composed of a very relaxed atmosphere. So you'll always come back to it for the feels and of course for the music. Also, Did I mention the sweets?
Cake, pastries, and music will serve(pun intended) as an important part of the series.
It is a good example of how a slice-of-life anime should be – Calm and smooth and with a lot of sweets.
1. YOUR  LIE IN APRIL
Come on you saw this one coming.
The anime explores the story of a child piano prodigy Arima kousei who gives up music after his mother's death. However, he meets a violin player at a park who helps him get back to it.
It is filled with amazing musical pieces and the tension that builds up around it will make you mesmerized by it.
The development of not just the main cast, but even the side ones is so thought-of, you'll feel connected to them personally.
It has great animation quality, good music, and amazing characters & will leave you heartbroken. What more can you ask for?
Honorable mentions :
Tari Tari
The iDOLM@STER
Full Moon Wo Sagashite (Searching for the Full Moon)
So Ra No Wo To (Sound of the Sky)
Also checkout-> Top 20 Martial Arts Light Novels