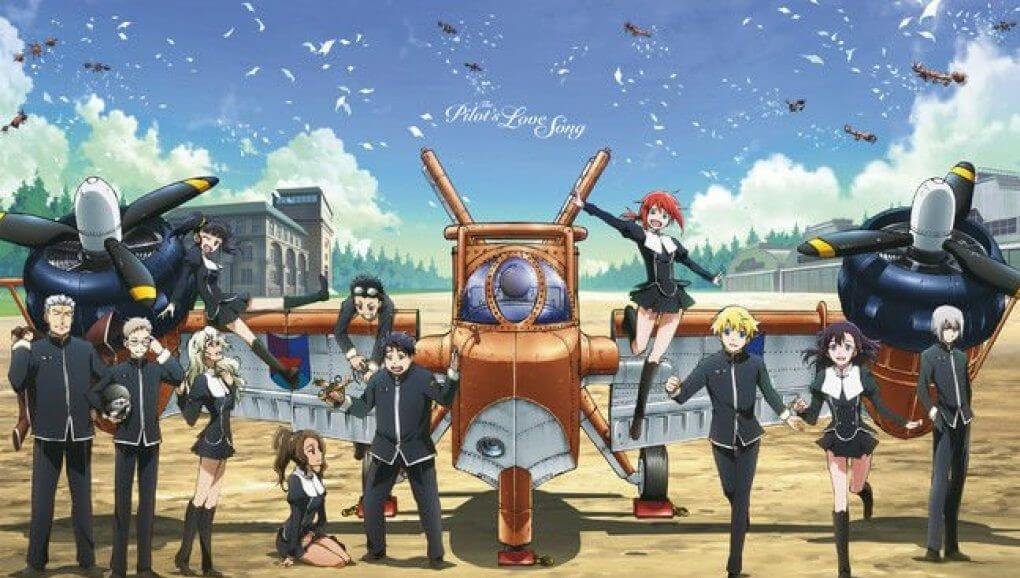 Many of our fellow anime lovers wanted to know some of the best jet aviation based anime they can watch. Since there were so little we decided to make a in depth list of the best anime shows featuring anime with jets and planes. So without further ado here is our list:
The Wind Rises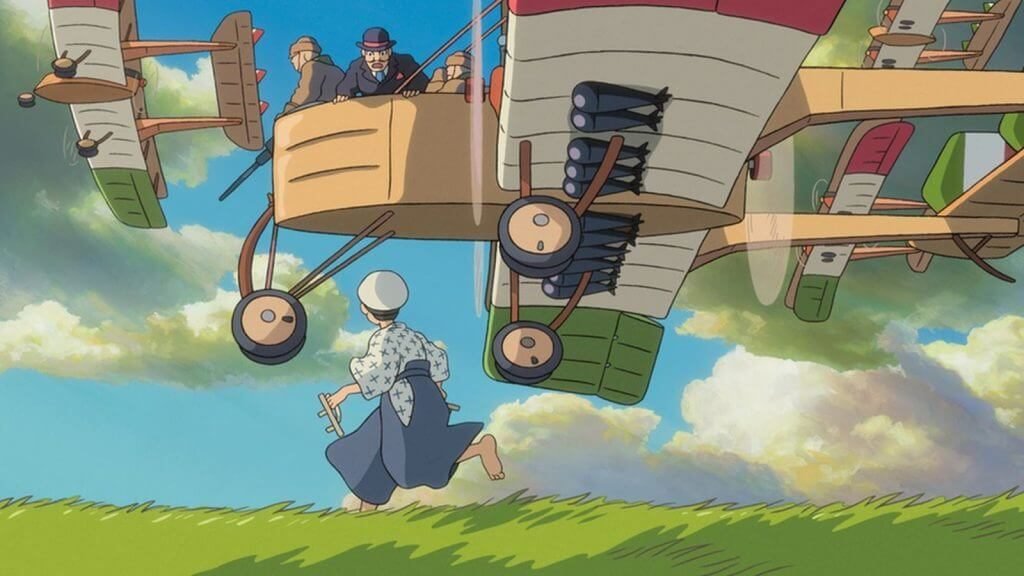 It's a movie on an aviation-obsessed engineer named Jirô Horikoshi (Hideaki Anno) who has loved the aesthetics, spirit, and science of flight for as long as he can remember. He dreams of flying and designing beautiful airplanes, inspired by the famous Italian aeronautical designer Caproni. Nearsighted from a young age and unable to be a pilot, Jiro joins a major Japanese engineering company in 1927 and becomes one of the world's most innovative and accomplished airplane designers. The film chronicles much of his life, depicting key historical events, including the Great Kanto Earthquake of 1923, the Great Depression, the tuberculosis epidemic and Japan's plunge into war. Jiro meets and falls in love with Nahoko, and grows and cherishes his friendship with his colleague Honjo.
Must Read: Top 10 Basketball anime of all time
Porco Rosso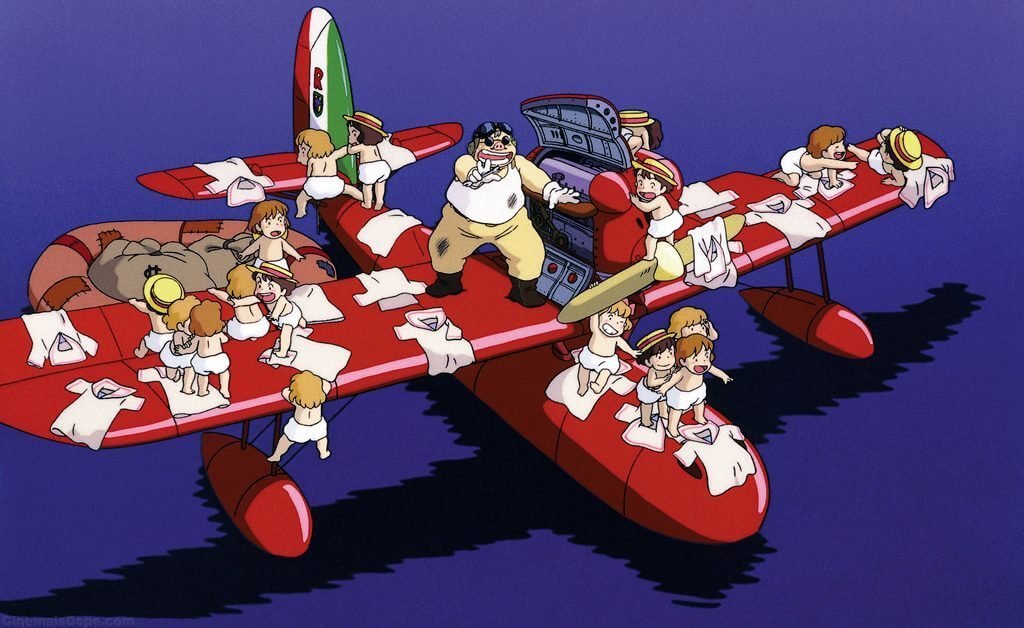 In Early 1930's era Italy air pirates, bounty hunters and high fliers of all sorts rule the skies. The most cunning and skilled of these pilots is Porco Rosso. A former Ace, he now makes a living flying contract jobs, such as rescuing those kidnapped by air pirates. Donald Curtis, Porco's rival in the air and in catching the affections of women, provides a constant challenge to the hero, culminating in a hilarious, action packed finale.
Last Exile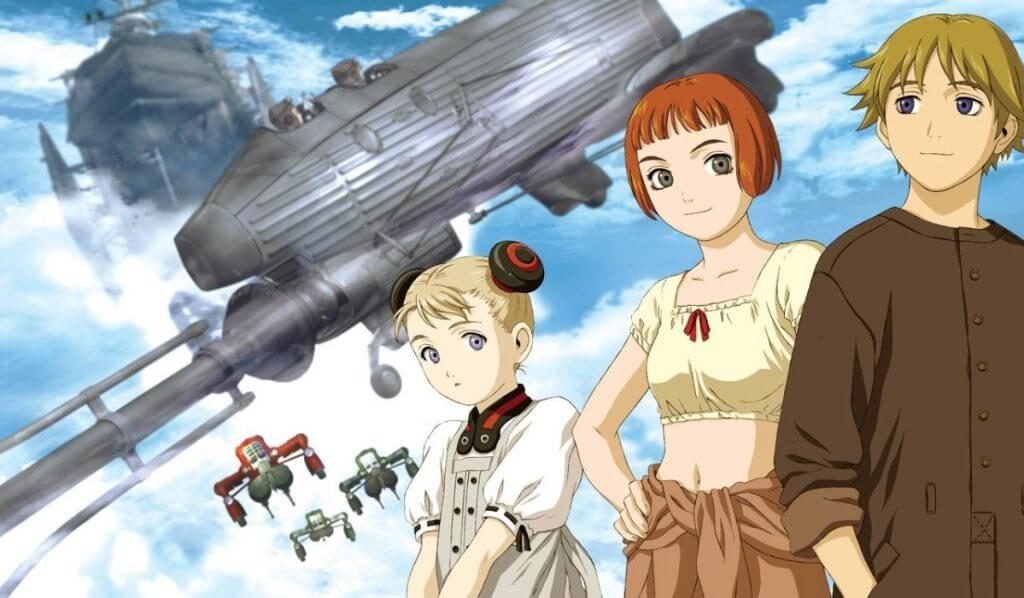 Last Exile follows the adventures of two teenagers who dream of surpassing their parents: Claus Valca, son of a famous vanship pilot, and Lavie Head, Claus' best friend and navigator. Their job as couriers entails passing through an air current called the Grand Stream that separates the hostile nations, which even standard airships struggle to survive. However, when they take on a high-rated delivery to bring an orphan girl named Alvis Hamilton to the battleship Silvana, they get dragged into a much greater conflict that pits them against the might of the Guild.
Toaru Hikuushi e no Tsuioku
A handsome fighter pilot Charles must escort a beautiful princess through enemy lines to her betrothed. But Charles soon learns traversing an ocean alone, and into enemy territory, will prove to be a much more dangerous ordeal than anyone could have anticipated. Inspired by the story of Tristan and Isolde. The war between the Levamme Empire and the Amatsukami Imperium has been raging for years. In the midst of this struggle, the prince of the Levamme Empire declares his love for Juana del Moral and vows to end the war in one year, as part of his marriage proposal. When the Amatsukami catch wind of this, they assault the del Moral residence, targeting Juana's life. As a last-ditch effort to bring the prince his bride, the San Maltilia Airforce employs a mercenary of mixed blood—a bestado—to fly Juana to the prince in secret.
Royal Space Force: The Wings of Honneamise
Shirotsugh "Shiro" Lhadatt may be a cadet in the Kingdom of Honneamise's Royal Space Force (RSF), but he has never been in space before—in fact, nobody has. The RSF is often regarded as a failure both by the country's citizens and a government more interested in precipitating a war with a neighboring country than scientific achievement. Following the funeral of a fellow cadet, an unmotivated Shiro is walking in the city one night, when he bumps into Riquinni Nonderaiko, a young, pious woman, genuinely enthusiastic about the significance of space exploration. As the two gradually bond, Riquinni's encouragement inspires Shiro to volunteer as a pilot for a prospective rocket ship, potentially becoming Honneamise's first man in space.
Macross Zero
Macross Zero is an anime prequel OVA to The Super Dimension Fortress Macross. Taking place one year before the Zentraedi arrive on Earth, Macross Zero chronicles the final days of the war between the U.N. Spacy and anti-U.N. factions. After being shot down by the anti-U.N.'s newest fighter plane, ace pilot Shin Kudo finds himself on the remote island of Mayan, where technology is almost non-existent. While Shin stays on the island to heal his wounds, the tranquility of the island is shattered by a battle that involves the UN's newest fighter – the VF-0.
Simoun
In the world of Daikuuriku, everyone is born female, and chooses which sex they wish to become at age 17. In this world, the peaceful theocracy of Simulacrum is guarded by magical flying machines called "Simoun", which can only be piloted by young girls who haven't chosen a sex yet. The Simoun can activate a magical power known as "Ri Maajon" that can destroy large numbers of enemies at once. When the industrialized nation of Argentum decides that it needs to invade Simulacrum to acquire the secret of the Simoun, war breaks out, drawing the Simoun "Sibyllae" (priestesses who fly the Simoun) into a lopsided battle. Because the war is raging, the Sibyllae are granted an exemption from choosing a permanent sex for as long as they're willing to keep flying. Aaeru, a determined young Sibylla with a mysterious past, and Neviril, the leader of Chor Tempest, Simulacrum's most elite Simoun squadron, must lead their fellow priestesses through conflict both within their ranks and in the sky
Rescue Wings
Kazuhiro Uchida is transferred to a rescue centre located in a small town while training to become a fighter pilot. Initially, Kazuhiro thinks negatively about his new occupation, due to the difficult missions and the harsh discipline he receives from his seniors. However, over the course of his training, he begins to accept the job for what it is and becomes a true member of the rescue force.
The Sky Crawlers
In an alternate timeline, the world has seemingly achieved peace. Bereft of international conflicts, wars are now waged between private corporations in place of peaceful nations. Yuuichi Kannami, a recent transfer in Area 262, simply does his job as a contracted fighter pilot. However, the more time he spends at his new base, the more mysteries come to light. The Sky Crawlers exhibits this reality through the eyes of Kannami as he endeavors to understand the "Kildren," humans genetically altered to be teenagers forever with faster reflexes, and his predecessor, the ace pilot known as "Teacher." However, what troubles Kannami the most is how all this connects to the base commander, Suito Kusanagi. Area 262 has the answers, but the truth comes with a price the young pilot may not be ready to pay.
Yukikaze
Thirty-three years ago, an alien force known as the "JAM" invaded Earth through a dimensional portal over Antarctica. Earth's forces managed to drive the JAM away to a distant planet designated as "Fairy". While the majority of Earth's population is unaware of the JAM's presence, the war continues on Fairy, where Rei Fukai is an SAF (Special Air Force) pilot assigned to pilot "Yukikaze"-an advanced reconnaissance fighter plane equipped with a near-sentient A.I. that detects the presence of the JAM within its path
Stratos 4
Fifty years ago, scientists discover a group of comets that are on a collision course with Earth. To combat certain annihilation, the United Nations builds a base on Shimoji Island where we meet our young heroines and fighter pilots-in-training. Mikaze is a troubled trainee pilot for Meteor Sweeper team, who dreams of becoming a prestigious Comet Blaster pilot. Mikaze and her teammates' challenge is to become real pilots, while the Earth faces threats from outer space.
Strike Witches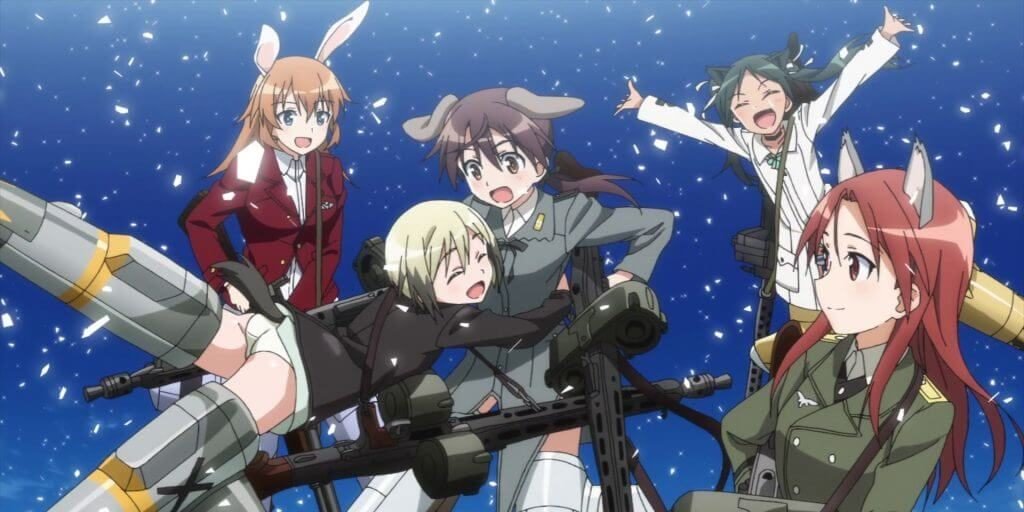 The year is 1939 – it was then that the Neuroi appeared. Nobody knows where they came from or what their ultimate agenda is, but the fact remains that their attacks drove people out of their towns and cities. In order to take arms against them, humanity develops a new anti-Neuroi weapon called the "Striker Unit." Using the power of magic to fight against the monsters, this new device enhances and amplifies the power of female magic-wielders. To use this device, young witches from all over the world have been brought together to form an elite task force unit called the 501st Joint Fighter Wing, commonly known as the "Strike Witches."
Allison and Lillia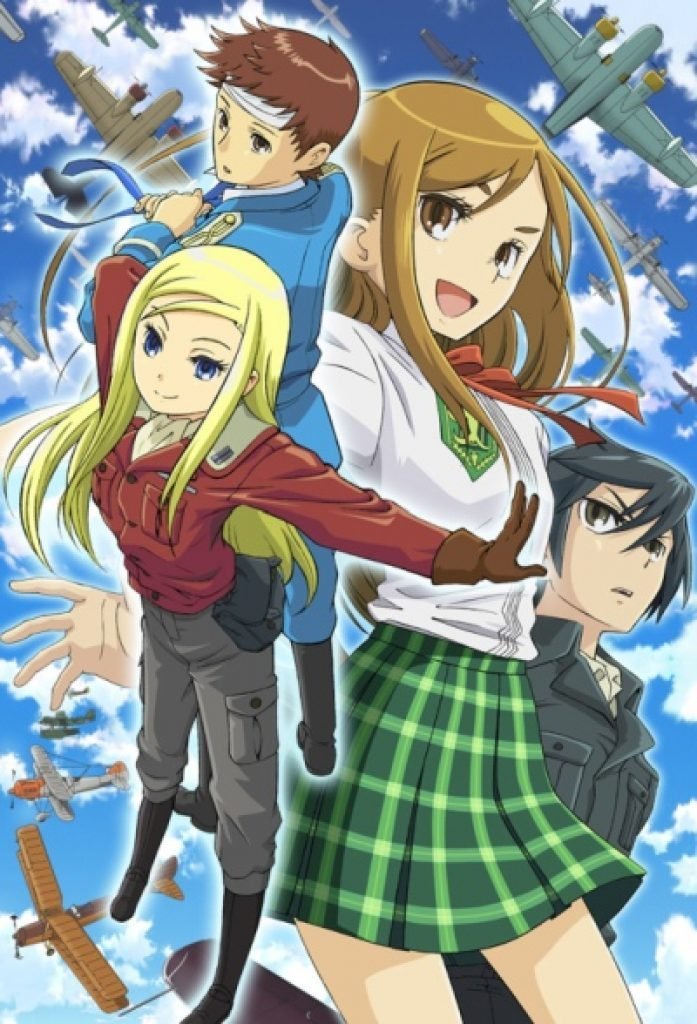 The story takes place on a continent where two countries are separated by Lutoni River and Central Mountains. The two countries, the Confederation of Roxche and the United Kingdom of Bezel Iltoa have been at war for over a century and now settled on a cease fire. Allison is a pilot in the Roxche air force and one day reunites with Wil, her companion from the House of Future, where they were orphans. Together they find themselves embroiled in an adventure in enemy territory to find a fabled treasure that will hopefully end the war and bring peace to both countries.
Area 88
Deep in the sandy plains of the Middle Eastern kingdom of Asran, Japanese photojournalist Makoto Shinjou travels to the remote airbase Area 88 to document the activities of the mercenaries who destroy the country's enemies for a living. Among their ranks is Shin Kazama, a Japanese ace pilot who was tricked by his former best friend into signing a contract with the Asran's fighter squad. Because of this, he lost his career as an airline pilot and the chance to marry his fiancée Ryoko Tsugumo. Now, Shin has three choices in order to leave Area 88 and return to Japan: serve the mercenary group for three years, earn US$1.5 million, or desert the base, risking imminent death.
Cockpit
Three aviation focused war stories of Axis participants.
Slipstream
About a Luftwaffe pilot who must choose between his duty to his country: to guard a bomber loaded with Germany's final hope of victory… the world's first atomic bomb… or his duty to the world: to let it fall in flames to enemy Spitfires and be a footnote in history. Of course, things are complicated by the plane's other cargo… the woman he loves.
Sonic Boom Squadron
Near the end of the war, Japan has implemented a new weapon — a human-piloted rocket-propelled flying bomb. Aboard a bomber carrying one of these, young Ensign Nogami awaits his chance to die as a "cherry blossom", a suicide pilot. In a few hours, he will die. The date of his death is set: August 6, 1945.
Knight of the Iron Dragon
Two soldiers attempt to reach an air base in order to fulfill a promise despite the fact that it might have been rendered moot in the reality of war.
The Pilots Love Song
In order to uncover the "end of the sky," as spoken of in ancient mythology, Kal-el Albus is sent to Isla, an island in the sky. There he attends Cadoques High's Aerial Division, where he enjoys a carefree life with his schoolmates. That is…until a surprise attack by the air tribe drags Isla into a bloody war.